Modi's first cabinet meet today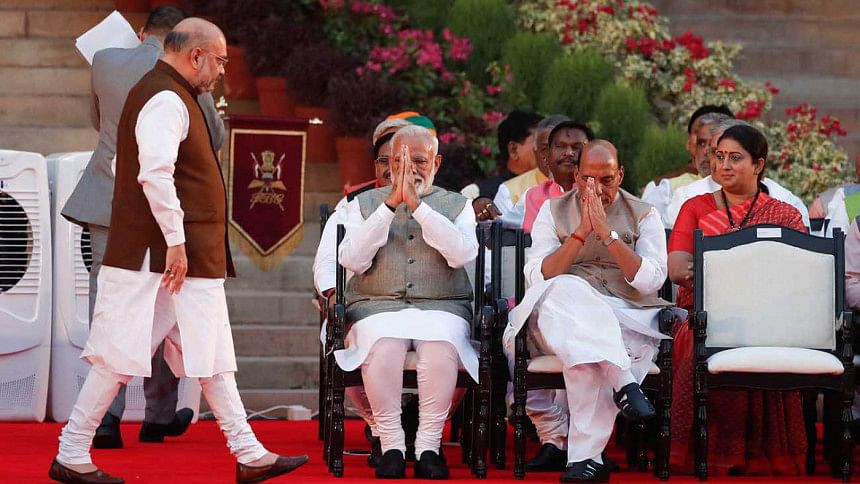 The first meeting of the new Union Cabinet headed by Indian Prime Minister Narendra Modi after the Lok Sabha elections will take place in Delhi today.
Modi, who returned to power with a massive mandate in the Lok Sabha elections 2019, was administered oath of office and secrecy by President Ram Nath Kovind at a grand ceremony on Thursday evening at the Rashtrapati Bhavan.
A total of 57 leaders from the BJP and NDA allies also took oath as the new union council of ministers. Most of them were those who served as Union ministers in the previous Modi government.
It is learnt that the portfolios of the 57 ministers -- 24 of cabinet rank, 9 of independent minister of state rank and 24 ministers of state -- will be announced soon.
Among those who took oath were Rajnath Singh, BJP chief Amit Shah, Nirmala Sitharaman, Piyush Goyal, Ravi Shankar Prasad, Harsimrat Kaur Badal and former foreign secretary S Jaishankar.
Amit Shah is joining the Union Council of Ministers for the first time.
Many prominent ministers in the previous government were not considered for a seat. Among them were Suresh Prabhu, Rajyavardhan Singh Rathore, JP Nadda, Mahesh Sharma, Jayant Sinha and Maneka Gandhi. Ally Anupriya Patel of Apna Dal was also left out.
PM Modi is expected to announce new Finance and Foreign Ministers after two big exits — Arun Jaitley and Sushma Swaraj.
Sushma Swaraj, the former External Affairs Minister and Arun Jaitley, the Finance Minister in the previous government, had opted out of the government citing poor health.
Amit Shah has been reportedly given the portfolio of Minister of Finance and Corporate Affairs, while S Jaishankar has been given the post of Minister of External Affairs.
The BJP won 303 of the 542 seats on which elections were held. The NDA ended with a tally of 353 seats.
A galaxy of prominent names arrived at the Rasthrapati Bhavan in the evening for the swearing-in ceremony. With around 8000 people in attendance, Modi's oath ceremony was the largest till date at Rashtrapati Bhavan.
Copyright: The Statesman/Asia News Network