MJ Akbar quits to challenge accusations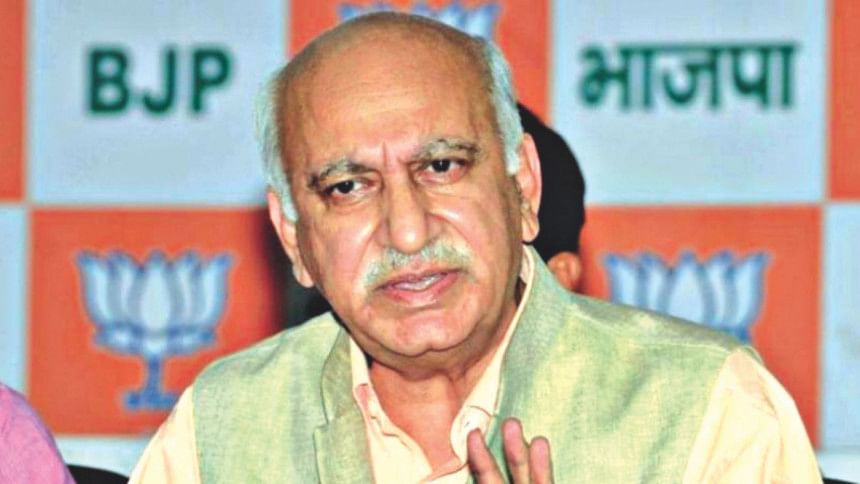 An Indian government minister resigned yesterday, saying he was doing so in order to fight accusations of sexual harassment levied by several women, the most high-profile casualty of a growing #MeToo movement.
More than a dozen women have accused MJ Akbar, a junior foreign minister, of a range of inappropriate behaviour during his career as a journalist before entering politics.
He has denied the accusations and filed a lawsuit against one of the women for defaming him. Twenty other women have since offered to testify against him.
"Since I have decided to seek justice in a court of law in my personal capacity, I deem it appropriate to step down from office and challenge false accusations levied against me in a personal capacity," the news agency ANI, a Reuters partner, quoted Akbar as saying in a statement.
The #MeToo movement, which began in the United States more than a year ago in response to accusations of sexual harassment and abuse by powerful men in the entertainment industry, gained traction in India in late September after the actress Tanushree Dutta said actor Nana Patekar behaved inappropriately on the sets of a film they were shooting in 2008.
Patekar has denied any wrongdoing.
Since then, more than a dozen men in the media, entertainment, political and art worlds have been accused of offences, ranging from sexual harassment to rape.
"As women we feel vindicated by MJ Akbar's resignation. I look forward to the day when I will also get justice in court," journalist Priya Ramani, who was the first to accuse Akbar, said in a Twitter.
Akbar has filed a defamation suit against her.
India is traditionally a conservative country, where discussions about sex are still taboo for many and where women have long lagged behind men in workplace participation.
"Eventually the truth prevails," Ghazala Wahab, another journalist who accused Akbar of making physical advances in office, told CNN NEWS 18. "If you are steadfast you will see what happens now."
Akbar was overseas when the allegations broke and upon his return vowed to fight it out. But since then, women groups and political parties have demanded that Prime Minister Narendra Modi act against him.
Modi's Hindu nationalist government has said very little about the accusations against one of its members or about the upsurge in #MeToo allegations.
Sandeep Shastri, a political analyst at Jain University in the city of Bengaluru, said Akbar's defamation lawsuit and then subsequent his resignation could indicate damage limitation by the government.
"You are facing an election in several states and this could have been highly embarrassing for the government. It would have been tough for the government to justify retaining him," said Shastri.
"I won't be surprised if he was asked to resign".