PERKS OF INDIAN ELECTION
Indian polls: 'Pardanasheen' booths, one-voter polling station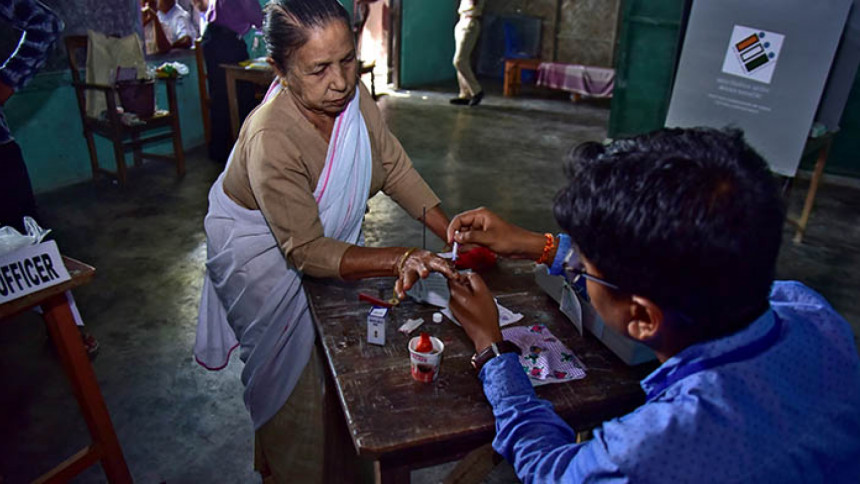 Indian parliamentary elections saw voting stations for just one voter and Braille photo identity cards and 'pardanasheen booths' for veiled Muslim women.
The polling station with only one voter is at Malogam village in north eastern state of Arunachal Pradesh, our New Delhi correspondent reports.
A temporary structure was set up for just the lone voter who happens to be a woman, Indian Election Commission officials said.
The state also has the highest polling station Luguthang under 3-Mukto (ST) assembly constituency which is located at an altitude of 13,583 feet.
Another north eastern state Mizoram holds a unique feature among the parliamentary constituencies with 100 per cent voters having Elector Photo Identity Cards (EPIC).
In Sikkim, the highest polling booth is situated close to the India-China border at an altitude of 13,500 feet in Gnathang Valley for 180 registered voters.
The strategically-located state also witnessed elections to its 32-member assembly. Thirty-nine all-women polling stations have been set up manned by all women polling parties and police forces in the state, according to the EC officials.
For the first time, Braile voter ID card-EPIC made its debut in Meghalaya state with the card issued for use by visually-impaired.
Bihar became the second Indian state after Delhi to declare all polling booths for the 2019 Lok Sabha election in the state tobacco-free.
Live webcasting arrangements have been made at 350 polling booths in the first phase of general elections to ensure free and fair polls in the state.
Forty-nine all-woman polling booths have been set up in Uttarakhand state for the convenience of women voters as the state went to polls today.
The booths spread over the 13 districts of the state were managed by women only, Chief Electoral Officer Saujanya said. All polling personnel on duty at such booths, including the presiding officers, were women, she added.
In view of a large number of Muslim women in Haridwar district of Uttarakhand, "pardanasheen booths" have been set up there for those who wear a veil.
"It had been seen in the past that women who come to polling booths wearing a veil are unwilling to lift it before male poll personnel when they ask them to do so to verify their identity," Saujanya said; adding "hence, we set up 'pardanasheen booths' with only women polling personnel on duty for their convenience."