Kajol might not be able to speak out, BUT WE MUST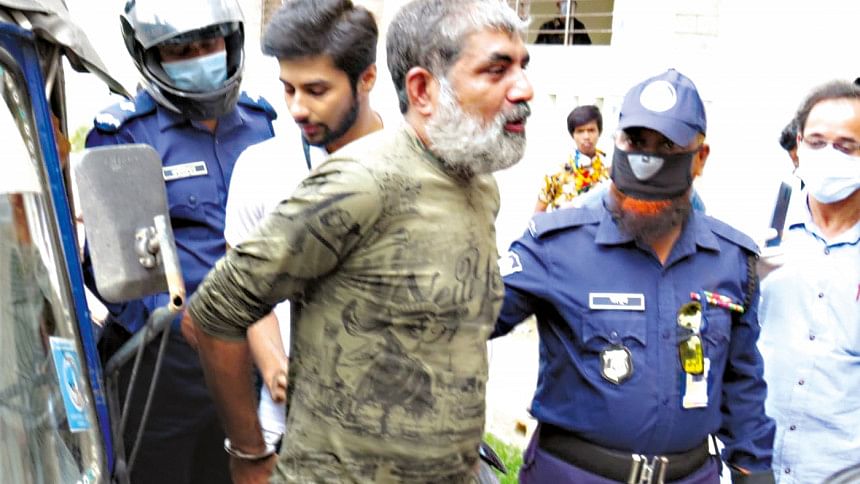 Mysterious events surrounding the 'disappearance' and 'recovery' of photojournalist Shafiqul Islam Kajol are by now well known. Gone 'missing' from his office in Dhaka on March 10, Kajol was 'discovered' by the Bangladesh Border Guard (BGB) at the border with India in the early morning of May 3 while he was trying to 'trespass' into his homeland. His disappearance came soon after a case was filed against him and 31 others including an editor of a daily newspaper by a lawmaker of the ruling party. While his family was struggling to file a case of abduction and rejected by the police until a court order to this effect was issued, two other cases under the draconian Digital Security Act (DSA) were filed against him.
Interestingly, the police were more inclined to register a case against him than look for an abducted person whose family and friends were desperately requesting the police to look for. The reluctance was mindboggling to say the least, but unfortunately an all-too-familiar episode experienced by many families whose loved ones have gone missing or picked up by plain-clothed people. After being 'discovered' and arrested, Kajol was produced before a local court at Jashore – handcuffed behind his back – like a criminal, and in violation of the High Court's clear instructions in this regard. He was charged for violation of the passport act. While the court granted bail in that case, he was immediately arrested under Section 54. Authorities told the media that they will proceed with the three cases against him.
These we know, but little do we know what happened in the 53 days in between. The authorities seem to have no interest in finding out how he was abducted, who took him, where he was during the period and how he ended up in a place more than 228 km away from his office, that too at the borderland. Judging by previous incidents of enforced disappearances and those who were fortunate to be returned alive by their captors, we may never know from the victims what really happened. Like all previous incidents, the law enforcing agencies have expressed no intention in trying to find out. 
Kajol was not the first to become a victim of enforced disappearance. In the past decade this has become the new normal. In 2019, according to the human rights organisation Odhikar, 34 persons were victims of enforced disappearance. Of them, 8 were found dead, 17 were released or produced before courts and 9 remained traceless. According to Ain O Salish Kendra (ASK), between 2014 and August 2018, of the 310 abductees, 33 persons returned. In some instances, those who were found dead, their families and friends claim that they were picked up by, allegedly, plain-clothed members of the law enforcing agencies. Some were shown arrested by police weeks and months after they went missing, and others remain traceless. There are instances where the police stations have declined to register cases of a missing person, as was the case of Kajol.
Those who survive the ordeal to see their loved ones again have always chosen to remain silent. Whether Kajol, once an outspoken journalist, will have to tread the same path is yet to be seen. The deafening silence of those who return speaks volumes. It has a message none can ignore: that their captors, whoever they are, have the capacity to harm them and perhaps their loved ones even after they return home.
Human rights groups, including the Human Rights Watch, have alleged that law enforcement agencies are involved in the enforced disappearances, but the government has denied these allegations. In a meeting of the United Nations Committee against Torture in June 2019, where Bangladesh submitted its report for the first time since ratifying the Convention 20 years ago, there were calls for ending the practice. Bangladesh representatives, including the Law Minister, flatly denied any incidents of enforced disappearances. Anisul Huq said, "We do not agree to the proposition that enforced disappearances occur in Bangladesh frequently." This line of denial has been pursued by the government all along. For example, in the second half of 2017 when enforced disappearances had increased so precipitously that the head of the country's National Human Rights Commission (NHRC) acknowledged that people were living in fear of becoming a victim at any time, the government doubled down on its claim. The Home Minister claimed that some people disappear willingly to embarrass law enforcers. The police chief insisted that disappearances have been taking place since the British colonial period. All these created a sense of impunity among those who are engaged in these acts. It has become normalised along with the growing numbers of extrajudicial killings.
If the government is correct that the state-actors are not involved, it only means that non-state actors have become so powerful in the country that they can abduct anyone, kill the abductees if they want or leave them on the roads when they are inclined to do so. This narrative can only be acceptable in a state where mafia and drug kingpins have established their complete control and have created a parallel state. In such instances, as has happened in some of the Latin American countries, these non-state actors are so powerful that they succeed in silencing the survivors and their families. This is a marker of the emergence of a parallel state. If such a parallel state has emerged, should it warrant the state to gather information from the survivors and act against these non-state actors? The instances where the people who went 'missing' or were picked up by plain-clothed people were produced before the court by the police after days and weeks, raise serious questions. Often the narrative of the police defies simple logic as to how the missing persons were miraculously found on the street.
If the state agencies are not involved contrary to the claims of the relatives of the victims and the human rights groups, does it not fall upon the state to find the perpetrators and prove that the government was correct all along? Yet, there has been no urgency from the part of the government to do so. There is a simple way to address this: by allowing an independent inquiry into this alarming phenomenon. Bangladesh should sign the International Convention for the Protection of All Persons from Enforced Disappearance (ICPPED), and immediately set up an independent commission which would work with the UN Working Group to find out who is responsible for the disappearances, and provide answers to the questions of families as to where their loved ones are located.
Kajol has survived, barely. Since these cases against him are about to initiate their proceedings, the second phase of his torment has begun. Kajol's 'disappearance' and 'discovery' have once again brought many questions to the fore. He might not be able to speak out, but we must. 
Ali Riaz is a distinguished professor of political science at Illinois State University, and a nonresident senior fellow of the Atlantic Council, USA.