Synopsis of thoughts on impact of COVID-19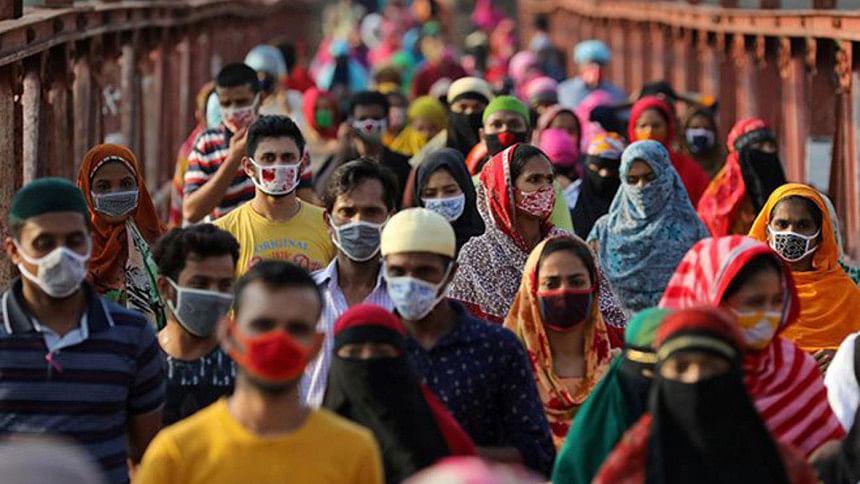 Statistically, a pandemic appears in every 100 years. A living being surviving now has very little possibility to experience any other, if not a second wave of this to follow shortly Our experience rightly recorded can help in the future.
Social practice
The COVID-19 pandemic has reminded us to remain clean - frequent hand washing, no sneezing publicly but covering with elbow and napkin/ tissue, no spitting other than a designated place, enter home taking off shoes, wear a mask whenever out of home etc. Handshakes and hugging were replaced with wishes and greetings. Social distancing and lockdown are now known terms and compelled us to enjoy quality family time. Though mosques/ religious congregation are not open to all, the pandemic uplifted our morale to remain religious and ethical instead of running after money for life.
Coronavirus phobia
When China could stop the spread of COVID-19 in big cities like Beijing and Shanghai, how could it spread in almost 190 countries including its seemingly unstoppable course in Italy, France, UK and USA? If Germany could have declining death rates, if Senegal could control it having the recent experience of an epidemic, if Korea could control with big-data use (access control and payment system tracking), if Vietnam could compel all foreign visiting passengers with quarantine to a centre next to the airport - one must accept the reality. Coronavirus does not spare anyone, be it a royal heir or a common man. The only realisation ought to be from that is the Almighty we came from and to him shall we return.
Social responsivity

Whenever there is a disaster or calamity, a lot of volunteers come ahead and try to help it their way. Sometimes they come with a good heart to donate (money/effort) and at times with the evil intention of exploiting opportunity. The good intention always does not pay good outcome - for example, if one donates rice to a rickshaw-puller, but he needs to send money to his family back at his home, he would sell the ration at a half-price and send the money.
Distribution of donations /contribution does not have an established reliable channel to reach the needy and these donors are yet to believe in the local government management to reach the target group. The Bangladesh National Identity Card database could play a role in a coordinated approach of the donations by establishing a mainstream channel which calls for an immediate action to start.
Economy and financial support
We are watching a demonstration by trade bodies to justify support requirements from the government to face COVID-19 caused losses. After our independence, when the government was busy with priorities of reconstruction, non-governmental organisations (NGOs) came in and established themselves as a parallel development partner. Like ethical freedom fighters did, post-war, it is time for our development partners including corporate leaders to step forward in contributing instead of looking for grants/ facilities from the government, which run with the levies by the citizens.
The government has decided to go for funding support by loan (not grant) at a lower interest rate through established channels like commercial banks. Unfortunately, the banks could not cater to the need of micro-enterprises or households or proprietary business, as defining the right creditor, monitoring the use and payback of the principal with interest is more manhour hungry compared to corporate or small and medium-sized enterprises (SMEs). Banks prefer to disburse to credit-worthy (?) bulk customers who pay back with least follow-up, at least in papers! As a result, more than 600 microfinance enterprises (popularly known as NGOs) are catering to the demand, governed under micro-credit regulatory authority.
This year the 'Pahela Baishakh' celebration events could not take place. As a result, for example, the flower cultivators whose whole crop was a complete loss; the 'hilsha' fish harvesting fishermen, who under 'dadon' or advance loan could not supply to their 'mohajons' (fish wholesalers), as there was no market; the weavers who bought threads by taking money from semi-informal channels, weaved but could not go forward in the supply chain; or the small garments/ tailoring house who took the weaved fabric in credit but is unable to pay back as their dresses could not be supplied to stores or contract manufacturers etc. Have we thought of the perishable agro (banana, pineapple etc.) producers, whose produce has rotten for not being able to bring to the market for transportation or unavailability of buyers? For the main food grain, it is a transition time of Boro-paddy to cut off (and if not sold, stored) and the next crop is to be cultivated, with the scarcity of laborers.
The kind attention of policymakers is required towards the semi-formal microcredit sector, who has a personalised monitoring system that can save the marginal population in big numbers. These micro-firms grow bigger SMEs for banks to cater but bank's priority is always bigger paymasters. These startups call for patronisation in the distribution of wealth too. In this regard, public opinion may contribute to priority formation.
Tribute
the government took the pandemic seriously and the Prime Minister herself took the steering in her control which deserves a big applause. When fellow citizens are unable to see the next-door neighbor in Italy, our embassy team reached them with relief; in the Kingdom of Saudi Arabia, the Bangladesh embassy's medical team supported our wage earners at times of need.
All the government offices, especially the utility departments are working commendably in the frontline in this pandemic. Media, private data networks and supply chain management are delivering and risking themselves exposed. The police redeemed a great image by risking themselves on the roads to keep people in social distancing. Also, kudos to our medical professionals who without proper support and research outcome, are at the disposal of the patients at all times. Let us all remember the sacrifices like Dr Abdul Mabud Chowdhury, better known as Faisal among his family and friends, who in his last social media message asked for personal protective equipment (PPE) but could not protect himself and left for eternity. Locally and internationally, research is on for day and night to find a fast and cost-effective diagnosis tool, vaccine and medicine. Bright days are yet to come!
E-mail: [email protected]