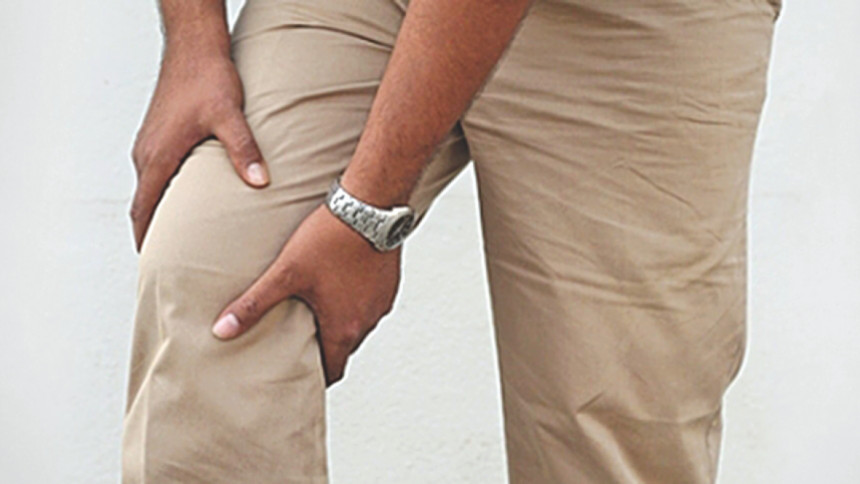 Knee pain is a common symptom in people of all ages. It may start suddenly, often after an injury or exercise. Knee pain may also begin as a mild discomfort, then slowly worsen.
The knee is one of the largest joints in the body which carries our body weight. The surface of the bones inside the knee joint is covered by articular cartilage, which absorbs shock and provides a smooth, gliding surface for joint movement.
What are risk factors for knee pain?
Biomechanics: The knee joint is a complicated in its operation and is used frequently throughout the day. Any change in the movement of the joint can cause subtle changes and cause pain and injuries.
Excess weight: The stress on the knee joint is increased with excess weight. Obesity also increases the risk of osteoarthritis as the cartilage breaks down more rapidly. Being overweight can put you at greater risk for knee problems.
Overuse during repetitive motions as are found during certain exercises or work conditions can cause breakdown of cartilage and lead to pain.
Sports injury: Sport activity involved in trauma, fall down on knee; even fracture of bone.
Causes of knee pain:
* Arthritis – including rheumatoid arthritis, osteoarthritis, and gout
* Baker's cyst – a fluid-filled swelling behind the knee that may occur with swelling from other causes, like arthritis
* Bursitis – inflammation from repeated pressure on the knee, such as kneeling for long periods of time, overuse, or injury
* Connective tissue disorders and dislocation of the kneecap
* Iliotibial band syndrome – a hip disorder from injury to the thick band that runs from your hip to the outside of your knee
* Infection in the joint
* Knee injuries – may cause bleeding into your knee, which makes the pain worse
* Osgood-Schlatter disease along with tendinitis or torn ligaments and cartilage.
Management of knee pain that has just started
* Rest and avoid activities that aggravate your pain, especially weight bearing activities.
* Apply ice. First, apply it every hour for up to 15 minutes. After the first day, apply it at least four times per day.
* Keep your knee raised as much as possible to bring any swelling down.
* Wear an ace bandage or elastic sleeve, which you can buy at most pharmacies. This may reduce swelling and provide support.
* Take acetaminophen for pain or ibuprofen for pain and swelling.
* Sleep with a pillow underneath or between your knees.
* Sometimes may include NSAID or sometimes surgery.
Knee rehabilitation
From the very beginning of the injury to end of the rehabilitation or return to function, a physical therapist can perform physical assessment by evaluating knee examination and laboratory findings. Based on the diagnosis the physiotherapist will plan accordingly by managing pain to recovery function.
Pain management
Initially ice is very effective in any types of injury, soft tissue mobilisations, gradually introducing joint mobilisation and stretching within available range. For swelling and pain sometimes ultra sound therapy works mostly.
Gradually introduce muscular strengthening exercise especially quadriceps and vastus medialis (medial compartment muscles), also include back of thigh muscles.
For knee pain related to overuse or physical activity:
* Always warm up before exercising and cool down afterward. Stretch your quadriceps and hamstrings.
* Avoid running straight down hills – walk down instead.
* Bicycle or swim instead of run.
* Reduce the amount of exercise you do.
* Run on a smooth, soft surface, such as a track, instead of on cement.
* Lose weight if you are overweight. Every pound that you are overweight puts about 5 extra pounds of pressure on your knee cap when you go up and down stairs. Ask your health care provider for help losing weight.
* If you have flat feet, try special shoe inserts and arch supports (orthotics).
* Make sure your running shoes are made well, fit well, and have good cushioning.
The writer is a physiotherapist at CRP Mirpur, Dhaka.
Email: faruqch6@yahoo.com