Dengue Outbreak: Mugda the worst-hit?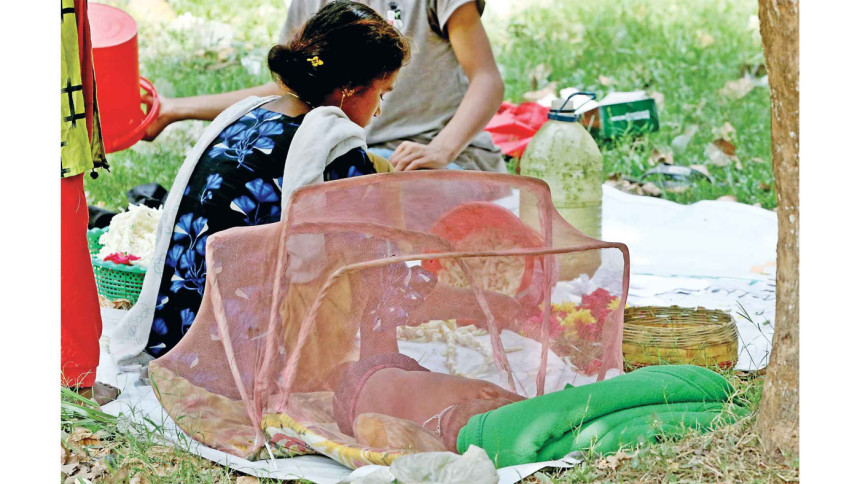 Tamanna Yesmin, a homemaker from Manda Kazibari, is currently undergoing treatment at Mugda Medical College Hospital for dengue. She has been admitted to the hospital since Tuesday.
Yesmin's brother Md Rakib said their area gets a cleaning regularly. However, there are breeding sources of Aedes mosquitoes on different rooftops and corners of the houses, resulting in dengue infection.
A large number of admitted patients at the dengue ward of Mugda hospital were from Manda.
According to data acquired from Mugda Hospital, 14 patients were admitted yesterday, of whom, six came from Manda, two each from Mugda and Maniknagar, and one each from Madina Bag, Basabo, Khilgaon and Manikdia.
Directorate General of Health Services (DGHS) says at least 40 dengue patients were admitted to different hospitals across the country in the last 24 hours till 8:00am yesterday, of whom, 14 got admitted to Mugda Medical College Hospital.
The total number of dengue patients this year is 1,056, of whom, 428 were admitted to Mugda Hospital so far. Forty-five are currently undergoing treatment, according to DGHS.
Entomologist of Jahangirnagar University Prof Kabirul Bashar said it is very important to carry out extensive drives collecting the addresses of the dengue patients from Mugda hospital.
Contacted, Md Khairuzzaman, councillor of ward 71, said the main reason behind the increased infection is that most residents of the area did not allow the authorities to clean and conduct anti-mosquito drives at their homes before Eid.
"We are now conducting regular drives but it is not enough if people do not become aware," he said.
However, Chief Health Officer of Dhaka South City Corporation Dr Fazle Shamsul Kabir said most of the addresses provided to them from Mugda hospital are false.
They showed many dengue patients as Dhaka residents though they are from outside the city, he added.
"The number of actual dengue patients is half of what is shown by the hospital authority," he claimed.
"Their [DSCC] allegations are wrong. We are also sending the data to IEDCR and CDC of the DGHS. None of them has made any such complaints," said Dr Md Niyatuzzaman, acting director of Mugda Hospital.
Asked about the false addresses, he said if a patient provides a false address they have nothing to do about it. "We provide the list along with mobile numbers of the patients. So it is the duty of the city corporation to run the verification," said Dr Niyatuzzaman.
He also mentioned that they have a dedicated ward comprising 60 beds for dengue patients and they will extend the floors if necessary.