Sugar price hiked by Tk 16 a kg
Rising import cost shown as reason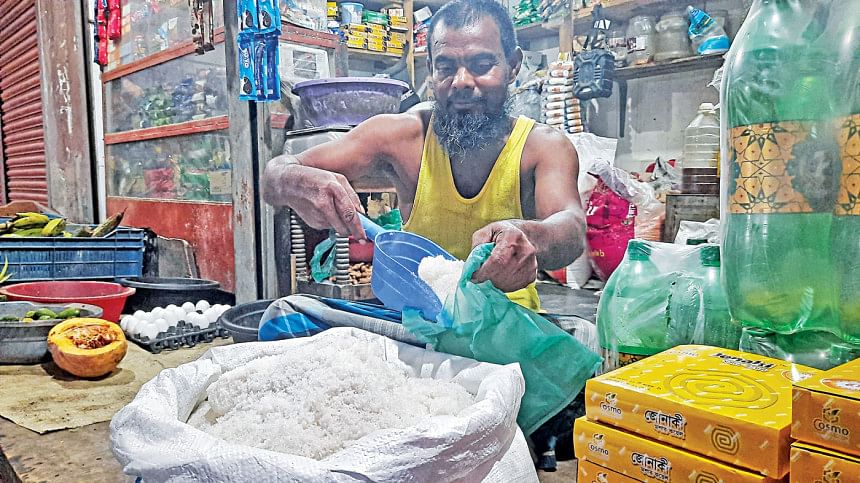 The government on Monday approved the refiners' proposal for rising the retail price of sugar by Tk 16 a kg in accordance with the price hike in the international market.
From now on, loose sugar will be Tk 120 a kg, according to a circular of the commerce ministry.
The price of packaged sugar has been hiked to Tk 125 a kg from Tk 109 a kg.
After the refiners made the proposal, Bangladesh Trade and Tariff Commission analysed sugar prices in the international market and the import cost.
For months, sugar price in the local market has been higher than the price fixed by the government on Monday.
The sweetener was selling for Tk 130-Tk 140 a kg at retail yesterday, according to price data compiled by the Trading Corporation of Bangladesh.
The commerce ministry is going to ask the National Board of Revenue to keep the reduced duty on raw sugar imports, Senior Commerce Secretary Tapan Kanti Ghosh said yesterday.
The reduced duty facility is to expire on May 31, he told journalists at his secretariat office after a meeting with refiners and stakeholders.
However, the secretary did not mention when the ministry would ask the NBR.
Ghulam Rahman, president of Consumers Association of Bangladesh, said if sugar price increases in the international market, then the price will go up in the local market. It is normal.
He said the government should not be setting the price. If there is competition in the market, the price of goods will be reasonable. If there is no competition, it is not possible to control the price by fixing it, he said.
The CAB boss said there is no competition in the sugar market. Some refiners control the market.
"The government is trying to give some kind of relief to consumers by fixing the price. But are the consumers getting any benefits from it?"