Price hike of essentials: Noose tightens on low-income groups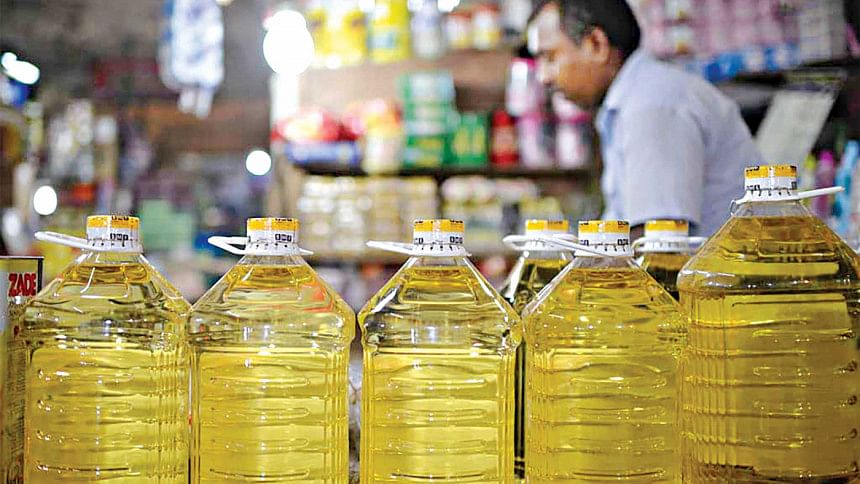 The cost of living has gone up but the incomes of most consumers have not. It is not just the prices of edible oil and rice that are hurting, it's almost everything they need in the kitchen every day.
In Dhaka, lentils, potatoes, flour, onions, garlic, gingers and other necessities have become dearer this week compared to the last, The Daily Star found while visiting several kitchen markets yesterday.
Even the gas used for cooking is more expensive now.
The people of lower- and lower-middle income groups are having to tighten their belts further.
Data from the state-run Trading Corporation of Bangladesh shows how steeply the prices have gone up.
The prices of Miniket and Nazirshail varieties of rice were being sold between Tk 75 and Tk 80 a kg, up by at least Tk 5 from last week, retailers said. Coarse rice is now Tk 58 a kg, up Tk 8.
Sajib Mia, a trader at Mirpur-1 Kitchen Market, said potatoes were Tk 30 a kg, up by about Tk 5 from a week ago.
Red medium lentils were Tk 140 per kg, up Tk 15, while the smaller ones were Tk 135 per kg, up Tk 5.
Traders said brown flour, also known as atta, was Tk 48 a kg, at least Tk 6 higher than a week ago. The branded ones were Tk 57, up Tk 5.
Taleb Sheikh, a security guard for a house in the capital's Tejturi Bazar, has a family of four. He said that with the prices of essentials going up, it has become difficult for him to run his family.
''Earlier, if we spent Tk 100 a day, we could eat. Now even Tk 200 seems not enough. We just eat rice, eggs, vegetables and lentils every day.
"'We don't want to eat meat,' my son and daughter say to console me … but the fact is I don't have the money to buy fish or meat. I may have to send my children back to the village home," said a dejected Taleb.
What he did not know is that sending them to the village may not help.
The food inflation in rural areas was 6.71 percent and in urban areas 5.49 percent in March, according to the Bangladesh Bureau of Statistics. It put the overall food inflation at 6.34 percent in March, which was 5.60 percent in January.
According to a recent multisectoral research report jointly prepared by the Power and Participation Research Centre and the Brac Institute of Governance and Development, more than three crore people became poor again during the pandemic.
It said this number decreased as Bangladesh began recovering from the pandemic fallout, but the recent price hike of essentials has made 21 lakh people poor again.
People like Taleb could be in for tougher times ahead. For them, there is no light at the end of the tunnel yet.
Retailers and wholesalers fear the prices of imported items could increase further due to supply disruptions caused by the Ukraine war.
Shahjahan Talukdar, wholesaler and owner of the Mukta Rice Agency of Karwan Bazar, one of the largest kitchen markets in the capital, said, "I have been in the rice trade for years. I have never seen the prices of rice rise during the peak season. It always dropped."
SM Nazer Hossain, vice-president of the Consumers Association of Bangladesh, said there was inflationary pressure in the country and its effects hit all sectors.
He said the soaring prices of essentials have put consumers under a lot of pressure as the costs have gone up for almost everything.
Market monitoring needs to be strengthened. If not, some traders will increase the prices to make a quick buck, he said.