One kg apple for Tk 21!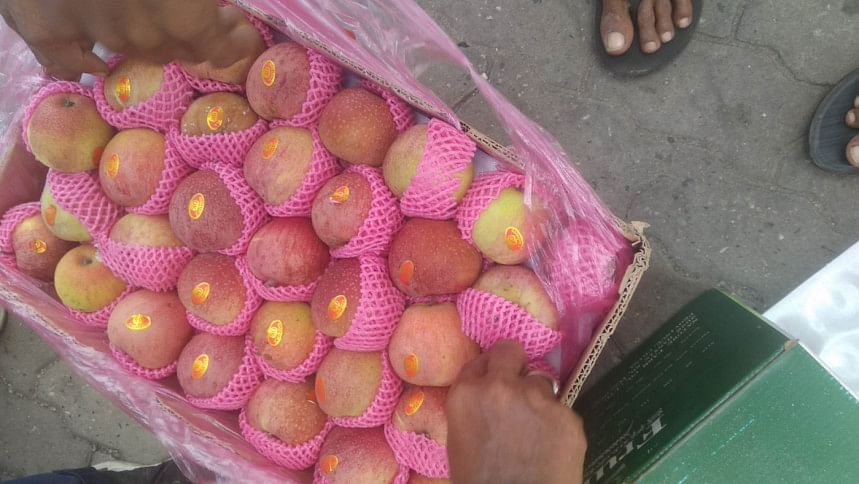 Chattogram Custom House auctioned off around 24.5 tonnes of apples for Tk 5.05 lakh, where the price per kilo was Tk 21, in an open auction on Wednesday.
Although the authority fixed a reserve price of Tk 24 lakh for these goods, bidders showed little interest due to the poor state of the apples.
In addition, 12 tonnes of chemical (enzyme solution) were also auctioned off for Tk 3.2 lakh, while the reserve price was Tk 14.65 lakh.
According to the documents, Madina Banijjaloy, a Chattogram-based importer, imported the apple in March, while German Chemical imported the chemical in June.
But the importers did not take delivery of the items on time.
Importers usually don't take delivery of imported products, notably fruits and chemicals, if the market price of the goods is less than the import expenses, said a customs official.
Importers typically have 30 days to take delivery of their imported products after they are unloaded from ships at the port jetty.
If they do not obtain delivery within the 30-day period, the customs authority notifies the importer, and if the importer does not receive the cargo within 15 days of issuing the notice, the customs authority can auction off the goods.
Mosarraf Hossain Masum, proprietor of Masum Enterprise and a top bidder for those apples, told The Daily Star, "The quality of the apple is not good. In an open tender, I proposed the highest price for the items out of 137 bidders."
Abdul Hannan, deputy commissioner of Chattogram Custom House, said those products were auctioned for consumption after they were found to be of good quality.
"More than a hundred bidders participated in the open auction, and the proposals will be sent to the auction committee, naming the highest bidders. If the auction committee approves the proposal, the products will be delivered," he continued.
"If the proposal isn't approved, the auction will take place again," he said.