BRRI's research and future food security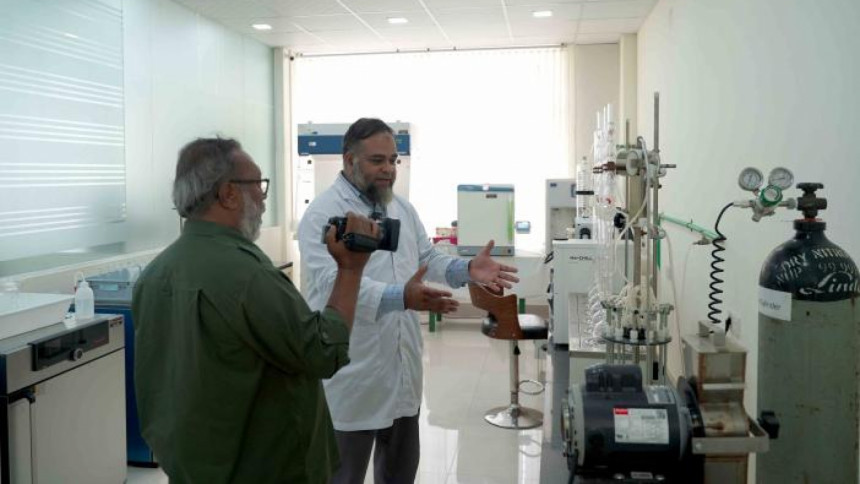 Adverse effect of climate change is affecting the whole world. While global warming, increase in salinity, rise in sea level and destruction of biodiversity are affecting us, the world is facing another bigger challenge of ensuring food security. Of the 7.9 billion people in the world, about 850 million are still facing hunger. In Bangladesh, over 20 million people do not have well access to food. As a result, One out of six people in the country is suffering from malnutrition. Rice is the staple food in your daily diet. I went to Bangladesh Rice Research Institute (BRRI) in Gazipur in the first week of June this year.
According to a report on food production and growth by UN's Food and Agriculture Organization (FAO), the growth of rice production in Indonesia, the Philippines, and Thailand, which are known as the largest rice producing countries in the world, is declining. However, Bangladesh is an exception in this circumstance. We have surpassed everyone in the growth rate of rice production and Bangladesh Rice Research Institute has played a key role in this regard. They are working a vision to continue sustainable food security and produce safe food.
Aiming at the year 2050, several agendas have been undertaken. Among them, the first is to produce more quantity and quality rice at a low cost. Secondly, to ensure disease and insect-free crops, fertilizer availability, and soil and water management through protecting the biodiversity. Thirdly, developing varieties and techniques that can adapt to hostile environments. Fourthly, to increase the institutional research capacity to make Bangladesh free from poverty. In doing this, one of the researches that has been prioritized is research on effects of nano-fertilizers and nano-pesticides, with will help to prevent the neck blast disease of rice, the scientists said.
I have talked to Chief Scientific Officer of Plant Physiology Division Dr Sazzadur Rahman and he said they have taken kaun rice as a model for C4 plant. They are conducting experiments on transferring kaun's gene to rice. In 2005, I had the opportunity to meet Dr Yuan Longping, father of hybrid rice, at Changsha in Hunan province, China. At that time, the production of hybrid rice in China was nine tonnes per hectare. He said they were working on development of super hybrid varieties through transfer of C4 rice from maize and the production will be 22 tonnes per hectare.
Now, research on C4 is underway with a vision to reduce use of water and increase nitrogen growth capacity so that it can adapt to the changing weather conditions. This will result in more photosynthesis in rice, even in the adverse weather conditions, and will be able to produce rice in less water. In our country, the weather is usually hotter and more humid in March-April. In extreme heat, we witness more empty rice (chita rice). Scientists are also working on developing high-temperature resistant varieties to prevent this. He says, if BRRI 28 and BRRI 29, two popular varieties in our country, can be established as high-temperature tolerant varieties, the C4 variety will be very useful for the changing climate.
Shahanaz Sultana, chief scientific officer of Biotechnology Department at BRRI, said world's latest biofortification and GMO technology are being used at BRRI to develop nutritious and safe rice varieties. Genome editing of rice, called BRRI 86 is being done, which stakeholders hope will play an important role in Boro and Aman in future. A state-of-the-art rice test laboratory has also been set up at BRRI. Related scientists said in addition to research, they also provide training to the researchers of various institutions. Various experiments are going on with C4 rice. The laboratory has already passed the test to reach international standards for testing whether there are any pesticides or herbicides in C4 rice. 
According to Good Agricultural Practice (GAP) principles, it is possible to export rice by taking certificate from the lab, said Senior Scientific Officer at BRRI's Crop Quality and Nutrition Division Dr Habibul Bari Sajib. BRRI scientists have already developed six such varieties, including the world's first zinc-rich rice variety BRRI 62 and other varieties, containing nutritional qualities such as protein, iron, anti-oxidants, GABA, Pro-Vitamin-A. They have also developed rice varieties containing low-GI and medicinal properties. In addition to this, BRRI has invented rice varieties that can be added to rice according to body's needs.
Releases of these new varieties are in process. They want to deliver the rice seeds to the field after getting approval from the environment department. Work on golden rice began at International Rice Research Institute, IRRI, long ago. In the beginning of the 21st century, research on golden rice was carried out in Los Baños, Philippines, with nutritional addition of Vitamin-A and popular variety BR 29 of Bangladesh.
BRRI's research has taken us a long way to achieving food self-sufficiency in Bangladesh today. However, the pace is quite slow in terms of global research standards. We need to be more proactive in this regard and think about timely research. Moreover, farmers should be introduced to modern agricultural knowledge and technology. If we can't determine the future of agriculture now, we will always fall behind. We know today's agriculture is not just agriculture, it is related to nutritional needs of people all over the world. The challenge of food demand is not only ours, but for the whole world. Developed countries are prepared to face the challenge by adopting new technologies and innovations by taking effective measures.   According to the researchers, the world's arable land is decreasing by 10 to 35 million hectares every year. With the ever-increasing global population, danger of food shortage is becoming quite alarming. Given this perspective, the rice-producing countries of the world -- Vietnam, Pakistan, Philippines, India and Bangladesh -- are working to obtain more yield and produce nutritious rice. I believe, if the vision 2050 goal of BRRI is fulfilled, food and nutritional security of the people of the country will be achieved.