Dengue: Risks, costs surge for late hospital admission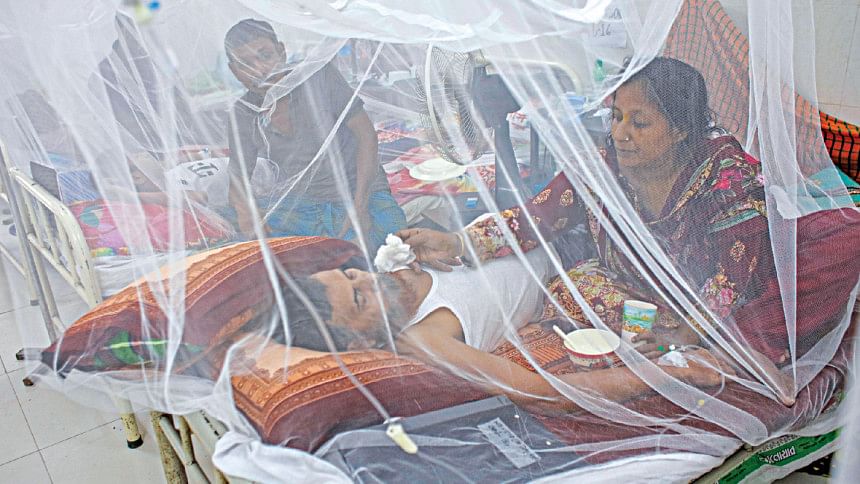 Maya Akter Sumi was surprised to notice blood trickling down the nose of her five-year-old daughter Israt Jahan Fatema on July 31.
Until then, Sumi and her husband, who live in a rented house in the capital's Mirpur-2 with their two daughters, thought Fatema was doing well as her three-day-long fever had subsided.
They took her to the Institute of Child Health & Shishu Sasthya Foundation Hospital that same night. Upon reviewing the blood test results the next day, doctors suggested immediate admission at Bangladesh Shishu Hospital and Institute in Shyamoli area.
The parents, however, delayed and Fatema was admitted on August 3.
Subsequently, Fatema experienced a series of escalating complications, leading to increased medical expenses, according to the doctors.
Speaking to The Daily Star yesterday, Sumi said, "We had no idea that bleeding is a dangerous sign of dengue. We thought our daughter was okay as the fever was gone in three days. Now, we are worried about our daughter.
"We had to spend Tk 5,000-6,000 on average every day to buy medicines only at the hospital. We had to borrow money to manage the expenses."
Doctors have repeatedly warned that delayed hospital admissions amplify the risks and treatment expenses for children with dengue.
In a similar case, 21-month-old Rafia Islam's parents, from Savar's Hemayetpur, had to spend Tk 60,000 only for medication since she was admitted late to the Shishu Hospital on July 25.
For Shahadat Hossain, a leguna driver, buying medicines worth around Tk 30,000 for his 11-year-old son was too much for him to bear.
In all three cases, the major expenses were for the costly antibiotic -- meropenem injection, and Albumin, according the prescriptions.
"Delayed hospital admission increases the need for a higher number of antibiotics and other medicines. As a result, the cost of treatment shoots up significantly," Dr Kamruzzaman Kamrul, associate professor and the lead consultant at Shishu Hospital, told The Daily Star yesterday.
It also increases the risk of casualties as delayed intervention may result in multi-organ failure in children faster than in adults, he added.
This year, 48 children aged 0-10 have so far died from dengue, making up around nine percent of the total fatalities -- 426 -- reported until yesterday, according to the Directorate General of Health Services.
While the overall death rate among hospitalised dengue patients was 0.5 percent, the percentage was significantly higher for children, standing at around 12 percent of 10,819 children admitted to hospitals.
The statistics, however, do not account for children aged 11-15.
As of yesterday, 6,938 children of this age group were hospitalised while 18 of them succumbed to dengue, representing four percent of the total reported deaths.
Dr Kamruzzaman, meanwhile, said, "Often a dengue test result may be false negative for many reasons. So, parents should be extra careful."
Prof Dr Iffat Ara Shamsad, head of the paediatric department at the Dhaka Medical College Hospital, advised parents to remain cautious regarding the dengue danger signs.
"When a child catches a fever, it is crucial to continue treatment under a doctor -- either it is at home or in the hospital. Because children are at risk of developing severe symptoms in dengue," she told The Daily Star yesterday.
Meanwhile, 10 people died from dengue while 1,984 were hospitalised in the 24 hours till 8:00am yesterday, according to the DGHS.
The total number of dengue cases now stands at 89,875.