Chattogram Medical College Hospital
Black fungus patient left without treatment due to drug shortage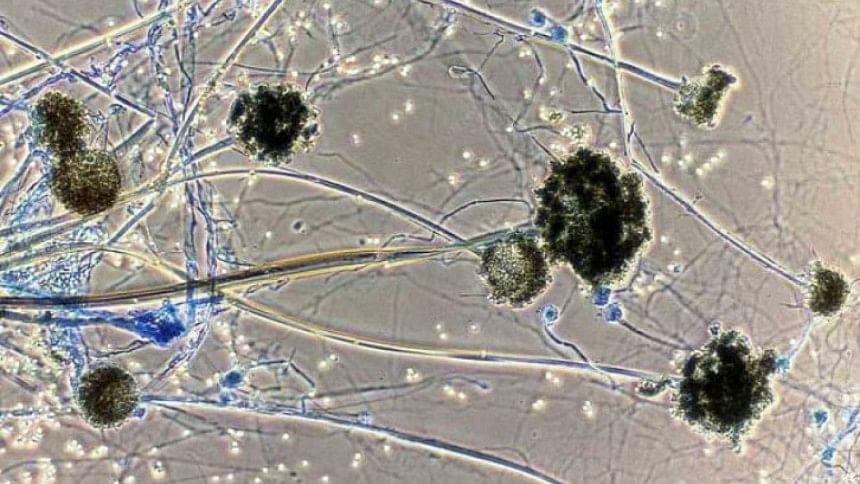 A patient diagnosed with black fungus (Mucormycosis) at Chattogram Medical College Hospital is not getting proper treatment due to lack of an essential drug necessary for the treatment, according to her family members.
They said the anti-fungal drug Liposomal Amphotericin B, which the doctors advised for the patient's treatment, is now in short supply in the local market. The family tried to get the medicine for the last three days in Chattogram and Dhaka markets but to no avail.
They also sought media assistance in this regard.
The patient is Ferdous Begum (60) of Patiya upazila in Chattogram.
She tested positive for Covid-19 in mid-June and got admitted to a private hospital where she was given steroids for treatment.
She recovered from Covid-19 on July 13 but on July 15, she started to have toothache.
"First, we thought it was a dental problem and visited a dentist who suggested some tests," said Tahmina Begum, daughter of Ferdous, adding, "After seeing the report, the doctor suspected it to be black fungus infection."
She was later admitted to CMCH.
"After a biopsy report, doctors confirmed it as black fungus infection and advised her for Liposomal Amphotericin B injection but we cannot get it in the local market," said Tahmina.
"We tried to get it in Dhaka but in vain. We have contacted the officials of Beacon Pharmaceuticals which produces the drug in the country. At first, they assured us to supply the injection but later said the drug is short in stock," she said.
"Doctors said the drug is a must to treat my mother. Now from where will we get it?"
Contacted, Shamim Miah, area manager of Beacon Pharmaceuticals in south Chattogram area, said his company produces the drug but currently it has gone short in market.
He could not provide any direct answer as to why the drug is short in the market. Asked again, he said, "We do not produce it in a large scale, as the demand for it is not that much."
He also said he did not know if any other company produces it.
Asked about the unavailability of the drug in the local market, Prof Dr Sujat Paul, head of medicine and Covid ward at CMCH, said he was unaware of it. "I am looking into it," he said.
Contacted, Chattogram civil surgeon Sheikh Fazle Rabbi said Amphotericin B injection is not supplied at the government hospitals as patients are very rarely infected with mucormycosis.  
He said he did not know whether the injection is short in local market. "As we did not get such cases in recent past, we did not pay much attention to it," he said, adding that he will inquire about it.
Dr AQM Serajul Islam, a former professor and head of CMCH's dermatology department, said Amphotericin B is an essential drug to treat mucormycosis but it is not available in local market.
"As the disease is a very rare one, local pharmaceutical companies are not interested to produce the drug," he said, adding, "It is also a very expensive drug."
So, the government should take initiative to manage the drug from local or overseas markets and supply those to the government hospitals so that underprivileged patients can get it free of cost, said Dr Serajul, also president of Bangladesh Dermatological Society.
Earlier in May, two cases of black fungus have been detected at Dhaka's  Birdem Hospital in patients who have recovered from Covid-19.
  According to the United States Centers for Disease Control and Prevention, "Mucormycetes, the group of fungi that cause mucormycosis, are more common in soil than in air, and in summer and fall than in winter or spring. Most people come in contact with microscopic fungal spores every day, So, it's probably impossible to completely avoid coming in contact with mucormycetes.  
These fungi aren't harmful to most people. However, for people who have weakened immune systems, breathing in mucormycete spores can cause an infection in the lungs or sinuses which can spread to other parts of the body."
Health experts said there is no reason to panic as people of all ages are not at risk of the disease.
Covid-19 patients, those who are diabetic, take steroids, have cancer or transplanted organs, and other comorbidities are susceptible to an infection, they said. Coronavirus affects people's immune system and the treatment drugs further suppress their immune response, they added.