Surge in Covid Patients: Hospitals in city overwhelmed
Many patients refused admission for lack of beds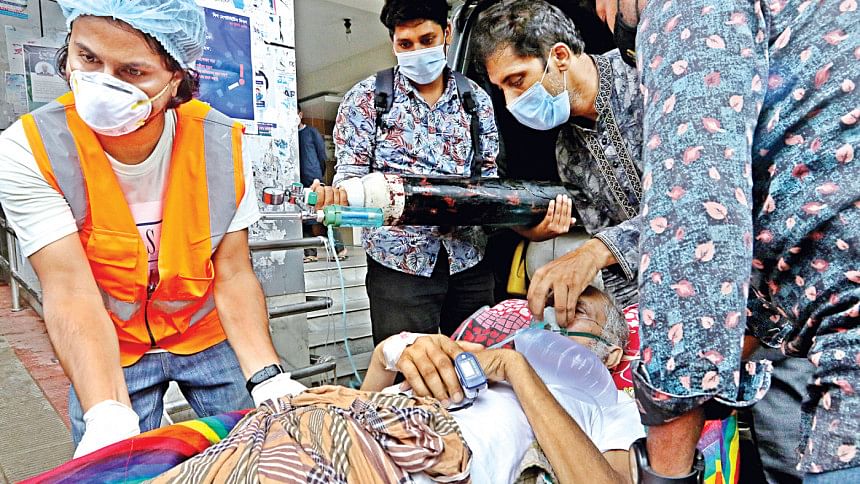 Wednesday was a nightmare for Shipra Baidya and her family.
While at home in Gopalganj, the woman in her mid-40s started having breathing difficulties early that day. She was whisked off to a public hospital in the capital dedicated to treating Covid-19 patients.
But she was turned away as no bed was available there. She was then taken to another government hospital in the city but was refused admission there as well.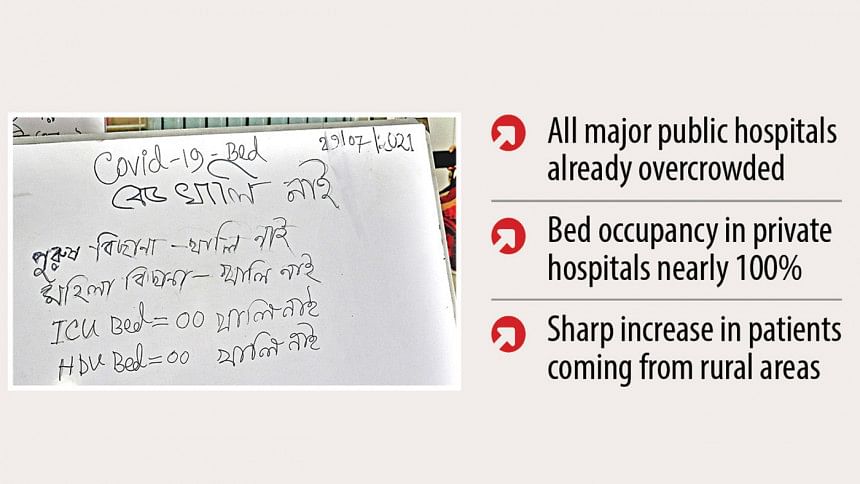 Hoping that Shipra would be admitted to Dhaka Medical College Hospital (DMCH), her son Shukhdeb Baidya waited outside the hospital gate for hours on Wednesday night. The entire time, Shipra had to suffer lying inside an ambulance outside the DMCH.
"My mother needed oxygen support and we had taken her to the capital on doctor's advice. But all the hospitals there shut the door on us. Having no other options, we took her back to Gopalganj and got her admitted to a local hospital," Shukhdeb said.
This is not an isolated case. Many like Shipra are being refused admission to public hospitals in the capital as those are already overburdened with Covid patients.
As the number of Covid deaths and infections keep surging, the hospitals find themselves in a major crisis: most of those don't have any empty beds while many others are treating patients beyond their capacity.
And hundreds of patients arriving in the capital from different districts are suffering as they are denied admission to hospitals already stretched to their limits. They are left with no choice but to return home.
At present, there are 64 government and non-government hospitals in the capital for Covid patients, according to the dashboard of Directorate General of Health Services (DGHS).
Of those, only seven hospitals, including public and private ones, had around 50 percent beds available till Thursday.
All the major government hospitals treating Covid patients, including Bangabandhu Sheikh Mujib Medical University, Mugda Medical College Hospital, Kurmitola General Hospital, DMCH, Kuwait-Bangladesh Friendship Hospital, and DNCC Dedicated Covid-19 Hospital have been overwhelmed over the past few days.
Most of these hospitals are taking new patients only when beds become vacant after admitted patients die or are discharged, said officials concerned.
There are 40 private hospitals in the city which are treating Covid patients. However, the bed occupancy rate in all of them was nearly 100 percent as of Thursday, according to the DGHS data.
Visiting different hospitals across the capital in the last couple of days, these correspondents saw long queues of patients and lines of ambulances outside the healthcare facilities. The patients, many of them in ambulances, were seeking admission, but there was hardly any space inside.
Tanjila Begum, a 22-year-old Covid patient from Shariatpur, is one of those who had to return home failing to get admission at the DMCH.
Her chest CT scan report showed that her lungs were infected. When she started having difficulties in breathing, her father Anwar Gain panicked.
"There is no hospital in Shariatpur where my daughter can get the oxygen support she needs. The nearby Faridpur Medical College Hospital is overcrowded and does not have any ICU facility. So, we rushed to Dhaka," Anwar said.
He further said he first took his daughter to Mugda Medical College Hospital, only to find that all the beds there were already occupied.
"Then I brought her to Dhaka Medical College Hospital and have been waiting here for around 24 hours," said an utterly frustrated Anwar with her daughter gasping for breath inside an ambulance.
Later, they headed back to Shariatpur.
An official at the DMCH's admission department said they were struggling to handle the rush of coronavirus patients.
"We are currently taking new patients only when a seat becomes vacant…"
DMCH Director Brig Gen Nazmul Haque said, "We have a total of 705 dedicated beds for Covid patients, whereas we are accommodating more than 730 patients now. We exceeded our capacity much earlier.
"Now, we are treating patients at the outdoor department, and referring them to other hospitals. A new patient can get admitted only when an admitted patient dies or is discharged."
A notice hung at the entrance to the Mugda hospital yesterday said the hospital did not have any seats available for Covid patients, not even in the ICU.
Long queues of ambulances carrying critical patients were seen outside. The patients and their families were desperately hoping that a few seats would fall vacant.
One such patient was Pushpa Begum, a 50-year-old woman from Narayanganj, who tested positive for Covid four days ago.
She was taken to the 300-bed Narayanganj hospital. As her condition worsened, her family was advised to take her either to the DMCH or the Mugda hospital.
Pushpa was turned away by both the public hospitals. She was advised to take oxygen support at home.
Talking to The Daily Star on Thursday, Dr Asim Kumar Nath, director of the Mugda hospital, said, "All our beds have been occupied over the last two days. A new patient can be admitted only if a bed becomes vacant. We give priority to the extremely critical patients for admission."
For Covid patients and their families, such a situation can be frustrating because a number of hospitals have empty beds, but they lack the necessary manpower and equipment to provide proper treatment to Covid patients.
According to the DGHS dashboard, 146 beds for Covid patients are vacant at the National Institute of Traumatology and Orthopaedic Rehabilitation (Nitor).
But it doesn't have high-flow nasal cannula, ICU beds and sufficient number of trained manpower to treat infected patients. As a result, the hospital has not been able to operate its Covid-19 unit at full capacity.
Asked, Nitor Director Prof Md Abdul Gani Mollah, "We have dedicated three floors of our hospital for treating Covid patients. But we are providing treatment to only those already admitted here.
"We are trying to enhance our capacity by procuring high-flow nasal cannulas and recruiting doctors."
The DGHS data showed that the National Institute of Cardiovascular Diseases in the capital had 146 empty beds for Covid patients. But these correspondents found that most of those beds were occupied by cardiac patients, who were infected with Covid.
The hospital authorities said they were giving cardiac patients with Covid priority because such patients may not get proper treatment at general hospitals.
Contacted, DGHS Director (hospitals and clinics) Dr Farid Hossain Miah said, "It's not true that there is an acute crisis of beds at the hospitals. Actually, most of the patients are going to some major hospitals, which are already overcrowded.
"There are many hospitals even at upazila and district levels. Those can treat such patients. There are many vacant beds there," he said.
Health Minister Zahid Maleque told The Daily Star that they had instructed the authorities to increase the number of beds at hospitals at the upazila level to accommodate more patients.
Currently, there are 10 hospital beds dedicated for Covid patients in every upazila and the authorities were asked to increase the number to 20.
"We have also instructed them to boost oxygen supply to those hospitals so that people don't have to flock to district and divisional hospitals.
"These [district and divisional] hospitals are already overburdened with patients. There is little scope to increase beds in these hospitals," said Zahid.