A Snapshot of life: Tested positive, negative and the trouble
Tested positive, negative and the trouble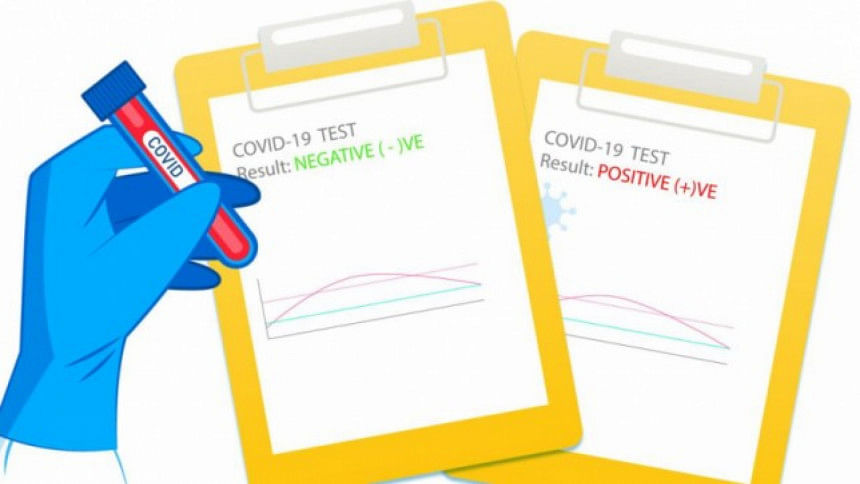 Grey area. The place between black and white -- and that is where life happens. This begs the question: shouldn't the government's communication be clear and concise for events that might fall in the grey area?
One event that can fall in the grey area is two different results of RT-PCR tests taken within hours of one another.
Airline rules state that a passenger must provide a negative PCR test taken no more than 72 hours before the flight from a list of authorised laboratories, which consist of both government and private hospitals.
Implicit in this is that the later the test is, the better it is as it gives heightened assurance that the passenger does not have Covid-19, which has turned the world upside down for the best part of the past 18 months or so.
In line with that reasoning, I had arrived at the Hazrat Shahjalal International Airport (HSIA) on the 26th of July in good time to catch my flight at 6:35am with a negative PCR certificate from a test taken less than 36 hours earlier at a government-authorised private hospital.
What transpired after that was most definitely up there amongst the most traumatic experience in my life, and it was all because of the absence of clear communication from the Directorate of General of Health Services (DGHS) and the HSIA authorities on events that fall in the grey area.
On the morning of the 24th of July, I had taken another test at the walk-in testing facility at the Bangladesh Army Stadium dedicated to foreign travellers.
I was told that my test result might take 48 hours to come, which would cut too close to my flight.
To avoid such a scenario, I booked another test with the private hospital, which assured me that the result would be provided within 24 hours.
At 11:27pm that day, I received a text message from the DGHS stating that the result of the test taken at the Army Stadium came back positive.
And four hours later, at 3:32am, came the text message from the private hospital informing me that I have tested negative.
I had more reason to trust this result than the previous one, which was based on just my throat swab -- and no nasopharyngeal swab that is also needed for an RT-PCR test -- collected by a technician who sat behind a glass booth with no mask on, let alone a PPE.
At the airport, the health department officials pulled out my test record and saw the positive test. What happened after that was harassment of the highest order.
Apparently, I have committed a felony by arriving at the airport knowing that I was positive for Covid-19.
My passport was confiscated and I was corralled to a corner in the airport, with no one allowed to get near me, as if I had a suicide vest on me and was going to blow myself up.
They would be placing charges against me before the magistrate along with a fine of Tk 50,000 to Tk 1 lakh. And, I would be sent on an institutional quarantine to either Kurmitola General Hospital or Kuwait-Bangladesh Friendship Hospital for a week.
Apparently, one is not allowed to take a second test after testing positive. There is no such thing as a false positive; there is only false negative and my second test was one.
Where does it state on the HSIA website that one is not allowed to take more than one test before flying?
Where does it state that one is not supposed to show up at the airport for fourteen days after testing positive even though there could be multiple test results after the initial test certifying that the individual is negative?
The HSIA website, in fact, hardly has any information on what to do before flying during these extraordinary times.
The officials of the health department maintained that I had fudged my health condition and the private hospital has enabled my illegal behaviour.
I was a no-show for my flight since I was not given the chance to inform the airline counter that I was not allowed to fly.
My ticket had to be forfeited -- who would bear the cost of buying a new one?
For the next eight hours or so, I was segregated and was not allowed to drink water or use the restroom, with no information on when the magistrate would arrive. Is this humane behaviour?
Meanwhile, I managed to get hold of a relative who is a high-ranking government official. He managed to extricate me from the ordeal.
But not before I was taken to the Kuwait-Bangladesh Friendship Hospital in an ambulance, where a civil surgeon went through my vital stats and said I was free to go home.
Only then was my passport returned to me.
I dread to think what would have happened to me had my relative not pulled strings. I would have languished in that pen, without water or food or a trip to the restroom for God knows how long.
I shudder to think what those less privileged than I am go through, what ordeal hapless migrant workers go through in the absence of clear communication from the government on the grey area. How is this fair?
If there is absolutely no confidence in the test result from the private hospital, why is it still government authorised?
Does the DGHS even keep watch on how samples are collected at the Army Stadium dedicated for those who are travelling abroad? I shudder to think what tribulation the migrant workers have to go through for careless sample collection at this camp.
Let's accept that I have Covid-19, but aren't asymptomatic patients allowed to go home? Why was I held hostage for that long?
At a time when there is a rising scarcity of hospital beds, why the insistence that a perfectly healthy individual occupy one?