Pcr Test at Airport: Results not so rapid
80 migrants miss flight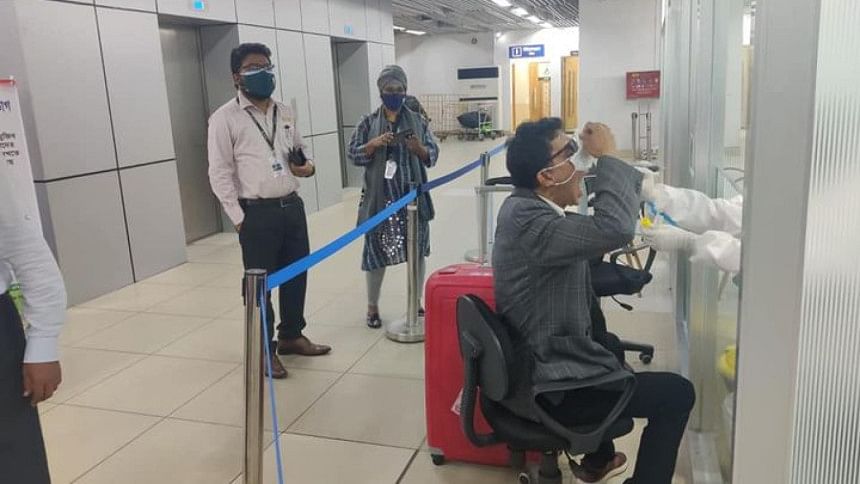 There seems to be no end to the woes of the stranded 20,000-odd UAE-based Bangladeshi expatriates.
Now that the government has made the rapid PCR testing facilities at the airport operational from September 29, a new problem has cropped up:  the six labs are not providing the test results, mandatory for boarding a UAE-bound flight, in good time.
Subsequently, the UAE-domiciled Bangladeshi nationals, who are impatient to return to their host country after being stuck here since May 12 as a result of a flight ban from Bangladesh by the Gulf nation, are missing their flights.
For instance, on Monday, 80 UAE-bound passengers, most of whom are migrant workers, could not board their scheduled Etihad Airways flight as their rapid PCR test result did not come through, according to the Hazrat Shahjalal International Airport (HSIA) authorities.
The Gulf state had imposed a flight ban from Bangladesh on May 12 following a huge spike in cases in the preceding weeks and the emergence of the highly transmissible Delta variant of the coronavirus.
While the ban was lifted on August 4, it came with a condition for entry: negative results from PCR test done 48 and six hours before departure.
Such a rapid test result stipulated by the UAE government is possible if there are testing facilities at the airports, which none in Bangladesh had then.
The government took a while to set them up at the Dhaka airport, but it now appears they are not functioning as efficiently as they should, The Daily Star has learnt after speaking with a host of UAE-bound expatriate Bangladeshis.
"They are taking a long time to give us the test result. If we cannot get the test result two to three hours before our flight, we are at risk of missing our flight," said Aminul Islam, a UAE-bound migrant worker.
Mohammad Nabi, another UAE-bound passenger, said some of his acquaintances have missed their flight even after arriving at the airport nine to ten hours before take-off to give samples for the rapid PCR test, which cost Tk 1,600 for all but the migrant workers.
The UAE-bound passengers said they need to stand in ten separate queues for the Covid-19 test at the facilities set up inside Terminal-1 of the airport.
Despite these sufferings, they are at risk of missing their scheduled flights, they said.
Many passengers are arriving after the check-in counter had closed because of the delay in getting their rapid PCR test result, said officials of different UAE-bound airlines.
By and large, airlines close their check-in counter an hour before the departure of international flights.
"If there were one or two passengers, we could still arrange for them to board the flight. But if the number of passengers is too many, we can't do anything," said an official of an airline on condition of anonymity as he is not authorised to speak with the media.
The entire process of getting a Covod-19 test at the airport is very badly managed, he said.
"Passengers are simply not given their test results considering their flight times."
Even then, their problem does not end: they have to stand in another queue for online verification of the test result.
"This is causing waste of time," he added.
Contacted, Touhid-ul Ahsan, executive director of HSIA, blamed the six healthcare facilities that were allowed to set up the labs at the airport and the health department for the UAE-bound passengers' hardship.
The six rapid PCR labs at the airport are being run by Stemz Health Care, CSBF Health Centre, AMZ Hospital, Anwar Khan Modern Medical College and Hospital, ZH Sikder Women's Medical College and Hospital, Gulshan Clinic and DMFR Molecular Lab & Diagnostics.
Ahsan went on to advise the UAE-bound passengers to arrive at the airport with enough time in hand.
"Arriving at the airport at least six to eight hours before the scheduled flight schedule will not cause such problems to the UAE-bound passengers," he added.