Lockdown Detainees: Crammed in vans, at risk of catching Covid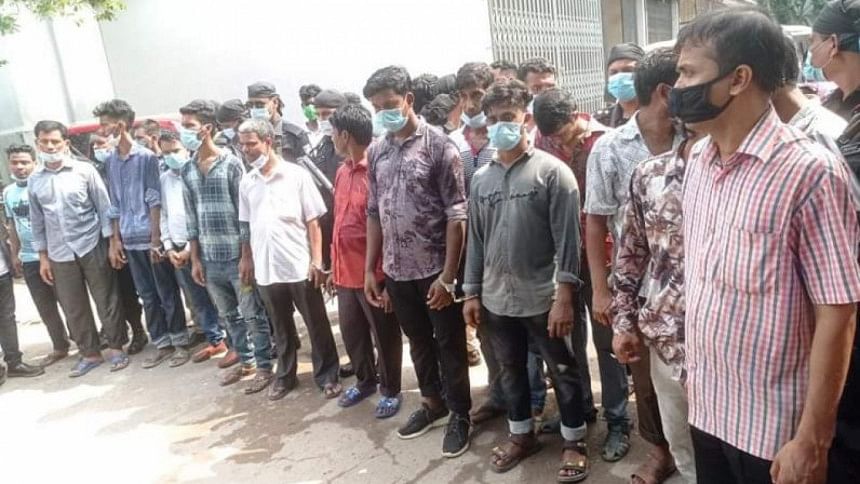 People arrested for defying the ongoing lockdown are being taken to courts in packed prison vans, raising their chances of contracting Covid-19 and spreading it to their families.
Around 1,000 arrestees, many seen without face masks, were taken to the Chief Metropolitan Magistrate's Court in Dhaka in prison vans on Wednesday and yesterday.
The lockdown began in the capital from July 1 to contain the spread of the novel coronavirus.
A police officer on duty at the court said prison vans carried a minimum of 10 to a maximum of 30 arrestees.
Abdul Latif, officer-in-charge of Mohammadpur Police Station, claimed that before boarding the prison vans, arrestees are provided with face masks. He also said that when the number of arrestees is high, they arrange more vans.
Several hundred family members and friends of the arrestees have also been gathering at the court compound every day. Many of them were also found either without masks or wearing it improperly, this correspondent witnessed when visiting the court premises yesterday.
The situation was the same on Wednesday.
Court sources said that until yesterday, over 4,500 people were arrested in connection with violating lockdown rules and taken to the CMM court in Dhaka.
Most of them were fined Tk 100 as punishment and released, court officials said.
Many of the arrestees are from lower socio-economic backgrounds and had stepped out of home for work, relatives of those arrested over the last two days told The Daily Star.
When the lockdown began, 55-year-old Mofazzzal Hossain followed all rules, stayed home and shuttered his tea stall in Kadamtala area at the capital's Shabujbagh.
But as he realised his family was about to face a food crisis, he had to open up his stall for business. He had also been unable to pay his house and shop rent since June.
Mofazzzal was arrested by Sabujbagh police on Wednesday morning for defying the lockdown.
Soon after the arrest, his two children rushed to the police station to see their father, who had earlier suffered a stroke along with other health complications.
Later, they also went to the court premises after failing to provide their father with some food at the police station.
"We are not allowed to get out for work, we are not given any government assistance. How are we expected to survive the lockdown?" the son asked.
Mofazzal was released around 12:30pm yesterday.
Mokles, 63, was seen wailing on the staircase of the court yesterday morning. He had come to release his son Miraj – the lone earner of the family.
Miraj, 30, was arrested by police from Konapara area in Dhaka's Demra on Wednesday evening as he went out for work.
"We did not get any help from the government during this lockdown. If my son doesn't work, we will have to starve," Mokles said.