Insanity reigns as lockdown goes
Risk of Covid spread rises as thousands leave city barely maintaining safety rules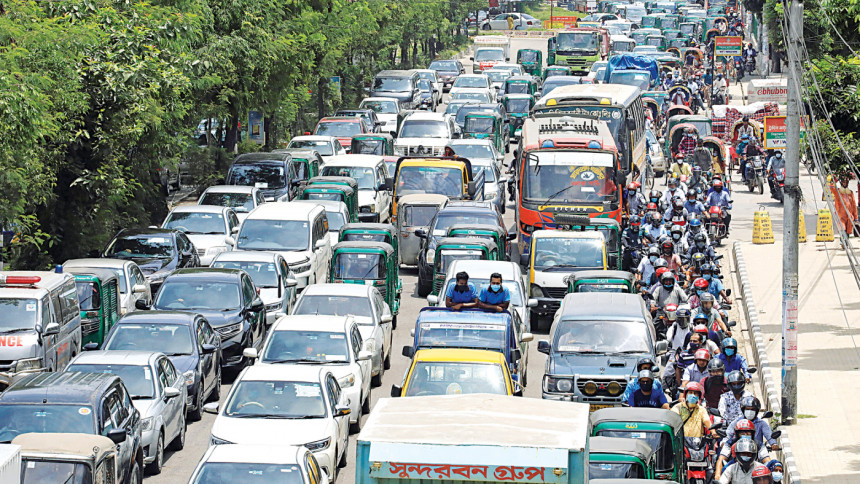 Thousands of people left Dhaka yesterday on buses, trains and launches as the government relaxed the "strict lockdown" ahead of Eid-ul-Azha, which has raised fears of an increase in Covid-19 transmission.
All types of transport modes were supposed to carry passengers at 50 percent capacity to minimise the transmission, but some local trains, buses and launches allegedly violated the rules by carrying more than the stipulated passengers.
Thousands were seen crossing the Padma on crowded ferries, while the sharp increase of vehicles on some highways, including Dhaka-Aricha and Dhaka-Tangail, led to traffic congestion.
Many passengers also alleged that some bus operators overcharged, while others complained about scarcity of bus tickets.
Meanwhile, Dhaka has quickly reprised its pre-lockdown character with heavy traffic jams and bustling crowds on streets, and shopping centres and markets packed with shoppers ahead of Eid.
The government on Monday announced that the ongoing "strict lockdown" would be relaxed from yesterday to July 22 centring the Eid on July 21.
This development came at a time when the country witnessed the second-highest single-day death toll of 226 yesterday, with the daily positivity rate at 27.23 percent.
In the lead-up to the lifting of the strict lockdown, many health experts had warned that it could lead to a further spike in Covid-19 cases and deaths, as was the case in the aftermath of Eid-ul-Fitr in mid-May.
TRAINS
After a lockdown-induced break, Bangladesh Railway (BR) resumed its operations yesterday morning.
As per its earlier announcement, BR will operate 38 inter-city and 19 commuters, local trains at 50 percent capacity, maintaining health safety guidelines.
Of the trains, 34 are to be operated from Dhaka to different destinations, Kamalapur Station Manager Masud Sarwar told this correspondent.
Meanwhile, Railways Minister Nurul Islam Sujan yesterday visited Kamalapur Railway Station in the capital around 10:30am and talked to passengers of Kishoreganj Express.
He was accompanied by around 80-100 people, including Railways Ministry Secretary Salim Reza, BR Director General Dhirendra Nath Mazumder and other BR and security staffers.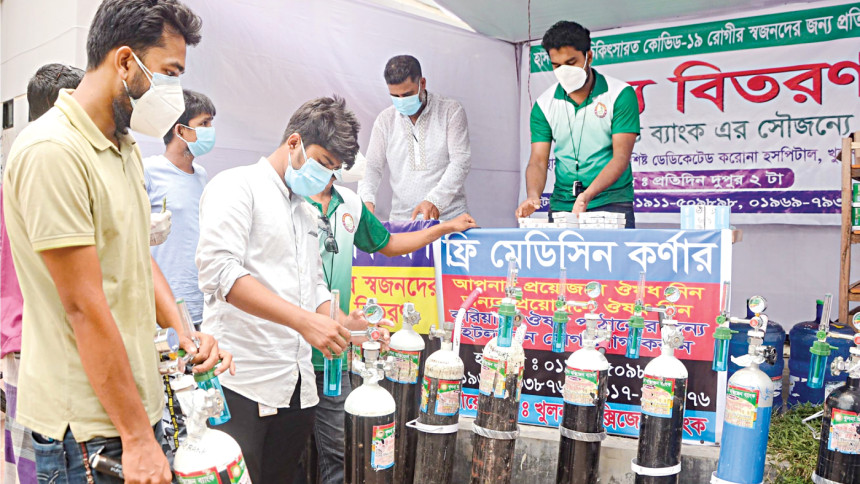 Later, talking to journalists, the minister said they are operating trains, maintaining health safety guidelines.
However, when reporters said many local trains were seen operating at more than 50 percent passenger capacity, the minister said, "There may have been some deviation on local trains."
The minister said all stations do not have access control systems, so when a local train arrives, a huge number of passengers thronged there, leaving authorities with very little to do.
He, however, said they would take action if any BR officials or staffers were found responsible for this.
When reporters said many people faced difficulties in buying tickets online, the minister admitted the problem.
Some "40 to 50 lakh" hit the website for tickets, causing problems, he said.
BUSES
The Daily Star correspondents visited Gabtoli and Mohakhali inter-district bus terminals yesterday, and found a huge number of people leaving Dhaka from the morning onwards.
Many buses were seen accommodating passengers on engine covers next to the driver's seat, without maintaining physical distance. Many buses were seen picking up passengers on the way after leaving Gabtoli.
Besides, many said they faced problems getting tickets as the day wore on and that bus operators charged extra for tickets.
Rasel Hossain, a truck driver, came to Gabtoli around 11:30am and bought a ticket of Souhardo Paribahan for Tk 600 to go to Rajbari.
"I travel home regularly on this bus service with Tk 300 tickets, but now I had to pay Tk 600," he said.
Selim, a ticket seller of Souhardo Paribahan, said they used to charge Tk 300 to get more passengers, but the original price of the ticket is Tk 380, and now they are charging Tk 600 as per the government order.
Many passengers and transport workers were found violating health safety guidelines and a mobile court at Gabtoli filed 13 cases against 13 persons and fined them a total of Tk 31,500 till 2:00pm yesterday, a police official attached with the court said.
However, the number of passengers was low when this correspondent visited Mohakhali Bus Terminal around 3:00pm yesterday. Passengers alleged over-charging there also.
Meanwhile, our correspondents from Munshiganj and Manikganj reported crowding at Shimulia-Kathalbari and Paturia-Daulatdia ferry terminals. Many were seen without masks or not wearing the face coverings properly.
LAUNCHES
Five launches at Shimulia terminal were fined a total of Tk 5,000 for overloading and violating health safety guidelines.
There was huge pressure of home-goers at the Sadarghat Launch Terminal in the evening and many launches were seen over-crowded.
Shahidul Alam, acting officer-in-charge of Sadarghat River Police Station, said the number of passengers increased in the evening and some passengers and launch staffers were found violating health safety guidelines.
He said a mobile court fined 15 passengers and launch staffers Tk 100 to 200 each for the violation. Besides, a launch of Green Line-2 was fined Tk 32,000 for overcrowding, he added.