War against Covid: Satkhira youths arm themselves with oxygen cylinders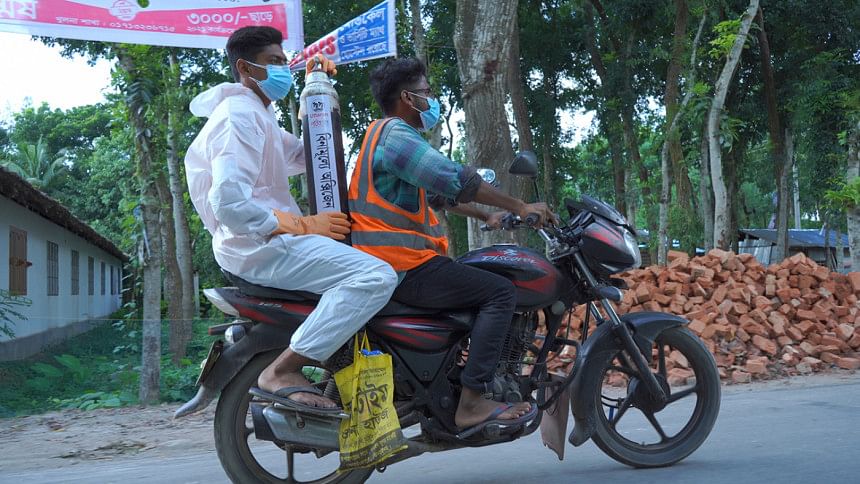 In the fight against the third wave of Covid-19 infections, youths in Bangladesh's southern district of Satkhira have taken a united front.
The pandemic has stretched the already struggling health sector quite thin and this means more hands were needed to tackle the issue.  
In Satkhira, a border district which has seen a spike in Covid-19 cases after the Delta variant started wreaking havoc, 800 young people -- involved with 24 youth organisations in seven upazilas -- are working to provide critical oxygen support to those in need.
It is an example of citizens taking matters into their own hands at a time when the available infrastructure right now is not enough to serve everyone.
For a population of over two million people in the district, there is one government-dedicated Covid-19 hospital -- Satkhira Medical College and Hospital (SMCH), a 250-bed facility.
"There are private hospitals that do offer Covid-19 treatment to patients," says SMCH Resident Medical Officer Dr Ahamed Al Maruf.
The treatment there, however, is too expensive for the general population, says Zahid Amin, Project Coordinator of Disaster and Humanitarian Action at Uttaran, an NGO based in Satkhira.
Uttaran is a part of the district-wide collaboration with the 24 youth organisations to provide Covid-19 relief and primary health support to patients.
Many volunteer groups such as Satkhira Blood Foundation, a small volunteer-run organisation based in the Sadar upazila, were among the first that started providing oxygen cylinders independently at the beginning of May, when the situation started deteriorating in Satkhira due to the spread of the Delta variant. The Satkhira Blood Foundation started with five oxygen cylinders.
Uttaran initiated their oxygen bank in the district on July 5. Satkhira Blood Foundation was their technical partner and soon the collaboration picked up steam. They brought the 24 youth-organisations that had been working from the beginning of the first wave -- under their umbrella and initiated one hotline number to streamline the process. These youth organisations inlcude Green Man, Covid 19 Response Team, Amraa Bondhu, Tala Blood Bank, Shohanuvuti, Manobsheba Blood Foundation, Patkelghata Blood Foundation, Alokito Chargram, Srimontokathi SatroKollan Parishad, Pathok Forum, Shyamnagar Blood bank, Utsharga Society and Gabura Raktadan Sanghstha among others.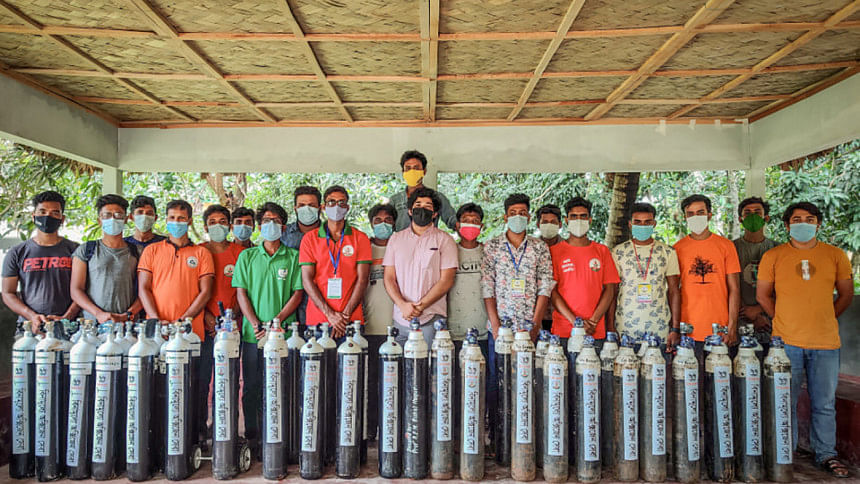 Now, Uttaran has four warehouses in the district with 94 oxygen cylinders. The 24 youth organisations with 800 volunteers, of whom 92 have technical training started with their own oxygen cylinders -- each between one and five and now they can also access the warehouses whenever more cylinders are needed.
Separately, unbeknownst to each other, they had started providing oxygen cylinders to those who needed it the most. Within the course of a month or two, all of them had come together under one united front and were working to provide oxygen cylinders.
A report published early this month by Uttaran says the situation in Satkhira is grave, especially for the poor. Upazila health complexes do not treat Covid-19 patients and refer them to the Covid-19 dedicated hospital at the district level, which is full pretty much all the time.
According to SMCH RMO Dr Ahamed Al Maruf, two weeks before Eid-ul-Azha, the 250-bed hospital had patients numbering at 280. The hospital has eight Intensive Care Units (ICUs) and 5-7 CCU beds which can be turned into HDU beds when needed. That is not nearly enough to serve a population of over two million.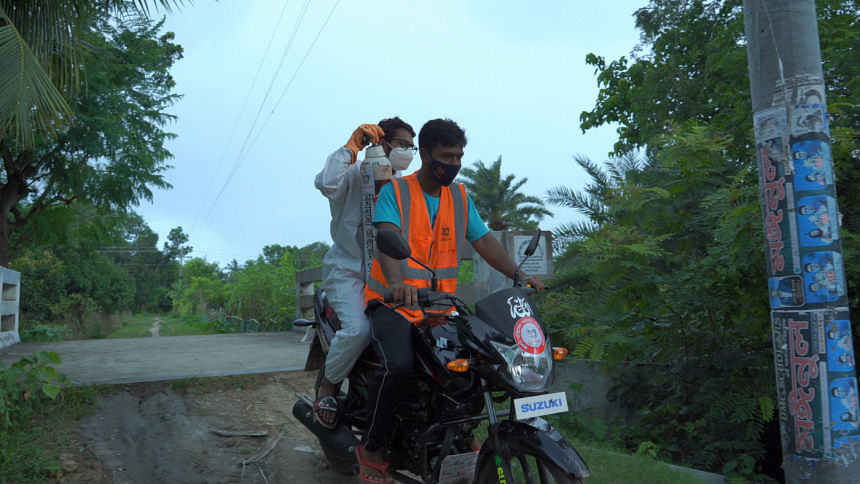 The reason the youth organisations collaborated with Uttaran was to make sure their operations got bigger and they could source more funds. Small donors such as AGP (Army of Good People), Poriborton Kori, and Footsteps were the first to come in with donations.
A phone call to any of these organisation's hotline number (01937594468), which they have advertised over Facebook, and their volunteers will rush out on their motorbikes, collect the oxygen cylinders and set it up at your home -- all free of cost.
The 92 technical volunteers have been trained by the doctors of the upazila health complex on the basics of providing oxygen support and understanding when a patient needs this help.
Imran Rabby (23), president of Green Man, one of the volunteer organisations based in Tala upazila, has been serving Covid-19 patients.
Their oxygen cylinders have helped many patients in the district although not all stories are of triumph. For 45-year-old Abdur Rashid and his son, this oxygen cylinder meant keeping the hope alive for just a little longer.
"His son first called us in the evening saying Abdur Rashid is admitted at Satkhira Medical College Hospital and he needs oxygen badly but no ICUs were vacant at the time. The hospital could only provide him with two oxygen cylinders but that was not enough. We called the organisation in Sadar upazila who immediately sent two oxygen cylinders. But that too was not enough. Rashid chacha's son called us again and requested for more oxygen cylinders but there was no more at the Sadar office. So, we started off on our bikes carrying two cylinders each. Through the night, we supported him with ten cylinders but eventually he could not be saved because he needed high-flow oxygen and that option was just not available," says Rabby while sharing some of the trials and tribulations in this journey.
"Around fifty volunteers all aged between 18 and 25 years are working round the clock to provide this support. Many patients cannot afford to, many cannot find a bed in the hospital and many cannot manage an oxygen tank -- we provide support to all. Our volunteers on motorcycles and easy-bikes go out to these remote destinations -- often on ragged roads -- to set up oxygen tanks for those who asked for it," says Rabby.
For Tala upazila alone, each day Imran Rabby and his team have to send out at least 20 cylinders to patients in need. And for oxygen refills they have to go all the way to Satkhira Sadar upazila.
These volunteers do not have access to big vehicles owing to the steep fuel cost and often have to make these trips on motorcycles, the more easily available mode of transport.
Very recently though, two ambulances have been managed through crowdfunding and donations to aid this group of volunteers.
Mominul Amin Mithu is another such volunteer. Serving the Sadar upazila of Satkhira, he is the president of Satkhira Blood Foundation.
"We have 15 active volunteers, of whom ten have technical training to set up the oxygen cylinder, and they are aged between 18 and 30 years. These guys risk contracting Covid-19 every time they answer the call of duty. Each day we send out nearly 10 cylinders to the field and have to go for oxygen refills as well. This is tremendous pressure. I, myself, have contracted Covid-19 in this process," says Mithu.
The operation which had started as a haphazard call to action from citizens during the third wave of the pandemic has grown significantly.
This brings to mind more questions though. What will happen to the country where citizens and young volunteers have to respond to pleas for help from Covid-19 patients? How will we cope with this ongoing crisis? How can the health sector improve and cushion us from such blows in the future?