'We are nobody's priority'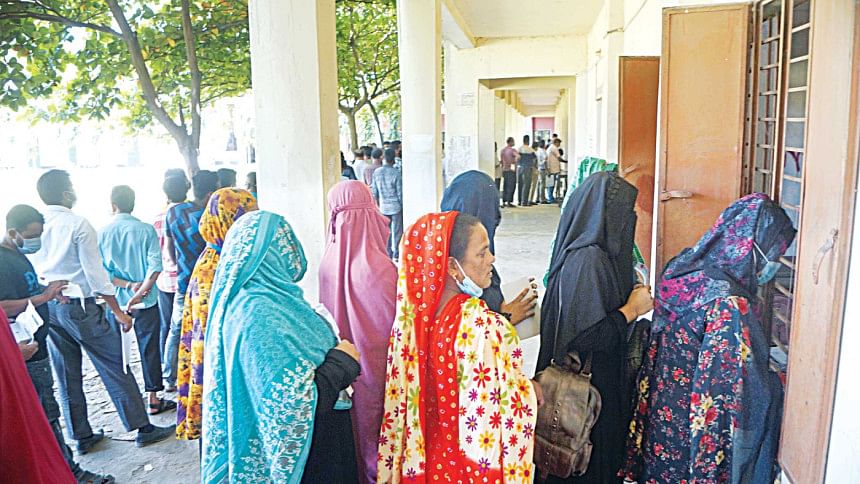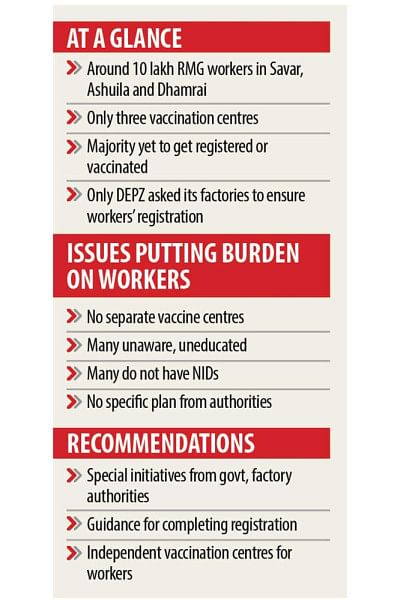 In absence of any systematic plan from the government or the BGMEA, an overwhelming majority of workers in Ashulia and Savar industrial belt are yet to be registered for Covid-19 vaccines.
Only factories under the Dhaka Export Processing Zone (DEPZ) have thus far been directed to ensure Covid vaccine registration for all workers.
RMG workers demanded that an independent vaccination centre dedicated for them be set up to ease and fast track the vaccination process. At the very least, their factories should take initiatives to register them for the vaccines, they added.
The government, however, does not have a separate plan for garment workers.
Dr Shamsul Haque, member secretary of Vaccine Deployment Committee at the health directorate, told The Daily Star, "We had a plan to vaccinate RMG workers on a priority basis. But now all they have to do is register. Those who are aged 25 and above can register and get vaccine."
Without registration no one will get vaccine, no matter which group they belong to, he added.
Faruque Hassan, president of Bangladesh Garment Manufacturers and Exporters Association, said so far some four lakh -- out of 40 lakh -- workers have been vaccinated in different factories all over the country.
However, some factories are getting priority and some are still lagging behind, Hassan said.
Khairul Mamun Mintu, organising secretary of Garments Worker Trade Union Centre, pointed out that the government is yet to bring the workers under a priority list, although they need to be vaccinated on an urgent basis.
"It is not possible to vaccinate over 15 lakh RMG workers of Savar, Ashuila and Dhamrai in three centres along with the rest of the population of this area, if an independent vaccine centre for workers is not set up."
It is better to vaccinate workers inside the factory, said Mintu, adding that factory authorities have to ensure vaccine registration of workers.
Workers who have no national ID need to be brought under vaccination, he added.
THE LONG ROAD TO VACCINATION
The Daily Star spoke to over 50 workers from at least 25 factories in Savar and Ashulia outside of DEPZ; workers from only three factories said that their authorities have completed their vaccine registrations.
Emran Hossen, a worker of Al-Muslim Group, a manufacturing factory housing over 18,000 workers, said, "If we are the ones keeping the wheels of the economy going, then why weren't we vaccinated on an urgent basis?"
"When it comes to opening factories in the middle of lockdown, it is a matter of priority. But when it comes to our vaccination, we are nobody's priority. We feel hopeless."
Many workers are unaware and uneducated, and cannot complete the registration process without some guidance, he added.
Meanwhile, many workers are unable to register because they do not have national IDs.
"If the factory authorities do not register for us, or if there is no special initiative from the government, there is no way we can do so on our own," said Moyna, a worker of Sharmin group.
This newspaper also spoke to some workers of AR Jeans Producers Ltd at Khatgora recently who said they completed vaccine registration weeks ago on their own initiative, but are yet to receive a date for the first dose.
Some of them said they did not register as many of their co-workers who did are yet to get a response.
Contacted, Dr Sayemul Huda, upazila health and family planning officer of Savar, said people will get dates based on first come first serve basis. Around 1.40 lakh people including RMG workers were vaccinated at the upazila health centre.
When asked if there are sufficient vaccines at his centre, Dr Huda said, "We have the capability to preserve some 2,000 to 3,000 vaccines at our centre. If needed, we can bring vaccines from Dhaka."
"Some factory authorities wrote to us demanding that we set up independent vaccine centres and we forwarded the application to the DG of health through the office of the civil surgeon," he informed.
RAK Liton, general manager (HR, Admin and Compliance) of AR Jeans Producers Ltd, housing around 2,700 workers, admitted that it is not possible to maintain social distance, even if all other restrictions or protocols are observed in the facilities.
"The only way to protect against this epidemic is to get all workers vaccinated. Our HR department helped a few workers to get registered but they did not get a date yet."
But vaccination of workers in this process poses a challenge for the factories, he added.
"If two or four people are absent in a production line of a garment factory, then it is not possible to complete the production of that line, so if every day garment workers are excused for vaccination, then the production of that factory will be hampered."
All workers should be vaccinated in booths inside the factories, he opined.
The Daily Star spoke to five workers of DEPZ's factories who confirmed that their factory authorities had done their vaccine registration.
Talking to this correspondent over phone, Abdus Sobhan, general manager of DEPZ, said they directed all factories under the DEPZ to confirm Covid vaccine registration for workers immediately.
Registration of fifty percent workers under DEPZ has already been completed, he said. However, he could not confirm how many workers have been vaccinated so far.
"It is hard to get vaccine for workers at the centre so we spoke to the Dhaka civil surgeon and higher authorities for setting up an independent vaccination centre for RMG workers," he added.
Contacted, Civil Surgeon Dr Abu Hussain Moinul Ahsan said setting up an independent vaccination centre for workers is a matter of the health directorate. He said he has already informed officials in this regard.
He further said, "RMG workers are getting inoculated and I think majority of the workers have already got vaccinated."
When asked about the actual figure of vaccinated workers he said the factory authorities will be able to say that.