Factory Reopening: A mess-up hard to afford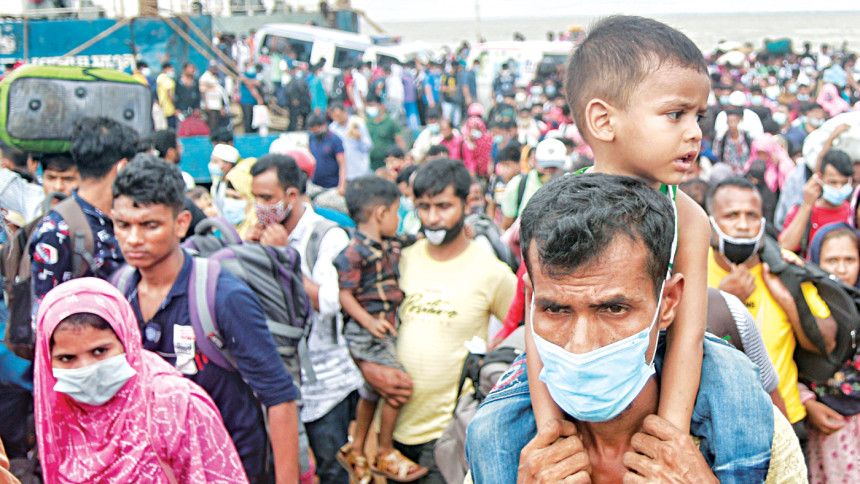 The government has made a complete mess of the reopening of export-oriented factories amid "strict lockdown" enforced to curb the spread of the novel coronavirus.
On Friday night, it announced the decision to reopen the factories, giving the workers only a day to get back to their workplaces mostly in Dhaka, Narayanganj and Gazipur.
The authorities didn't think even for once how the workers, who went to their village homes to celebrate the Eid-ul-Azha, would return to their workplaces with operation of all public transports suspended.
On Saturday morning, tens of thousands of workers from different parts of the country started for their workplaces and endured untold sufferings on roads because of a lack of transports.
It was in the evening that the policymakers seemed to have realised the plight of the workers. Hours later, they announced allowing public transports for 16 hours till noon yesterday.
But by that time, tens of thousands of workers had already reached their destinations. They were at risk of contracting the deadly coronavirus as it was not possible for them to follow the health safety rules during their arduous journeys.
The resumption of public transport services for 16 hours could hardly bear any fruit as only a handful of buses and launches could operate on such a short notice. The railway authorities could not make arrangements to resume train services for the brief period.
"Thousands of people suffered immensely on roads due to a lack of proper planning. The authorities are responsible for their sufferings," Mozammel Hoque Chowdhury, secretary general of Bangladesh Jatri Kalyan Samity, told this newspaper.
THE DECISIONS
In its July 13 gazette notification, the Cabinet Division said the country would be put under strict lockdown from July 23 to August 5 and all factories would remain shut.
Home Minister Asaduzzaman Khan Kamal, after an inter-ministerial meeting on July 27, said the government turned down the plea from businesspeople, including garment factory owners, for reopening factories amid the lockdown.
But the Cabinet Division on Friday issued a circular saying all export-oriented factories and industrial units will be out of the purview of the restrictions from Sunday, considering the "overall situation".
It, however, didn't say anything about how thousands of workers, who went home before the Eid, would return to their workplaces as operation of public transports -- buses, trains and launches -- remained suspended.
Some 40 lakh people work at garments factories across the country and around 70 percent of them work in Dhaka, Narayanganj and Gazipur. Most of the workers went to their village homes before the Eid.
Riding motorbikes, trucks, pick-ups and three-wheelers, thousands of workers started for their workplaces on Saturday morning and suffered immensely on roads due to the absence of public transports.
Irani Begum, a garment worker from Bogura's Sherpur Upazila, is one of them.
She was at home when she learnt from a TV news report that factories were going to reopen on Sunday. Later, a staffer at her factory called her and asked her to join work.
Around 9:00am on Saturday, Irani and her four co-workers started from Sherpur and reached Bogura by a three-wheeler, spending Tk 100 each. They then got on a truck, along with some 50 others, to reach Dhaka.
They paid Tk 600 each to travel to Chandra in Gazipur. Later, they took another truck to reach Aminbazar in Savar, paying Tk 100 each.
A correspondent of this newspaper talked to Irani near Gabtoli Bus Terminal on Saturday evening. She was looking for a rickshaw to go to Rampura. Rickshaw-pullers were asking Tk 400 for the ride.
"The factory authorities didn't force me to travel to Dhaka. Actually, I have returned to the capital to save my job," Irani told this newspaper.
When Irani like thousands of other workers reached Dhaka, taking risks and paying two to three times the usual fare in absence of public transport, many others were still on roads and at ferry terminals, looking for vehicles to reach their destinations.
Around one lakh people were waiting at Banglabazar ferry terminal on Saturday evening to cross the Padma River, reported our Munshiganj Correspondent.
Private TV channels and online news portals reported extensively the day-long sufferings of the workers.
RESUMPTION OF BUS, LAUNCH SERVICES
Around 8:00pm on Saturday, the authorities decided to resume public transports for 16 hours till noon yesterday.
Though bus owners came to know about the decision, top officials of Bangladesh Road Transport Authority (BRTA) and Bangladesh Railway (BR) were unaware of it till 9:00pm.
When this correspondent talked to a top BRTA official around 9:00pm on Saturday, the official said, "We have not been informed of any such decision."
About half an hour later, another BRTA official said they were yet to get any "written instructions" on resumption of bus operation but was informed of such a decision verbally.
"We are not issuing any circular on resumption of bus services. But if anyone operates bus or other vehicles for carrying workers till tomorrow [Sunday], no one will obstruct those," the official said.
Contacted around 9:45pm, Khondaker Enayet Ullah, secretary general of Bangladesh Road Transport Owners Association, said they learnt from the home ministry about the decision to resume operation of public transports.
Earlier around 9:00pm, this correspondent talked to a BR official, who was unaware of any decision to resume train services.
The BR later decided not to operate trains for such a "brief period".
"It is not possible to operate trains on such a short notice… Some preparations are required for it. So no train was operated," a railways ministry official told this newspaper yesterday.
Romesh Chandra Ghosh, chairman of Bangladesh Bus Truck Owners Association, said a small number of buses were operated during the period.
"It was actually not viable to operate buses for such a short period of time. Some drivers who were staying near the depots could operate buses. Besides, many people were not aware of resumption of bus services," he told The Daily Star.
On launch routes, contrasting pictures were seen.
No launch left Barishal for Dhaka -- a major launch route -- till 7:00pm yesterday, reports our Barishal correspondent.
Launch owners said they could not operate launches as many of their staffers went on leave due to the ongoing lockdown. Moreover, the number of passengers from Barishal was low as many had already reached Dhaka by road.
Only three launches were scheduled to leave Barishal for Dhaka last night, said Mostafizur Rahman, joint director of Bangladesh Inland Water Transport Authority (BIWTA) in Barishal.
On the other hand, 12 launches reached Dhaka from Chandpur till yesterday evening. All the launches left Chandpur before the scheduled time because of huge crowds, reports our Chandpur correspondent.
Besides, 13 launches left Bhola for Dhaka and three departed from Barguna till 7:00pm yesterday.
Meanwhile, the BIWTA extended the time limit for operation of launches till 6:00am today, considering that many workers were still returning to their workplaces.