Work starts in Chinese style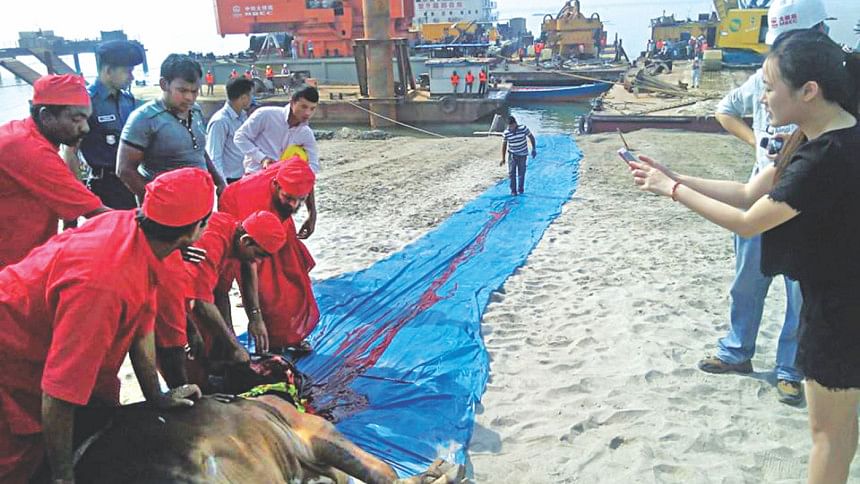 The test piling of the Padma Bridge project began yesterday with the project officials sacrificing animals as per Chinese ritual.
Officials of the China Major Bridge Engineering Company Ltd sacrificed two black bulls, two goats and two chickens on the occasion of the test piling and let the blood flow in the water on the Mawa side of the project in Munshiganj.
To ward off any bad or evil influence that may come in the way of implementing the job successfully, the front legs of the bulls were floated in the water as per the Chinese ritual. The Chinese officials kept the rest of the meat for a feast to be held later in the capital for their employees.
The project site wore a festive look yesterday with crackers being blasted around the piling site.
This is how the Chinese start any major work as per their rituals, said Padma Bridge project officials.
"They [the Chinese builders] were repeatedly requesting us to start the test piling this way [through sacrificing animals]. We told them not to do so. But they did not listen to us," said a senior official, preferring anonymity.
"Finally, we had to allow them, but we also ensured that the animals were slaughtered according to Islamic laws," he said, adding that no Bangladeshi senior officials of the project joined the programme on "religious" ground.
"We have started test piling as per our schedule of work," Padma Bridge Project Director Shafiqul Islam told The Daily Star over the phone. The test piling would be completed by March and the load test would be conduct soon, he added.
The pillars of the bridge would go as deep as 120 metres, the deepest of any bridge in the world, and 2,500-tonne pile-drivers would hammer them in.
The concrete pillars are being built in China, Singapore and Germany. A total of 300 pillars will be used in the bridge.
The 6.15km-long two-tier Padma Bridge with provision for vehicles running above and trains below would be built with concrete and steel.
The construction work of the bridge is progressing despite the countrywide blockade and hartal, said the project director, adding that the construction materials are now being carried through river routes instead of road.
The project director also hoped that the construction of the bridge would be completed by 2018.