Wonderland in wasteland
School takes children of waste pickers in another world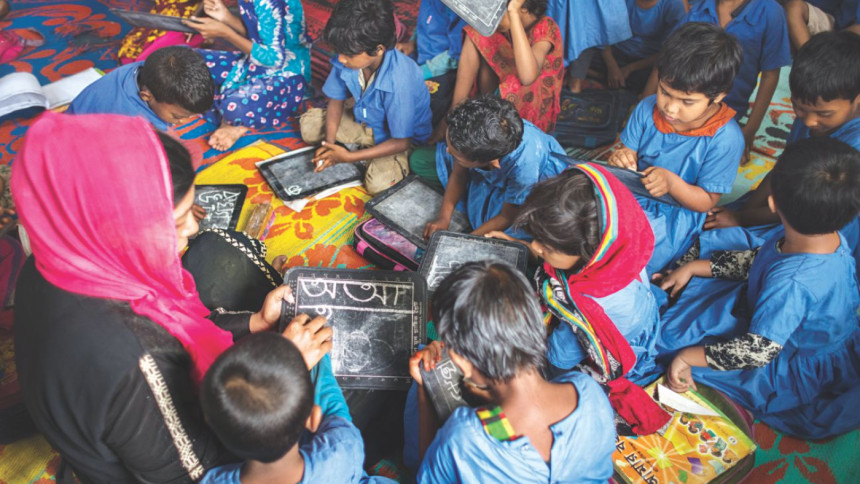 The school is perhaps the only place where Shakib Hasan, 10, gets to enjoy his childhood.
Yards away, his parents toil at the landfill in the capital's Matuail to earn a living. Shakib, who is considered old enough in his community, often helps them scavenge for materials from tonnes of waste, which can be resold, reused or recycled.
"I don't like going to the site. I like the school…. I play here and get food," Shakib told The Daily Star during a recent visit to the Grambangla School set up in 2008 by non-government organisation Grambangla Unnayan Committee.
The school was born of the thought that children of waste pickers can hardly avail themselves of education, said Khandaker Reaz Hossain, director of programmes, Grambangla.  
Their identity becomes a barrier when it comes to mingling with other children in public schools. Like in Shakib's case, the parents' profession is passed on to their children as a means of survival, he added. 
Funded by Big Lottery Fund/ChildHope, a UK charity, and American charity organisation Comic Relief, the school has more than 225 children studying from class one to class five. They are all children of waste pickers living near the dumping site.
When Shakib comes to school, he takes his two younger brothers along and leaves them at the day care centre adjacent to the school. Mattresses are spread out on the floor of the centre where more than 50 children play, sleep and eat breakfast and midday meals before their parents return to pick them up.
A majority of the parents are single mothers-- divorced, widowed or left by their husbands. Some lost their land and ancestral homes to river erosion and came to Dhaka searching for jobs. Some came after being tortured and harassed in their villages. Once here, they often have nothing to look back on, nor do they have something or someone in the city to depend on, even for a short while.
The Matuail landfill, where more than 3,000 tonnes of waste is dumped by Dhaka South City Corporation every day, offers them a means to survive. There they sort out plastic bottles, used clothes, packets of shampoo, milk, coconut shells and even bones. They gather and then sell them to earn around Tk 200 a day, Reaz said.
As the sun appears on the horizon, women set out for the landfill with their children in tow. They work until late in the afternoon. Babies and toddlers are left to play with rubbish while young children and adolescents help their parents.
One such parent is Mariam Begum, secretary of the Association of Waste Pickers in Bangladesh, who has been in this profession for 20 years.
"I do this because it gives me freedom," she said at the school. She looked tired on her return from the site. Her three-year-old son, face dirtied with mud, played on her lap.
Her husband was sick and lived in the village, said Mariam, 28, adding that she was the one who looked after their two children. Her daughter, a student of class five, was about to finish her classes and join her on the walk back home.   
Like Mariam, the city has nearly 1.20 lakh people seeking livelihood by recycling and reusing 15 percent of the total waste generated. The activity generates approximately Tk 107 crore annually, according to an estimation of the Department of Environment in 2009.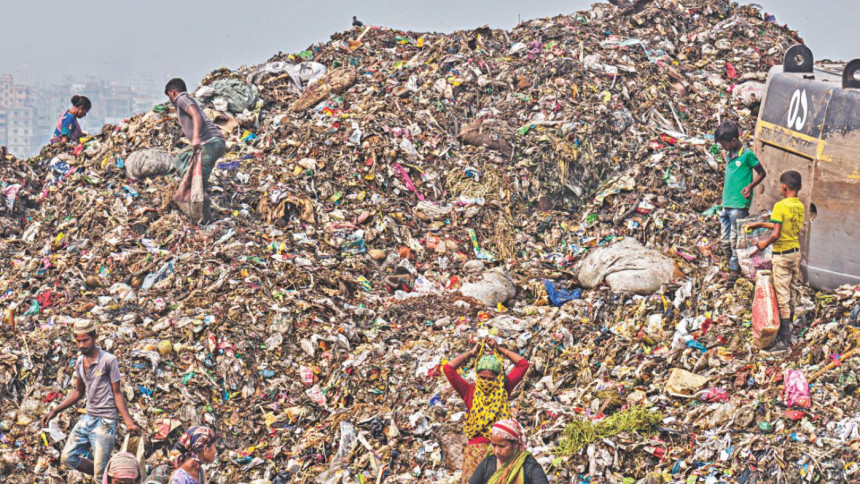 Some 2,500 are in the profession at Matuail, as per a survey of Grambangla.
Though waste pickers contribute to public health and safety, environmental sustainability and the economy, the issue of their health and safety is ignored. They live and work in deplorable conditions, facing numerous health hazards on a daily basis.
ABK Reza, director of admin, Grambangla, said the organisation was planning to distribute boots, masks and gloves among waste pickers who work in Matuail landfill.
Grambangla advocates inclusion of waste pickers in the social safety net and has helped 39 of them get included in the scheme. It also made eight self-help groups with each having a bank account to save and deposit money so that anyone in need in the group can borrow money at an interest rate decided by the group members,  said Reaz.  
Grambangla School also provides a four-month training course in how to operate sewing machines, aiming to create scope for work. A total of 160 people from the waste picker community have been trained so far and 108 of them already employed. 
With sustainability in mind, it is planning to raise local funds through individual sponsorship of children and is trying to draw the government's attention for assistance so that more children from the community can have access to education and find decent jobs to break the cycle of poverty.
Talking to students of Grambangla, it seemed the school has successfully instilled in them hopes of a bright future.
An energetic Priya Akhter, who completed primary education in Grambangla School and is now studying in class seven at a higher secondary school in Matuail, said she would not get married early like her two elder sisters. She will continue her education and become an example for others.