Uttara blaze kills two
Both were boarders at hotel; cause of fire still unknown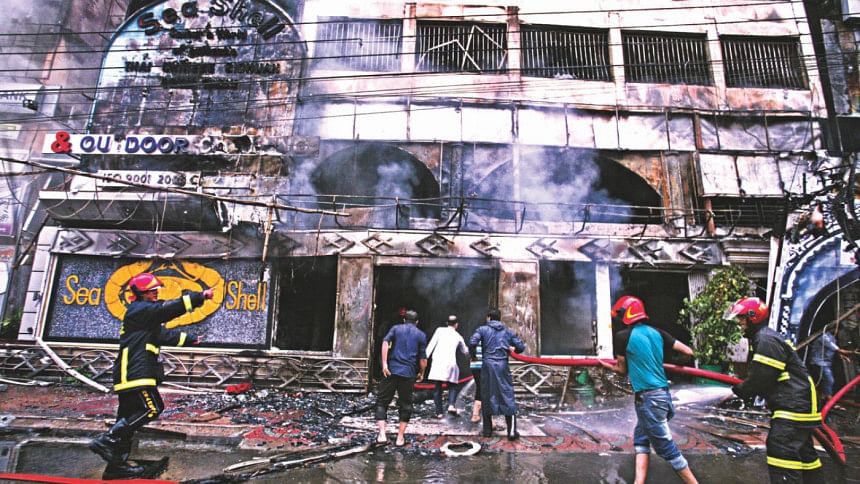 Two people were killed in a fire at a hotel in the capital's Uttara.
The fire originated on the ground floor of the four-storey Sea Shell Chinese Restaurant around 4:00am at sector 4 in Uttara and spread to the two adjoining buildings including the six-storey Sea Shell hotel and Ekushey Restora, said Sohel Gani, manager of the sales and marketing department of the hotel.
Bodies of Mohammad Rasel, 35, assistant manager of a private company and a 25-year old woman, whose identity could not be known immediately, were pulled out from Sea Shell Hotel and Residence.
They were among five boarders who had spent Sunday night in the hotel, now badly damaged by the fire. The three other boarders could come out safely, hotel authorities and fire men said.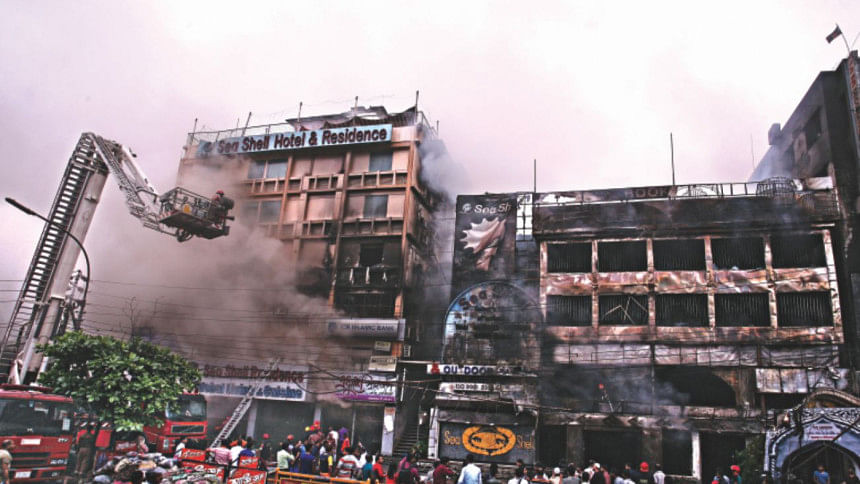 Rasel's family members said that he went out from his Pallabi residence at around 10:00pm on Sunday, saying that he would spend the night at his friend's house and attend his office from there the next day.
Both individuals died of smoke inhalation while some burn injuries were seen on their bodies. The bodies were kept at DMCH morgue, a source at the morgue said.
It took 15 fire fighting units around six hours to douse the blaze. After searching the six-storey hotel building, two bodies were found inside a room on the second floor. The reason behind the fire is under investigation.
Major Shakil Newaz, director (operations) of Bangladesh Fire Service and Civil Defence, said the fire spread swiftly as the restaurant had been decorated with many flammable materials. 
Meanwhile, a three-member probe committee led by Deputy Director Debasis Bardhwan has been formed to investigate the incident and it has been asked to submit a report within 15 working days.
Speaking to this correspondent, Noor-e-Alam Siddique, officer-in-charge (OC) of Uttara East Police Station said that the police were at the scene with the fire service. "If the probe committee finds anyone at fault then a case will be filed," he added.
Shafiqul Islam, station officer of Fire Service in Uttara, said the hotel lacked adequate fire safety equipments. A notice was served to the hotel authorities a month ago in this regard but they did not act on it. 
Manager Sohel however said they did not get any such notice.
Anwar Hossain, deputy assistant director of Fire Service and Civil Defence headquarters told The Daily Star that the interior decoration of the building had synthetic, wooden and plastic materials which helped the fire to spread quickly.