Total chaos at Shahbagh intersection
Nobody cares for traffic rules; drivers' recklessness puts pedestrians' lives at risk
Reckless driving of buses at Shahbagh and Matsya Bhaban intersections continued yesterday even after the horrific deaths of two schoolgirls in the areas on Saturday.
Traffic police appeared to be helpless in controlling the chaos.
Buses were seen stopping abruptly, violating traffic rules, in the middle of the streets to pick up and drop off passengers, while passengers were getting on and off moving buses, risking their lives.
Although there are three foot bridges at Shahbagh intersection alone, only a small number of people were seen using those. Many were seen crossing the streets through moving traffic.
Traffic sergeants and constables, on the other hand, were ignoring this standing nearby at the two busy intersections.
Sixty-year-old Abul Kalam had mistakenly got on a Farmgate-bound bus from Gulistan. He was supposed to go to Science Laboratory area. When he told the conductor about this, the conductor pushed him out of the bus in the middle of the road at Shahbagh.
"I could have been killed as the bus was still moving, albeit slowly," Kalam told The Daily Star. He had two heavy bags with him.
Within a span of eight hours on Saturday, schoolgirls Sabiha Akhter Sonali and Khadija Sultana Mitu died in separate accidents in front of the High Court and at Shahbagh intersection.
As Sonali was trying to cross the street, a bus of Jatrabari-Farmgate-Gabtali route ran over her in the morning, leaving her dead on the spot.
Khadija, who came to the city from Comilla, was crushed to death under a bus at Shahbagh intersection while trying to cross the street along with her sister and brother-in-law.
Talking to these correspondents yesterday noon, traffic sergeants at Shahbagh police box expressed their helplessness in controlling traffic in the area.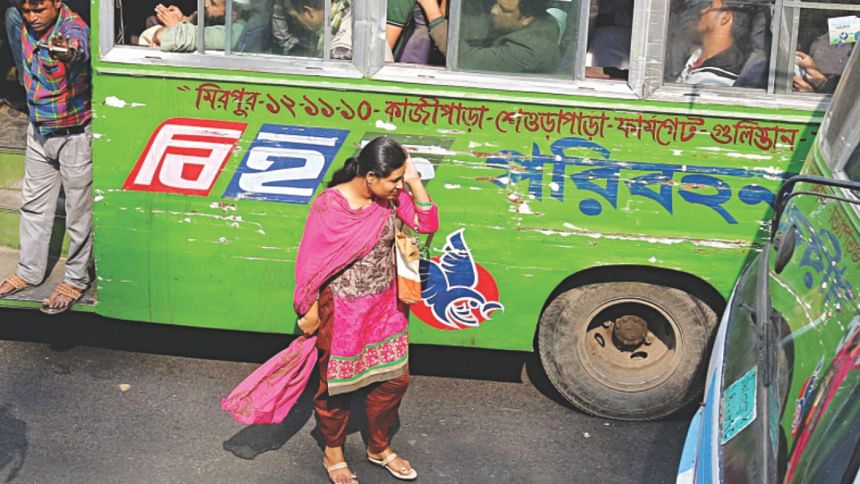 Wishing anonymity, a traffic sergeant said they tried to make people follow the rules while using roads.
Instead of using designated stops in front of the BSMMU hospital, he said, buses would stop or slow down in the middle of the busy intersection to pick up or drop off passengers.
Abdus Salam, driver of a Gabtoli-Gulistan route bus, alleged that often passengers hurriedly come to the middle of the road and try to board moving buses.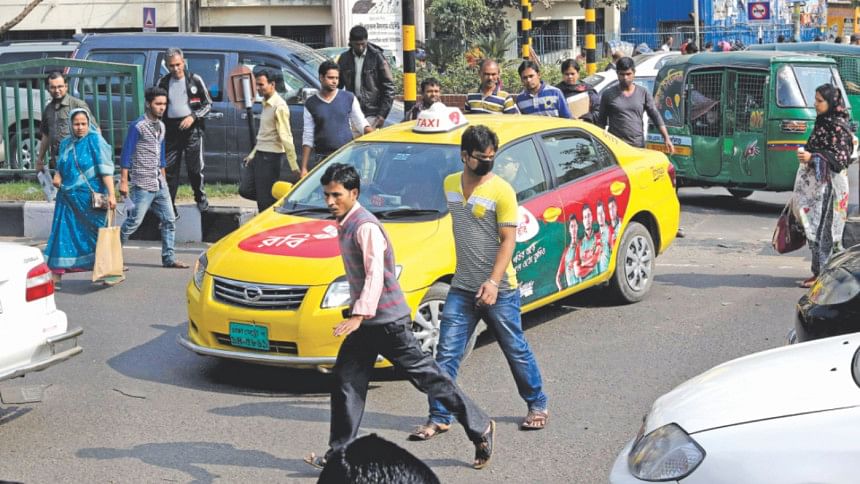 "This [act of passengers] forces us to stop the bus in the middle of the road and violate traffic rules," he said while waiting for passengers at Shahbagh intersection.
Shakil, a helper of a Mirpur-bound bus, said due to limited seats, he often kept the gate of the bus closed and refused to take passengers.
"Still, many people force me, hit hard on the gate, and run along with the slowly moving bus for several yards on the road at Shahbagh intersection to get on," he said.
Contacted, Khan Muhammad Rezwan, deputy commissioner of traffic (south division) of Dhaka Metropolitan Police, said they would launch an awareness campaign next month on using foot bridges.
They would distribute leaflets among people and also arrange programmes at schools in this regard, he said.