ICC CRICKET WORLD CUP 2015
Tigers want rain to stay away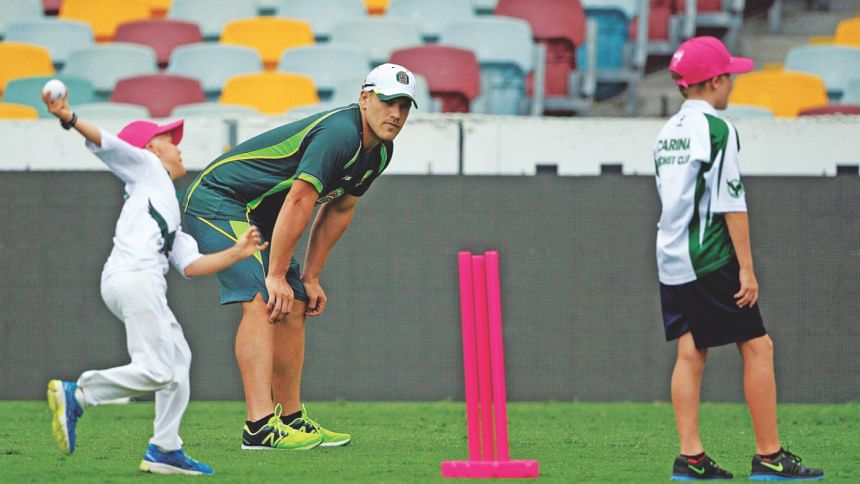 With a morale-boosting win against Afghanistan in the bag and brilliant sunshine at the backdrop, Bangladesh team left Canberra early yesterday morning. But after only an hour-and-forty-minute's flight to Brisbane, where they are scheduled to take on co-hosts Australia in their second Group A match, the weather gods greeted them with torrents of rain. It has been raining since and the prospects of a mouth-watering clash against cricket's predominant force looks at one of its most scared venues – the Gabba – looks quite bleak. News is tropical cyclone Marcia is heading towards the east coast and there is heavy rain forecast for tomorrow.
People are already talking about the prospects of a postponed match and thus sharing of points, and even some local and foreign journalists are seeing it as a blessing for the Tigers. The thought is that one point will brighten Bangladesh's chances of qualifying for the quarterfinals.
The Tigers, though, weren't quite of the same opinion. Having held a two-week pre-tournament camp here in Brisbane, the Tigers were looking forward to the prospect of taking on the favourites at their own backyard.
"I am saying from my heart that we want to play this match. And hope the weather will not spoil it," was Bangladesh skipper Mashrafe Bin Mortaza's reply when his attention was drawn to the prospect of sharing of points.
"I don't know how the other people are thinking but the weather condition is really frustrating. Everybody is eager to play at the Gabba. Win or loss doesn't matter; it's an opportunity for us to show our potential. It's always challenging to play in this kind of condition and when it is against Australia; but we are ready to take the challenge," opined the Bangladesh skipper.
Opening batsman Tamim Iqbal also echoed the sentiment of his captain.
"Personally I want to play. I am very much interested to play against this Australian attack at this venue because I want to see where I actually stand. MCG, SCG, Gabba – these are all dream grounds for any cricketer. I only watched these on television, so it's a great opportunity for us.
"You will understand my passion for these venues if I tell you a story," continued Tamim. "When I was at the MCG to watch Shakib's (Al Hasan) Big Bash match, I was looking for the spot where one of Shahid Afridi's sixes had landed during an international match. It was one of the biggest sixes to be ever hit."
After the Australia game, Bangladesh will play take on Sri Lanka at another iconic Australian venue – the MCG -- on February 26, before leaving for New Zealand. However they don't have any group match at the SCG. "Why not SCG? Do you think we will not play in the quarterfinals?" questioned Tamim with a wry smile. "I don't know why but I am sensing a win against Sri Lanka."
It seems that the win against Afghanistan has given the Tigers a shot in the arms.