The making of 'Blockade'
Expatriate Bangladeshi reproduces a little-known episode of Liberation War history on film
July, 1971. An uneven war was on for about four months.
The marauding Pakistani occupational army that launched a heinous crackdown on unarmed and innocent Bangalis on the night of March 25 was continuing to carry out atrocities in the then East Pakistan, now Bangladesh.
But thousands of oppressed Bangalis were putting up a resistance, fighting back with all they had.
Exactly at that time, a different kind of battle was fought over 13,000 kilometres away in the USA.
A small group of peace activists and some expat Bangalis in Philadelphia, in defiance to the then US government's policy on supporting the Pakistani military dictatorship, staged non-violent protests against the brutal oppression on Bangalis.
With canoes and dinghies, the Americans and their Bangladeshi friends, risking their lives, surrounded a Pakistani freighter and stopped it from reaching the Port of Baltimore for collecting weapons. The ship was being used for supplying arms to Pakistan.
The non-violent protest received a huge national media interest and made a substantial impact on public opinion.
Nearly four decades after that, an expatriate Bangladeshi filmmaker living in New Jersey, USA, pieced together the extraordinary event of human conscious and compassion, and made a documentary called "Blockade".
Based on a book with the same title written by Richard K Taylor, a Philadelphia resident and co-founder of Witness for Peace, which works in Central America, Arif Yousuf worked some eight long years to reproduce the otherwise little-known episode of the history on video.
In this venture, his friend Tasbir Imam, a native of Washington DC, worked with him.
"I've been very enthusiastic about the history of our Liberation War. I had long cherished to work on this tiny part of this vast history," said Arif, the director and producer of the documentary.
An IT executive in New York, Arif, who is in his late 40s, spoke about his love for films and history as he shared with The Daily Star during his visit to Dhaka last month the story behind the making of Blockade.
"My personal interests in films and history worked together here and I wanted to see if I can express myself through a new medium in a new way," he said.
Created through a private initiative and self funding, the 85-minute documentary contains interviews and reminiscences of some of the blockade participants, chiefly three -- Richard K Taylor and his wife Phyllis Taylor, and Sultana Alam, a Bangladeshi expatriate.
The film has rare news clips, video footage and photographs of the non-violent protest.
Arif first came to know about the incident in 2007 from an article written by US-based journalist and author Hasan Ferdous. Arif and his friends -- Adib Rashid Mamun and Mridul Chowdhury -- found the canoe blockade story so fascinating that they decided to make a documentary on it.
Arif contacted Hasan Ferdous right away and got the phone number of Richard Taylor. Ziauddin Ahmed of Philadelphia also knew many of the activists and introduced them for interviews. After some exchanges over phone, Arif finally managed to get time from some of them.
His work began in 2008. Initially, Mridul and Adib were on the project. They started taking interviews. Arif took the interview of Sultana, who used to teach part-time in universities in Philadelphia and Middletown in 1971, in Dhaka in December, 2008.
"But after interviewing them, I came to know that the protest was not the only event that happened at that time. There were many other events linked to the incident. I thought of making a serious documentary then," Arif said.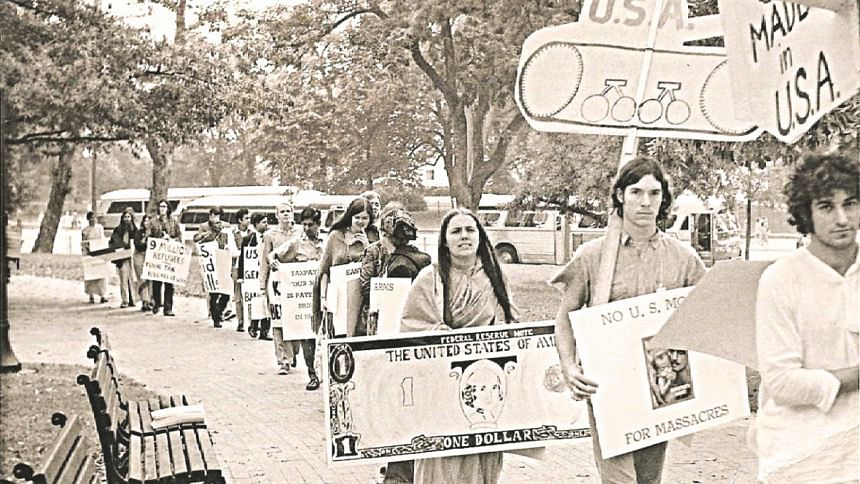 But making the documentary was challenging and daunting. His project was stalled for some time after Mridul and Adib moved back to Dhaka by the end of 2008. However, in early 2010, Arif got Tasbir on board.
Tasbir filmed various Bangladeshi American issues over the years. The events of the Liberation War deeply impacted his family like many other Bangalis.
The duo started working on the project. Arif concentrated on research work--where and how to get the photos, videos and the tiny details of the incident while Tasbir looked after the technical parts -- editing and postproduction.
"Actually we worked really hard to collect the materials. The incident took place a long time ago and telling the story after so many years was difficult," said Arif.
"We thought it would be boring if the movie was made only on the basis of interviews."
So, they started searching for photos, documents and other materials on the incident. They shuttled from one city to another, visited achieves and universities to the collect photos and video footage. For days, they skimmed through pages of documents.
Some of the footage they got from Associated Press and the US National Archives. They took some clips from the Television News Archive of Vanderbilt University in Nashville. Some clips at the archive of Temple University also turned out to be useful, said Arif.
But the photographs that are being used in the documentary were supplied by some activists who had participated in the blockade.
"One of peace activists had a camera with him. He was on a canoe in front of the large ship and took many photographs. He gave me around 60 to 70 photos," Arif said.
But putting together all these materials was as challenging as collecting them.
Both of Arif and Tasbir were not professional filmmakers. They spent many nights on their storyboard, discussing how the story could be told in the best way. Their friend Sujan E Bin Wadud living in Silicon Valley California composed the wonderful original music and score for the film.
However, doing the technical job and managing the finance was another big challenge. Their location turned out to be a hurdle too. They lived in two separate cities and had to manage time out of their busy daily work.
But, they were determined.
"We worked whenever we got time and sit together for two to three straight days whenever possible," said Arif.
"I have learned many things while making the film. I was deeply touched by the fact that people do many things for humanitarian causes."
The documentary was first screened before an invited audience in Philadelphia on this January 30 in presence of Richard and Phyllis Taylor, and several other blockade participants.
Blockade was also screened in some other states in the USA.
There were several screenings of the documentary in Dhaka as well.
And the response Arif got was excellent.
"It is a film that has been made primarily by two persons on the basis of some interviews and people are watching it. It means a lot to us."
Arif wishes to work more on the stories on the Liberation War and the South Asian history.
"I want to work on the stories which are rarely told. With the experience from
Blockade, I hope my next project would not take eight years to complete," he said.
He also said he has plans to release the documentary online. "We don't have a fixed date for its release yet."
"We've plans to dub the documentary in Bangla depending on the funds. Several TV channels in Bangladesh also expressed interests in airing it," he said.