Teachers now look to PM
FBUTA seeks talks with Hasina to end crisis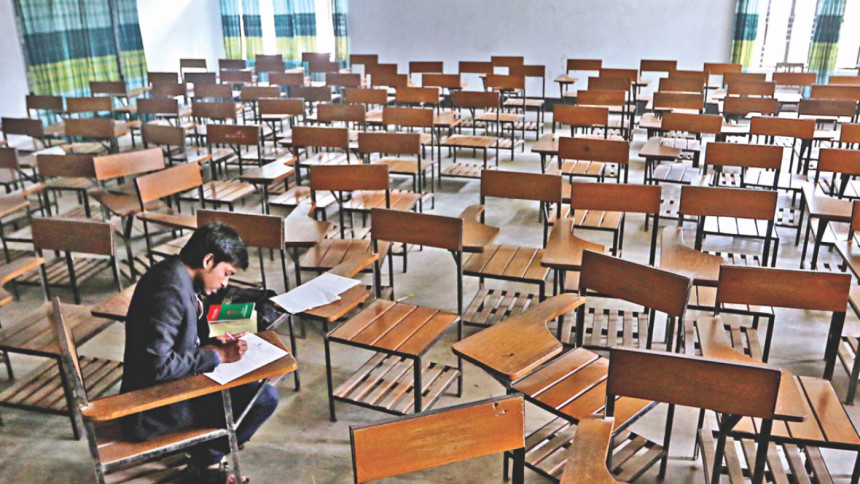 Public university teachers, who are observing an indefinite strike against "pay disparity", yesterday said they want to talk to Prime Minister Sheikh Hasina over their demand to end the ongoing crisis.
"We believe the crisis will be over soon if the prime minister sits with us," said Maksud Kamal, general secretary of Federation of Bangladesh University Teachers Association (FBUTA), while briefing reporters at the historic Dhaka University Bot Tola.
Yesterday, teachers of 36 public universities refrained from taking classes for the third consecutive day, demanding removal of "discriminatory provisions" in the eighth national pay scale.
They said they will not budge an inch until their demands are met.
"We want to go back to classes, but we have no other alternative," said Farid Uddin Ahmed, president of FBUTA.
Asked how long they are planning to continue with their strike, he said they don't want to harm academic activities of students. "The ball is in the government's court now. It must have the eagerness to end this situation."
Prof Farid, who teaches economics at DU, added, "A group of conspirators are trying to destroy the higher education and financial sectors through creating unrest by downgrading teachers and bank officials in the new pay structure."
Also yesterday, Chittagong University teachers observed their indefinite strike over pay scale for the 11th consecutive day. They have been boycotting classes since January 3, and all examinations and administrative activities from January 11.
Talking to this newspaper, CU Teacher's Association President Abul Manchur said, "We are fighting for prestige."
"We will continue with our strike until our demand for revision of pay scale is met."
Since May last year, public university teachers have been agitating for a four-point demand that includes removing diparity in the new pay scale.
Finance Minister AMA Muhith has repeatedly dubbed their movement "illogical" while Prime Minister Sheikh Hasina is critical of it as well.
The teachers sat with the education minister several times, but to no avail.