Syed Mahmud Hossain takes oath as CJ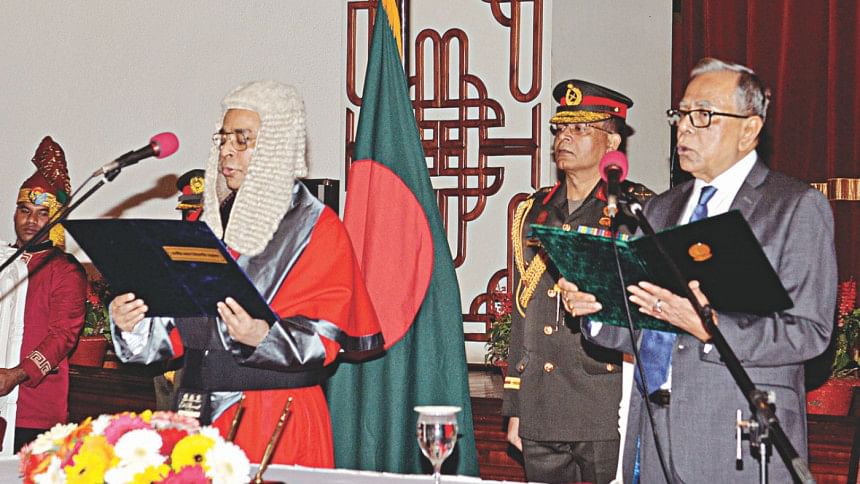 Newly appointed Chief Justice Syed Mahmud Hossain was sworn in yesterday as the 22nd chief justice of Bangladesh.
President M Abdul Hamid administered his oath at the Darbar Hall of the Bangabhaban at 7:00pm.
Prime Minister Sheikh Hasina, cabinet members, former chief justices, judges of both appellate and high court divisions, heads of the three armed forces, the attorney general, Supreme Court lawyers, including SC Bar Association president, among others, attended the ceremony, Joynal Abedin, press secretary to the president, told The Daily Star.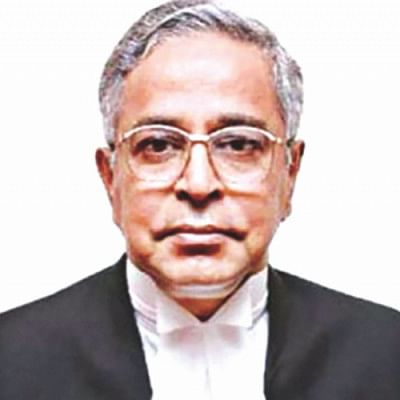 Justice Mahmud, a senior judge of the Supreme Court, was appointed as the chief justice of the country on Friday, superseding Justice Md Abdul Wahhab Miah, who had been discharging duties of the chief justice for the last four months.
Later that day, Justice Wahhab resigned as an apex court judge. He was the senior-most judge of the Appellate Division and due to retire on November 10.
The Attorney General's office and the Supreme Court Bar Association would accord felicitation to the new chief justice this morning.
As per the SC website, Justice Mahmud was elevated to additional judge of the High Court division on February 22, 2001, and confirmed as the judge of the division two years later.
He was promoted to the Appellate Division of the Supreme Court on February 23, 2011.
Justice Mahmud enrolled as a lawyer of the District Court and the High Court division of Supreme Court in the year 1981 and 1983 respectively.
He acted as the deputy attorney general from December, 1999, until he moved to the bench.
He obtained BSc, LLB and completed the six-month-long "Commonwealth Young Lawyers Course" from the School of Oriental African Studies and the Institute of Advanced Legal Studies, which are part of London University, according to the apex court website.
Justice Mahmud is scheduled to retire on December 30, 2021.
Meanwhile, the SCBA, which is dominated by pro-BNP lawyers, welcomed the appointment of Justice Syed Mahmud Hossain as the chief justice.
After a meeting of the association yesterday, its President Joynul Abedin said even though they were against Justice Wahhab being superseded, they welcome the appointment "in a changed scenario".
He said the chief justice post remained vacant for a long time after the resignation of Justice SK Sinha.