STOP extrajudicial killing
10 eminent citizens say in joint statement; UN watching drug purge closely; 2 more killed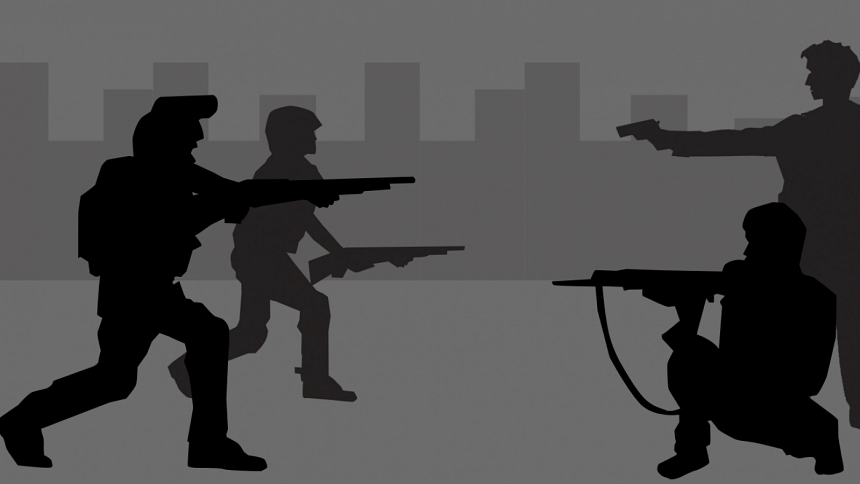 "The nation is losing its mental balance …. Life in this country has become valueless."-- Sultana Kamal 
Ten eminent citizens yesterday called for an end to extrajudicial killings and urged the government to open a judicial investigation into all incidents of "shootouts". 
Such deaths are in no way acceptable in a democracy, they said in a joint statement.  
The signatories are Prof Emeritus Anisuzzaman, Hasan Azizul Haque, Ramendu Majumdar, Ataur Rahman, Mamunur Rashid, Nirmalendu Goon, Nasiruddin Yusuf Bachchu, Mofidul Hoque, Golam Quddus and Hasan Arif.
"We are noticing with concern that many people are falling victims to extrajudicial killing every day. The incidents are being termed as deaths in gunfights…. The right to life guaranteed in the constitution cannot be taken away like this," the statement read.
Chilling information about some individuals killed have been published in the news media as well as social media. No allegations against slain Teknaf Municipal councillor Akram before his death. The municipal mayor has protested his killing, the statement added. 
"His family organised a press conference and provided journalists with [audio clips of] phone conversations that took place before the murder. Which is unthinkable in any democratic country and society. Only one such incident is enough to make the entire anti-drug drive questionable," they added.
The eminent citizens urged that the government unearth the actual facts through a judicial inquiry and make the findings public to dispel the fear in public mind. 
SULTANA ON 'SHOOTOUT'
The government seems to have resorted to "gunfights" as the only option to solve problems, noted rights activist Sultana Kamal said yesterday.
"This situation emerges when a country seriously lacks good governance and accountability. The nation is losing its mental balance," she said.
Sultana was addressing a rally organised in front of the National Museum at Shahbagh in the capital, demanding punishment of the "killers" of environment activist Uttam Kumar Devnath and an end to the "anarchy" on roads.
Uttam, an organiser of Bangladesh Poribesh Andolon, was killed in a road accident in Savar on May 21.
Life in this country has become "valueless", she said, adding, "Those who are running the state should think about it".
TWO MORE KILLED
Two more alleged drug peddlers were killed in "gunfights" in Comilla and Cox's Bazar yesterday, taking the tally of people killed in such incidents to 129, amid the countrywide anti-narcotics drive that began 19 days ago.
In Comilla, Saddam Hossain, 36, was killed in a "gunfight" with police in Chauddagram upazila around 2:40am, police said.
Abul Faisal, officer-in-charge of Chauddagram Police Station, said a police team went to Koroibon on information that a gang of drug peddlers had gathered there.
Sensing police presence, the criminals opened fire on the law enforcers, prompting them to retaliate with gunshots triggering the "gunfight", he claimed. 
Police then found the bullet-riddled body of Saddam on the spot, he said, adding the victim was accused in 12 cases, including 10 related to narcotics.
He also claimed to have recovered 200 bottles of phensedyl and firearms from the scene.
In Cox's Bazar, Shahjahan, who police said was the chief of a criminal gang "Shahjahan Bahini", was killed in a "gunfight" with his rival group in Chakaria upazila around 1:30am.
Shahjahan, of Baniachhara village in the upazila, was accused in 12 cases, including for murder, rape, and abduction, said Bakhtiar Uddin Chowdhury, officer-in-charge of Chakaria Police Station.
Police recovered Shahjahan's body from the spot and sent it to the Sadar hospital morgue, he claimed.
They also claimed to have recovered 400 yaba pills, a firearm and two rounds of cartridge from the spot.
UNODC CONCERNED
The United Nations Office on Drugs and Crime (UNODC) has urged all member states to adhere to their commitments to promote balanced, human rights-based approaches to drug control, in line with the three international drug control conventions and the outcome document of the United Nations General Assembly special session on the world drug problem.
In response to media and civil society enquiries regarding reports from Bangladesh on anti-drug operations that have allegedly resulted in dozens of deaths, the UNODC in a statement yesterday said, "It is closely following developments in the situation."
"We stand ready to engage with all countries to help bring criminals to justice with the appropriate legal safeguards, in line with international standards and norms, and to promote evidence-based prevention, treatment, rehabilitation and reintegration," the UNODC said.