Some massive thefts in banking: Muhith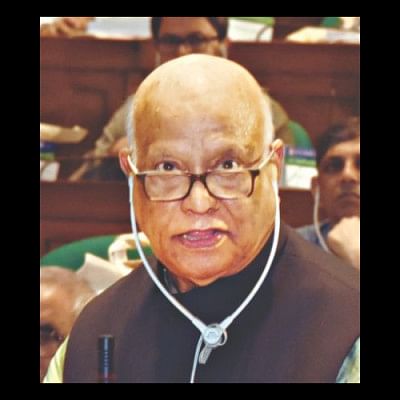 The banking sector was tainted by a series of scams, including some massive thefts, according to Finance Minister AMA Muhith.
"Thefts were massive in some cases," Muhith said echoing Rustam Ali Farazi, an independent lawmaker, in parliament yesterday.
But none of the incidents was severe enough to warrant a complete shutdown of any financial institution, the minister said.
Muhith's comments came as some lawmakers opposed an additional allocation for the Bank and Financial Institutions Division in the supplementary budget for the current fiscal year.
About Tk 275,000 crore has been smuggled out of the country, and Tk 30,000 crore has been stolen from banks, said Farazi. Also, Tk 800 crore has been stolen from the Bangladesh Bank's reserves, he said.
"Bank officials were involved in these scams," he said, while calling for separate commissions to probe them.
In his closing speech before the passage of the supplementary budget, Muhith said it is true that spending goes up due to corruption.
However, it has to be kept in mind that the problems are of different nature in different countries, he said.
For instance, Bangladesh has to import stones for various development projects, whereas many other countries like India do not have to do so. "For this reason the project costs are naturally high in Bangladesh."