Sohag returns after 16 days
Says he was kept blindfolded at unknown place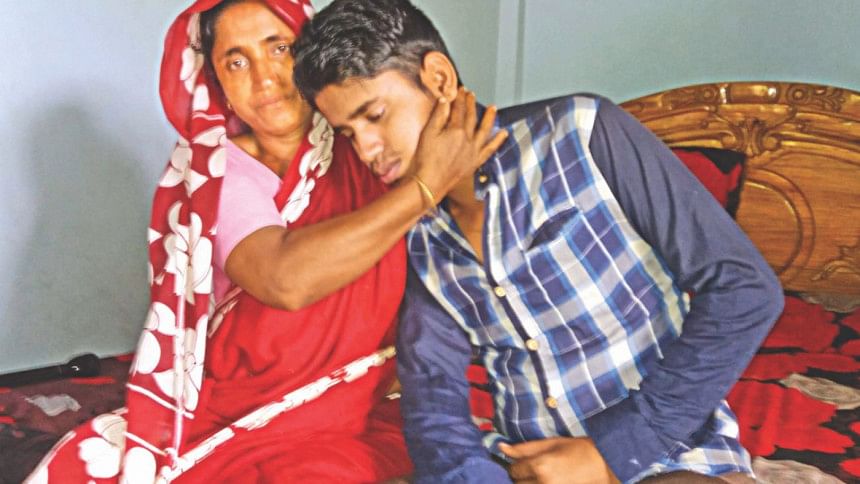 Mizanur Rahman Sohag, a friend of Sohagi Jahan Tonu's younger brother, was released by his abductors early yesterday, 16 days after he was picked up from his house in Burichang upazila of Comilla by a group of men posing as law enforcers.
Sohag's relatives and neighbours found him on the Dhaka-Chittagong highway, around 200 yards off his home at Narayansar village around 5:30am.
The abductors dropped him there from a microbus, and he was in the same dress – a lungi and a T-shirt -- he wore on the day of his abduction, said Sohag's sister Khaleda Akter.
He was picked up on March 28, hours after he made several phone calls to Tonu's younger brother Anwar Hossain Rubel, whom he saw on television give an interview over Tonu's murder. Sohag studied with Rubel at Kazimuddin Sarker High School in Burichang.     
Following the incident, law enforcement agencies in Comilla said they didn't detain Sohag.
Tonu, a second-year student of history department at Comilla Victoria College, was found dead near a bush in Comilla Cantonment on March 20. The killer is yet to be arrested.
Talking to The Daily Star yesterday, Sohag said the kidnappers confined him to a room and kept him blindfolded almost all the time. They would remove the blindfold only for a short time to let him have meals and respond to the call of nature.
He couldn't say anything about the place of his confinement or the abductors, as he had been blindfolded most of the time.
Sohag, however, said his kidnappers didn't torture him, and gave him food timely.
His uncle Tazul Islam told this correspondent that he and several others went out for a morning walk after Fazr prayers yesterday morning and suddenly noticed Sohag wandering aimlessly near Sakura filling station.
"We took him home. He could not say anything then," he said, adding that Sohag came to his senses after taking a rest at his house. 
Sohag's family members were overwhelmed with joy on his safe return.
Friends, relatives, neighbours and people from nearby villages thronged his house to see him.
Sohag's mother Shaheda Akter told The Daily Star, "We are very happy and grateful that my son has returned home."
"I knew that my son was not at fault," she said.
Sohag's family members were unwilling to comment further on his confinement.