Smiles after two years
No flash floods this season; farmers in Sylhet haors begin Boro harvesting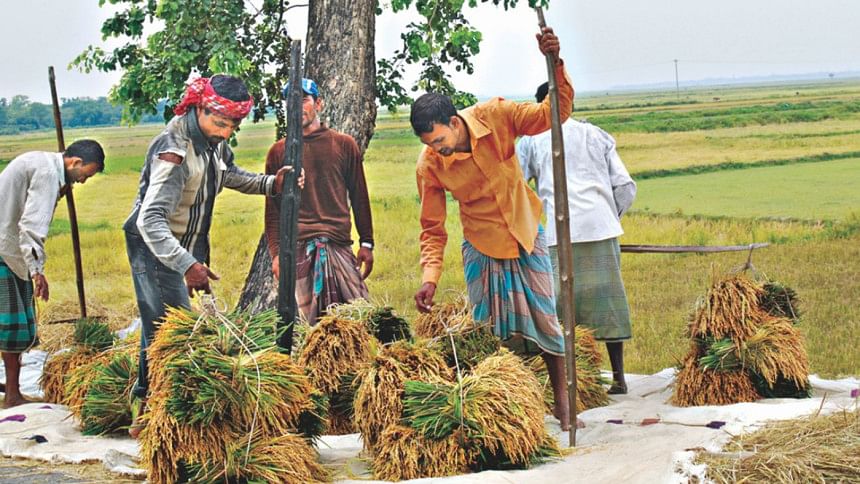 Farmers in the haor region of Sylhet division are eyeing a bumper paddy harvest this season after floods devastated their farmlands two years in a row.
"We are seeing golden ripe paddy fields for the first time in two years. Some of us started harvesting already. The weather is nice," Akbar Hossain, a farmer in Sunamganj's Jamalganj upazila, told this correspondent.
His crops in the low-lying lands of Halir Haor area had gone under water by this time last year.
Since haor areas remain flooded throughout the monsoon months, the farmers mostly rely on the output of Boro season.
Days before the paddy was ready for harvest last year, flash floods washed away the crops. The farmers had the same fate in the year before that.
Many growers of the county's staple food recently shared Akbar Hossain's sentiment about the crop. They have started reaping their harvest from the haors in Sylhet, Sunamganj, and Habiganj districts.
According to the Department of Agriculture Extension (DAE) in Sylhet, paddy has been cultivated on 4,73,000 hectares of land in four districts of the division this year. In Sunamganj alone, paddy was harvested on 2,22,552 hectares of land.
Shwapan Kumar Saha, assistant director of DAE in Sunamganj, said harvesting in the fields would begin in full swing in about a week.
Afroj Ali, a farmer in Sunamganj's Jagannathpur upazila, said, "I cultivated paddy on 28 acres last year. But everything was washed away. This year, I cultivated on 22 acres and I am happy to see the ripe paddy."
Altabur Rahman, deputy director of DAE in Sylhet, said, "We are having a nice weather amid a few sudden nor'easters.  The paddy is ripe enough. If the nice weather continues for a couple of weeks, we will have a splendid harvest."
Many of the farmers are, however, worried about finding workers for the task of harvesting.
Deepak Sarkar of Sunamganj's Shalla upazila, who has been trying to hire workers for last few days, said many labourers left the area after the last two years' floods and had not returned yet.
Taking advantage of the crisis, some people are demanding exorbitant sums for the jobs, he said.