'Shootouts': 8 more killed
Law enforcers say all were drug dealers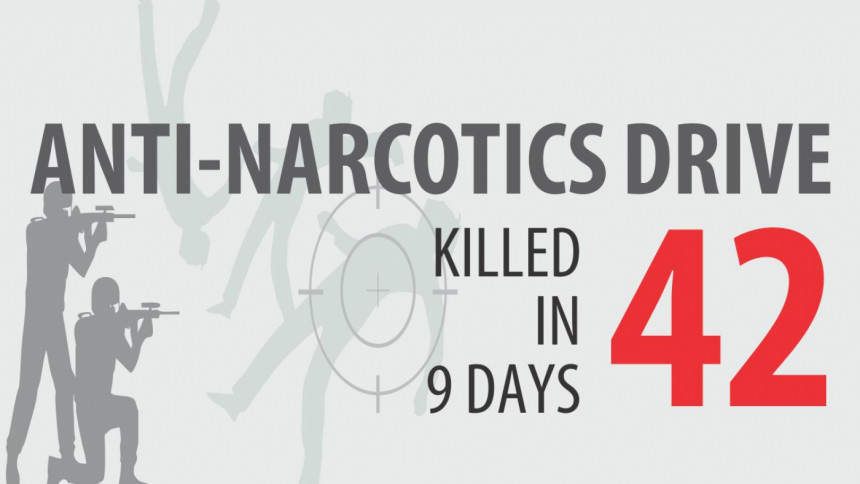 Eight more suspected drug traffickers were killed in "gunfights" with law enforcers across the country yesterday, raising the number of deaths to 42 in the ongoing countrywide anti-narcotics drive in the last nine days.
Such incidents of "shootout" continue to occur despite criticism and concern by rights activists over the killings. Some top law enforcement officials hinted that more drug dealers might face the same fate.
Yesterday, Home Minister Asaduzzaman Khan again defended "shootout". Speaking at a programme at the Rab-6 headquarters in Khulna, the minister claimed the Rab and police never get involved in a crossfire incident until they face any challenge from criminals. He said the law enforcers never open fire on criminals first.
"We have declared a war against drug. We won the war against terrorists and we will be successful against drug-trafficking," he told the programme marking the surrender of some Sundarbans robbers to law enforcers.
Meanwhile, BNP Secretary General Mirza Fakhrul Islam Alamgir has said people, including civil society members, and political quarters have been panicked by the government's "so-called gunfights" during the ongoing anti-drug drives.
The BNP leader was talking to journalists at his Thakurgaon home.
EIGHT MORE KILLED 
Two men were killed in Kushtia and one each was killed in Jamalpur, Thakurgaon, Rangpur, Comilla, Gaibandha and Lalmonirhat in "shootouts" yesterday.
Suspected drug dealers Fatik alias Gaffar Sheikh, 37, and Liton Sheikh, 40, were killed in separate "gunfights" with police in Kushtia's Kumarkhali and Bheramara upazilas.
Gaffar was accused in eight drug cases filed with Kumarkhali Police Station, said Abdul Khaleq, officer-in-charge of the police station.
However, Gaffar's wife Rabia claimed her husband went out of their house on Tuesday morning and had remained missing since then.
She said she was unaware about her husband's involvement in drug peddling.
Seeking anonymity, a brother of Liton said one of his brothers was previously involved in drug trade, but he recently quit the illegal trade.
Jamalpur police said suspected drug peddler Mosharaf Hossain Bidyut, 39, was killed in a "shootout" near the Brahmaputra river in the district's Sadar upazila early yesterday.
Jamalpur Superintendent of Police Delwar Hossain said the "shootout" took place when a police team raided Chhankanda Madrasa Ghat around 2:45am.
Bidyut was accused in 16 cases filed with Jamalpur Sadar Police Station. One but all the cases were filed under the Narcotics Control Act, police said.
His wife Shilpi Begum alleged that law enforcers cooked up a "shootout story" after killing her husband.
"Three police officials, including SI Mehedi Hasan, from Jamalpur Sadar Police Station took my husband out of our house around 1:00am on Tuesday, saying they needed his help to do a task."
She said her family came to know about Bidyut's death yesterday morning.  
She complained that the three cops had visited their house thrice since Monday afternoon and talked with Bidyut. "They used to visit our home as they had close relations with my husband."
Locals said since Bidyut was involved in drug dealing, he used to maintain good ties with some policemen.
Contacted, SI Mehedi admitted that he along with two ASIs had taken Bidyut out of his home around 1:00am so that he could help police in a drive. "Later we let him go."
In Thakurgaon, alleged drug trader Aktaful of Baliadangi upazila was killed in a "gunfight" with police in Pirganj upazila's Banbari village early yesterday, hours after he was picked up by law enforcers. 
Thakurgaon SP Farhad Ahemd said the gunfight took place around 4:00am when a police team took Aktaful to Banbari to arrest his "associates".
According to police, the 38-year-old man was accused in 19 cases.
Aktaful's brother Babul said the cases were filed six to seven years ago when he was involved in drug trading. "He quit the trade a couple of years ago and had been leading a normal life since then."
In Rangpur, a suspected criminal was killed in a "gunfight" with police in the city's Hajirhat area around 2:00am yesterday. The dead is Shahinur Rahman, 45, a resident of the city's Shukan Chowki area, said Rangpur Additional SP Saifur Rahman.
Police claimed to have recovered a pistol and 129 bottles of phensedyl from the spot. Shahinur was accused in some drug and robbery cases.
Sagor Hossain, son of Shahinur, alleged that police picked up his father on the night of May 20 from their home. Police did not recover anything from the home, he said.
He claimed to have seen his father at Rangpur Police Station that night.
In Comilla, alleged drug trader Nurul Absar Isa was killed in a "shootout" in Tikkar Char Bridge area near the Gumti embankment early yesterday.
Tanveer Salehin Emon, additional SP of Comilla, told The Daily Star that police picked up Nurul on Tuesday afternoon from his house in Gazipur village. The "gunfight" took place around 12:45am when the law enforcers took him near the embankment to recover phensidyl.
He was accused in at least nine cases, the SP added.
In Gaibandha, suspected drug dealer Raju Mia was killed in a "gunfight" with Rab in the district's Palashbari upazila.
His sister Aleya Begum said Raju went missing on Monday and her family came to know about his death yesterday morning.
In Lalmonirhat, alleged drug trader Noor-e-Alam Eshar was killed in another "gunfight" with police in Shiberkuti area. The 40-year-old man was from Kurigram.
(Our correspondent from Thakurgaon, Lalmonirhat, Dinajpur, Kushtia, Comilla, Gaibandha and Jamalpur contributed to this report.)