Self-sufficient in fish, meat
Finds fisheries, livestock survey; ministry targets marine resources to up supply further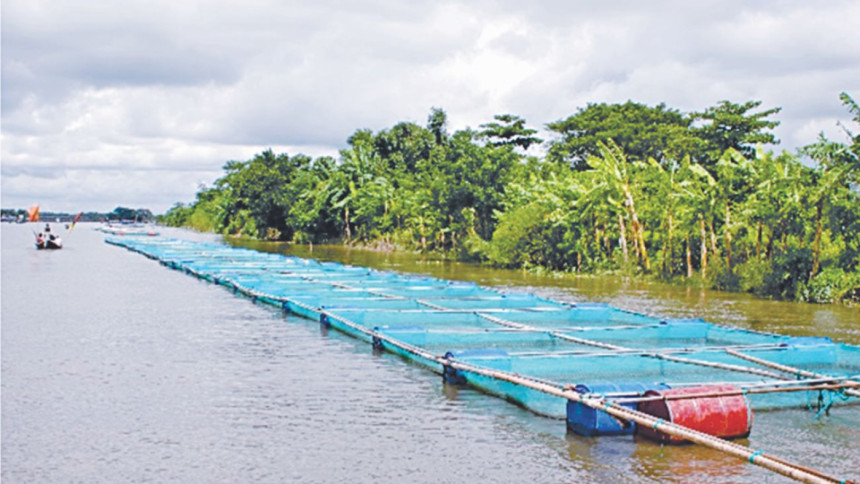 Riding on the recent revolution in fish and livestock farming, Bangladesh for the first time achieved self-sufficiency in animal protein, according to a government report.
Against a demand of 40.50 lakh tonnes of fish, Bangladesh recorded surplus fish production with an annual output of 41.34 lakh tonnes in 2016-17, according to the latest report of the Department of Fisheries.
In 2016-17, a total of 71.50 lakh tonnes of meat were produced against a demand of 71.35 lakh tonnes, according to Department of Livestock Services.
"For the first time, we have earned self-sufficiency in fish and meat production. It is a great achievement for the country," Narayon Chandra Chanda, fisheries and livestock minister, told The Daily Star yesterday.
He said the challenge now was to make this production sustainable and develop high-yield varieties.
Narayon said the government was now eyeing marine resources for further increasing production.
"We had successfully ensured the quality of exports but now we are trying to ensure the quality of fish consumed locally."
The government is going to announce this self-sufficiency at a press conference today where officials of the departments under the Ministry of Livestock and Fisheries would be present.
However, some experts doubt the government's claim of becoming self sufficient in fish and meat.
FLOURISHING FISHERY
Fish accounts for almost 60 percent of Bangladesh's intake of animal protein and over the last three decades, fish production increased over five times, according to the report.
In 1983-84, the total fish production was only 7.54 tonnes and it grew at an average 6.60 percent over the last 10 years, it said.
According to the Food and Agriculture Organisation's 2016 stats, Bangladesh is fifth in the world in terms of aquaculture production.
More than 11 percent of Bangladesh's population are engaged in fishing.
Inland open-water (capture) contributed 28.14 percent (11.63 lakh tonnes) and inland closed-water (culture) contributed 56.44 percent (23.33 lakh tonnes) to last year's production of 41.34 lakh tonnes, the report said.
"At least 84.58 percent of total production comes from inland."
Experts said once there were a number of open-water resources with a wide range of aquatic diversity comprising almost 260 freshwater fish species. But due mainly to decline and degradation of wetland resources, the share of inland captured fish has reduced remarkably during the last few decades, they said.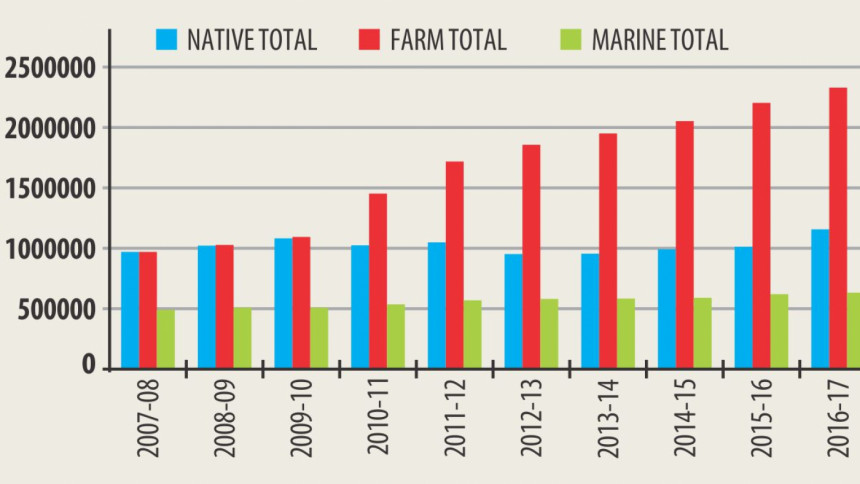 In 1983-84, the contribution of inland captured and cultured fish to total production were 62.59 percent and 15.53 percent, respectively; whereas in 2016-17, it was 28.14 percent and 56.44 percent.
About 12 percent of the country's total fish production was hilsa, which increased from 1.99 lakh tonnes in 2003-04 to 4.96 lakh tonnes in 2016-17.
Bangladesh earns a considerable amount exporting fish, shrimps and other fish products. In 2016-17, the country earned Tk 42,876 crore exporting almost over 68,000 tonnes of fish and fish products.
Shrimp and prawn production increased from 1.60 lakh tonnes in 2002-03 to 2.45 lakh tonnes in 2016-17.
Bangladesh exports frozen shrimp and other fish and fish-related products to more than 50 countries, including Belgium, the UK, the Netherlands, Germany, the USA, China, France, Russia, Japan and Saudi Arabia.
Gias Uddin Ahmed, dean of fisheries at Bangladesh Agricultural University, said, "In many areas, fishing has become unrewarding as catch per unit effort is extremely low. But poor fishers still try to catch whatever they can and destroy the natural resource."
He said as there is a land scarcity in Bangladesh and population is increasing, fish could be farmed vertically, like in a building.
LIVELY LIVESTOCK
Restrictions on cattle from India has become a boon for the country's livestock farmers. Many youths set up farms which helped the country achieve meat self-sufficiency for the first time.
According to the Department of Livestock Services, 48 percent of the meat comes from cattle (cow and buffalo), 40 percent from poultry and 12 percent from sheep and goats.
Against a daily demand of 120 grams of meat per person, Bangladesh is currently producing 121.74 grams of meat per person, the department claimed.
"High-yield breeds, better profit margin and a huge employment opportunity are the reasons behind the success of the production," Md Ainul Haque, director general of Department of Livestock Services, told The Daily Star.
He said poultry revolution and a huge demand for meat encouraged the farmers. India's ban on cattle export to Bangladesh became a blessing for the country as thousands of youths invested in livestock, he added.
Syed Sakhawat Husain, professor of animal breeding and genetics at the Bangladesh Agriculture University, contradicted the government's claim and said a good number of people were still deprived of meat every day. "The production has increased in many folds no doubt but still we have deficit. The government's claim is based on assumption, it is not scientifically true."