Scope widens for dual citizenship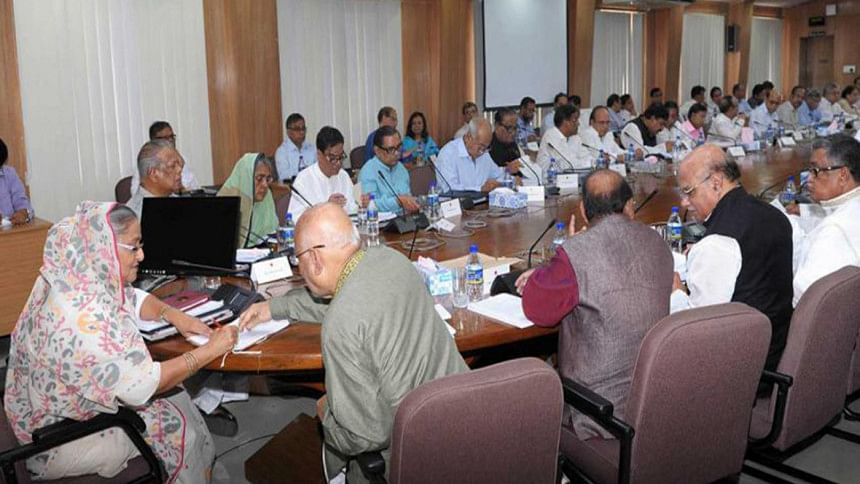 The cabinet yesterday approved the draft of "The Citizenship Law, 2016," expanding the scope of having dual citizenship by expatriate Bangladeshis.
This is applicable to Bangladesh nationals living in all countries across the world save for nine -- seven Saarc countries and neighbouring Myanmar, and Israel with which Bangladesh has no diplomatic ties, according to the draft law.
Currently, Bangladeshi expats living in the UK and the US can obtain dual citizenship.
According to the draft, one would not be eligible for obtaining or retaining citizenship if he/she expresses loyalty to any foreign countries, fights against Bangladesh by joining forces of a foreign country or collaborates with that force and stays in Bangladesh as an illegal migrant.
Also, one is not eligible to be a Bangladeshi by ancestry if his/her father or mother joins a military or para-military or any other force of a foreign country and fights against Bangladesh or denies the existence of Bangladesh, or engages in anti-Bangladesh activities, reads the draft, obtained by The Daily Star.
Anyone obtaining Bangladeshi citizenship by giving false and distorted information or by hiding information would face up to five years in prison or a fine of Tk 1 lakh or both, said Cabinet Secretary Mohammad Shafiul Alam while briefing reporters after the cabinet meeting.
Supreme Court judges, lawmakers, persons holding constitutional posts as well as civil servants and members of the disciplined forces would not get dual citizenship.
Any foreign national obtaining Bangladeshi citizenship cannot contest national or local polls, become the president, SC judge or a public servant or form any political party, according to the draft.
Under the law, the government would be able to give honourary citizenship to any foreign national for his/her contribution in the fields of science, literature, world peace, human development, and culture or for important contribution for Bangladesh.
The draft law has been framed by consolidating the existing "The Citizenship Act 1951" and "The Bangladesh Citizenship Temporary Provisions Order 1972" and rearranging their "backdated issues" and "incompleteness".
The introduction of the draft law says The Bangladesh Citizenship Temporary Provisions Order 1972 is a very brief law, and the provisions for giving and cancelling citizenship are not clear enough.
According to the draft, if any Bangladeshi marries a foreign national, the Bangladesh government can give him/her citizenship upon fulfillment of five conditions.
The conditions are:  he/she would have to live in Bangladesh for five years; is not a citizen of any country whose citizenship is prohibited by Bangladesh government; his/her parents and grandparents are not engaged in war against Bangladesh and not the enemy force of a foreign country; s/he does not live in Bangladesh illegally; and is not a citizen of any country that has no diplomatic relations with Bangladesh.
Between 2009 and 2015, the government gave citizenship to 37,544 foreign nationals. Of them, 37,535 got Bangladeshi citizenship through exchange of enclaves between Bangladesh and India while 526 Bangladeshi nationals gave up their citizenship in the process. In the same period, 9,016 non-resident Bangladeshis were given dual citizenship, sources said.