DU yells, 'Period not a dirty word'
Recently installed pad vending machines on campus ensure easy access to menstrual hygiene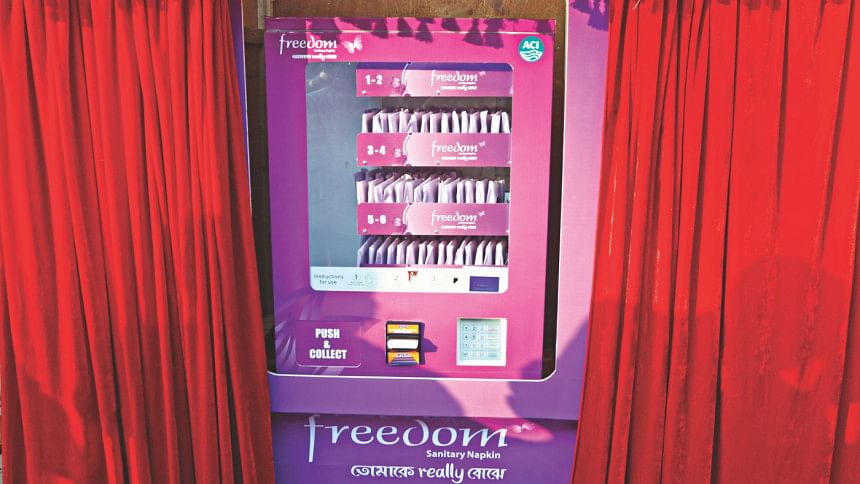 In a country where menstruation still faces myriad social, cultural and religious stigmas, which are big barriers to ensuring menstrual hygiene, a unique and much-needed initiative shines a light of hope for the women -- sanitary napkin vending machines. 
Dhaka University students have taken the first step forward by installing these machines on their campus.   
Ten vending machines installed at 10 different spots of the university have made menstrual hygiene more accessible and cheaper for around 12,000 female students.  
Each pad costs Tk 10, which is lower than that at markets or pharmacies. 
Members of Dhaka University Central Students' Union (Ducsu), in association with ACI Group, took the initiative in a bid to break the social taboos revolving around period-related hygiene.  
There are also bins and two towels by each machine. A female assistant is always present to help the students in solving any problem in this regard, including purchasing a pad.  
Speaking to The Daily Star, Tilottoma Shikder, a member of the Ducsu, said, "We took the initiative not just to fulfil our electoral pledges, but also to bust the period-related myths that have been existing in our society. Even today, a huge number of women don't use sanitary napkins or are too shy to even talk about it. A girl still cannot ask for a pad directly but has to ask the seller in writing. 
"We have to come out of the socially moulded perception and make people aware that menstruation is normal and natural, and not a disease or a condition, and most importantly, 'period' is not a dirty word," she added.  
Apart from five female dormitories -- Ruqayyah Hall, Shamsunnahar Hall, Bangladesh-Kuwait Maitree Hall, Bangamata Sheikh Fazilatunnesa Mujib Hall and Kabi Sufia Kamal Hall -- the vending machines have also been installed at Teacher-Student Centre (TSC), girls' common rooms at arts, business studies, fine arts faculties and the science faculty library.  
Education Minister Dipu Moni inaugurated the launching of the vending machines at a programme at the DU on December 4.   
Addressing the function, she said, "Through this initiative, there will be a huge development in safeguarding women's health. No plan was ever taken up keeping the special needs of women in mind. It is very normal that such a noble initiative has been taken at the place which spearheaded many protests and is the birthplace of many achievements." 
Students and teachers of the university appreciated the move saying that such an initiative would help wage a social movement to raise awareness among all.  
Namrata Arpa, a master's student of the mass communication and journalism department, said, "Period is a natural process which is connected to motherhood. Yet, people in our country still see it as a taboo, which is sad."  
"Earlier, if any girl was on her period, she would have to face a lot of problems just in getting a napkin. Pads were previously available in the girls' common rooms, but they were pricey and of poor quality," said Nahida Akhtar, a fourth-year student of the theatre and performance studies department.   
About the students' initiative, Prof Robaet Ferdous of the university's mass communication and journalism department, said, "I am glad that such an initiative has been taken… In a patriarchal society, men have created the myth that menstruation is a 'dirty' process."  
He said it would help female students with their reproductive and maternal health and hoped that other educational institutions would replicate the move.   
"There are many superstitions centring the period and often it is considered 'filthy'. Even restrictions on a woman's movement and food habits were imposed. Girls were taught by the family and society to suppress her need to speak about it," said Prof Sameena Chowhdury, president of Obstetrics and Gynaecology Society of Bangladesh.  
Around the country, especially in rural areas, girls are not prepared or made aware about menstruation, which usually starts at puberty. This causes them to face many difficulties and challenges at home, educational institutions, and work places.  
She also said, "In rural areas, girls still lack proper practice of menstrual hygiene and a large number of girls use pieces of cloths or old rags during their periods. Such practices can cause serious health issues and may even lead to death. 
"A girl's menstruation cycle starts at the age of 12 to 15. It means school-goers are in need of such vending machines even more. School- and college-going girls still face some barriers in solving the problem, as most of the educational institutions do not have female-friendly washrooms." 
The gynaecologist also stressed using hygienic products and curbing the price of sanitary napkins. 
"The sooner we accept menstruation as a normal bodily function, the better it is for our society," she added.  
Speaking to The Daily Star, eminent rights activist Sultana Kamal said, while a lot of myths and taboos surrounding periods has been removed, the cause would be further helped if every educational institution follows the initiative taken at the DU.