Rohingyas pouring in
Hundreds cross border points in Teknaf, Ukhia, Naikhyangchhari; scores wait on no-man's land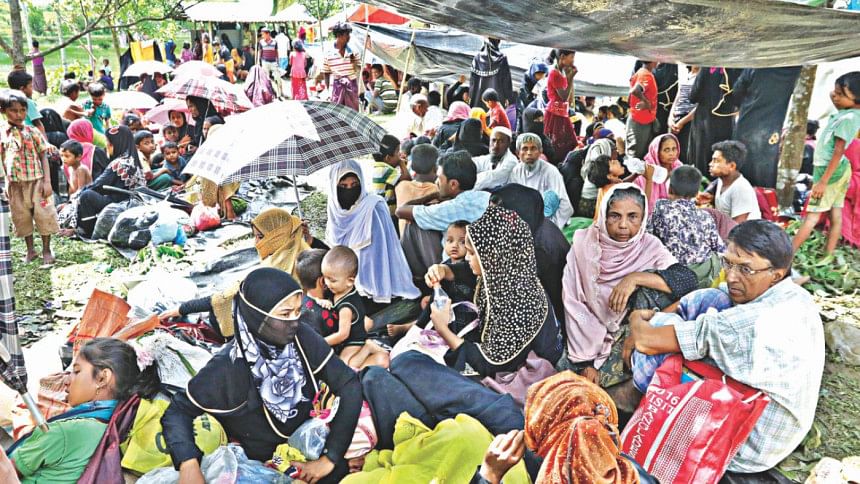 Hundreds of Rohingyas entered Bangladesh through different unguarded border points of Ukhia, Teknaf and Naikhyangchhari yesterday while hundreds more took shelter on no man's land after failing to cross the border.
Although Border Guard Bangladesh (BGB) and the local administration denied entry to Rohingyas, residents and elected representatives in those areas said refugees were coming through six unprotected points.
Locals added that some of the Myanmarese nationals were going to unregistered refugee camps on foot or by battery-run easy bikes.
Visiting different spots and talking with locals in Ghumdhum under Naikhyangchhari upazila of Bandarban, our Cox's Bazar correspondent learnt that many more Rohingyas were waiting to cross the border.
Some of the refugees who got into the country alleged that Myanmar troops were burning down their houses, killing men and torturing women. "We came here to save our lives," one of them told The Daily Star.
Border guards remained on high alert as fresh gunshots were heard in Myanmar's Maungdaw, opposite of Ghumdhum, between 8:30am and 9:00am yesterday, our correspondent reported.
The BGB chief warned of a "befitting response" if Myanmar's Border Guard Police (BGP) creates any untoward situation in the bordering area.
Addressing a press conference at Ghumdhum Border Observation Post yesterday, BGB Director General Maj Gen Abul Hossain also said, "We are on high alert. We will not allow anyone from Myanmar to intrude into Bangladesh."
POPE FOR ROHINGYAS
Pope Francis yesterday appealed for an end to the violent persecution of the Rohingya population in Myanmar, the Vatican Radio wrote yesterday.
Speaking to pilgrims and tourists in St Peter's Square at the Vatican, he said, "Sad news has reached us of the persecution of our Rohingya brothers and sisters, a religious minority. I would like to express my full closeness to them -- and let all of us ask the Lord to save them, and to raise up men and women of good will to help them, who shall give them their full rights."
Quoting a senior Vatican source, Reuters earlier reported that Pope Francis will almost certainly visit Myanmar and Bangladesh, two countries caught up in a crisis over the Rohingyas, before the end of the year.
The trip is likely to take place between the end of November and the start of December but definitely before Christmas, the source added. The Vatican has so far officially said only that a trip to both countries is "under study".
A Vatican team is visiting both countries to sort out details and report back to the pope, who will make the final decision, Reuters wrote on August 23.
INDIA'S CONCERN
India has said it is "seriously concerned" by reports of renewed violence and attacks by terrorists in northern Rakhine province of Myanmar and hoped that perpetrators of the crimes will be brought to justice.
"We are deeply saddened at the loss of lives among members of the Myanmar security forces," said a statement of India's external affairs ministry issued late on Saturday evening.
Extending "strong support" to Myanmar government "at this challenging moment", it read, "Such attacks deserve to be condemned in the strongest possible terms. We hope that the perpetrators of these crimes will be brought to justice."
The statement came ahead of Indian Prime Minister Narendra Modi's proposed visit to Myanmar on his way to China to attend the BRICS Summit in the first week of September, reported our New Delhi correspondent.
Meanwhile, Myanmar government has evacuated at least 4,000 non-Muslim villagers amid ongoing clashes in northwestern Rakhine state, the government said.
The death toll from the violence that erupted on Friday with coordinated attacks by Rohingya insurgents has climbed to 98, including some 80 insurgents and 12 members of the security forces, reports Reuters.
The clashes, the worst since at least October, have prompted the government to evacuate staff and thousands of non-Muslim villagers from the area.
Fighting involving the military and hundreds of Rohingya across northwestern Rakhine continued on Saturday with the fiercest clashes taking place on the outskirts of the major town of Maungdaw, according to residents and the government.
The attacks marked a dramatic escalation of a conflict that has simmered in the region since last October, when a similar but much smaller Rohingya attack prompted a brutal military operation beset by allegations of serious human rights abuses.
As the latest violence in Rakhine triggered a fresh inflow of Rohingyas towards Bangladesh, about 2,000 to 2,500 of them entered Naikhyangchhari on Saturday evening.
They were condoned off by BGB members so that they cannot proceed further into the country. Locals, however, extended a helping hand to the refugees with food, water and other life-saving materials.
Panel Chairman of Ghumdhum Union Parishad Kamal Uddin said if not guarded, the refugees will take shelter in nearby Balukhali and Kutupalong camps.
Quoting a BGB commander, AFP reported that 20 Rohingyas were caught yesterday and sent back.
The country has been hosting up to 5,00,000 Rohingyas for three decades. Around 33,000 of them are registered and live in two camps in Cox's Bazar. Others live in different areas of Cox's Bazar and Chittagong.
After Myanmar armed forces launched a counterinsurgency operation following attacks on security personnel in Rakhine State in October last year, more than 75,000 Rohingyas fled to Bangladesh.
FOUR OTHER INJURED AT CMCH
Four more injured Rohingyas were admitted to Chittagong Medical College Hospital (CMCH) yesterday.
They are Ziabul, 27, son of Nuruzzaman; Md Elias, 20, son of Hamid Hossain; Md Toha, 16, son of Hossen Ahmed, and Mubarak Hossain, 25, son of Nabi Hossain, said Assistant Sub-Inspector Allauddin, of CMCH Police Outpost.
All of them are bullet-hit and from Maungdaw town in Rakhine State, he added.
"Mobarak Hossain was admitted to CMCH around 3:30pm yesterday and the rest came in the early hours," the ASI added. "The condition of Elias is critical as he suffered bullet injuries in his shoulder and head."
They entered Bangladesh through several points of Bandarban border. They received primary treatment at Kutupalong before being shifted to CMCH.
With the four, the total number of injured Rohingyas admitted to CMCH stands at six.
Mohammad Musa, 23, who suffered bullet wounds while fleeing alleged police action in his village in Rakhine State, died at CMCH on Saturday morning.