Rohingya Return: It has to be 'safe, dignified'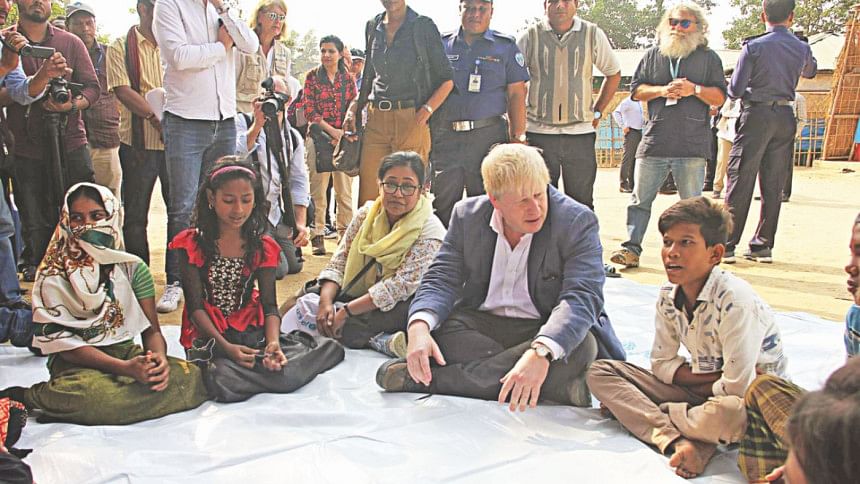 British Foreign Secretary Boris Johnson has demanded a "safe, dignified return" for Rohingya refugees from Bangladesh, ahead of meeting Myanmar's de facto leader Aung San Suu Kyi.
Visiting a border refugee camp yesterday, the foreign secretary said such a return would only be possible if a "political solution" could be found to remove the great danger from going back.
"That is what they want.
They do want to go back -- but they don't feel safe," Johnson said.
Johnson also assured of continuing its support to Dhaka on Rohingya issue saying the UK stands beside Bangladesh.
He highly appreciated Bangladesh's "incredible work" in making possible for Rohingyas to take shelter safely in Bangladesh.
He insisted the refugees were receiving "huge support from the UK" -- about £59m -- but added: "It's not just a question of humanitarian aid.
"It's about finding a political solution, finding an answer in Myanmar, from Burma, creating the conditions for a safe dignified return for these people."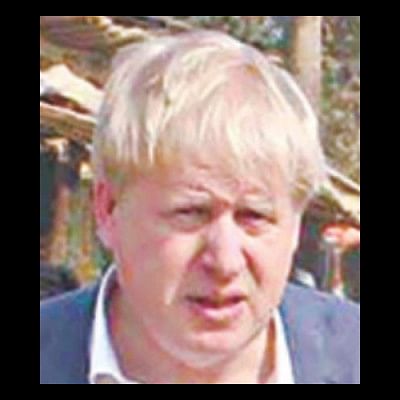 The foreign secretary's trip to Bangladesh -- the first such official visit in a decade -- comes after nearly 700,000 Rohingya Muslims fled a military crackdown, which began last August.
Neighbouring Bangladesh has agreed a timeframe with Myanmar for repatriating Rohingya people at a rate of 1,500 each week.
But aid agencies have joined the refugees themselves in expressing fears about the conditions and their rights and safety upon their return, reports the UK-based Independent.
The Burma Human Rights Network, while praising Johnson's visit to see the "desperate situation", said a return was unthinkable without "accountability" for Myanmar's oppression.
"It is not a good idea for them to return to Burma in these conditions," Kyaw Win, the organisation's exec director, told Sky News.
"The root cause of the problem is Burma side -- because Burma has committed genocide on the Rohingya people.
"When a country is committing genocide, we cannot look for a political solution. We need to have accountability for this to ensure this kid of condition is not repeated again."
Earlier, Johnson met Prime Minister Sheikh Hasina and Foreign Minister AH Mahmud Ali, to discuss how to resolve the crisis.
"I was really struck by how Bangladesh and the UK really share a common analysis of what needs to be done. We need to make those points together to the government in Naypyidaw," he said.
"The government of Bangladesh has shown immense compassion and speed and mercy in dealing with a challenge that I think any government would have found very daunting indeed."
The foreign secretary reached transit camp of the UNHCR in Kutupalang at 1:45pm yesterday and talked to some Rohingya people who took shelter in Bangladesh.
Later, he visited Balukhali camp and talked to Rohingya children at a child-friendly centre, reports UNB.
The foreign secretary saw and heard for himself the terrible things these people have been through.
State Minister for Foreign Affairs M Shahriar Alam and British High Commissioner in Dhaka Alison Blake were present.
Earlier on Friday, Johnson said the plight of the Rohingya and the suffering they have had to endure is one of the most shocking humanitarian disasters of their time.
"This is a man-made tragedy that could be resolved with the right political will, tolerance and cooperation from all those involved."
The foreign secretary left Dhaka for Myanmar where he will be talking to State Counsellor Aung San Suu Kyi and other regional leaders about how they can work together to resolve this appalling crisis.
He will travel on to Bangkok for talks with Thai Prime Minister Prayut Chan-o-cha and also meet the chair of the Advisory Board on the Rakhine Advisory Commission, Surakiart Sathirathai.