Rohingya Repatriation: OIC to act strong to resolve crisis
It says after visiting refugee camps; 45th session of the OIC foreign ministers' meet begins in Dhaka today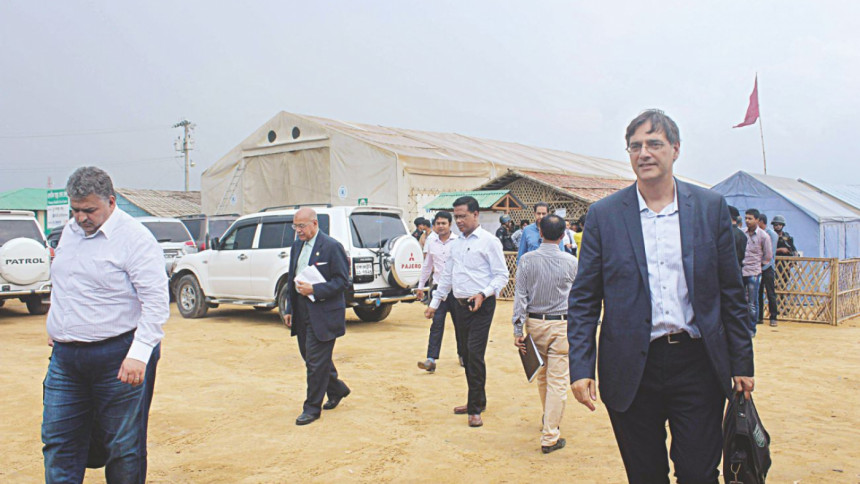 The Organisation of Islamic Cooperation has pledged a strong role in addressing the Rohingya crisis.
"We will play a strong role along with Bangladesh, United Nations and international community," Hesham Youssef, assistant secretary general for OIC's humanitarian affairs, said after visiting Rohingya camps in Kutupalong yesterday.
Myanmar should face continued pressure over repatriation of Rohingyas to their homeland, he told reporters at a community centre in the area.
Youssef also regretted OIC's inadequate role since the Rohingya crisis began on August 25 last year in Myanmar's Rakhine State form where over 700,000 Rohingyas fled to Bangladesh amid a military crackdown.
Rohingyas in Myanmar are denied citizenship and other basic rights since 1982.
There has been no repatriation despite a deal signed by Bangladesh and Myanmar. The UN Security Council has also not been able to take any decisive action in addressing the crisis.
Against this backdrop, Dhaka is hosting the 45th session of the OIC Council of Foreign Ministers today.
A 53-member high-profile delegation of the OIC arrived in Kutupalong camp in Cox's Bazar around 11:30am and talked to the refugees for about an hour.
Canada's Foreign Affairs Minister Chrystia Freeland, Special Envoy to the OIC Masud Husain and Prime Minister Justin Trudeau's Special Envoy to Myanmar Bob Rae and Bangladesh's Foreign Minister AH Mahmood Ali and State Minister for Foreign Affairs Md Shahriar Alam accompanied the delegation.
"The Rohingya crisis will be one of our main agenda in the OIC foreign minister's conference," Youssef, also an Egyptian diplomat, said yesterday.
With 57 member states from four continents, the OIC is considered the second largest inter-governmental organisation after the United Nations.
Rashid Al Balushi, president of OIC Independent Permanent Human Rights Commission, said the affected Rohingyas had told them of tortures, killings and rapes in Myanmar.
"OIC is working on ways to address the crisis," he said and requested the UN and other aid agencies to protect the refugees who were facing risks of landslides and flooding in the coming monsoon.
"The OIC will help as much as it can to help the Rohingya."
Hamid Hossain, a Rohingya community leader who talked to the OIC delegation, said, "We told them to help us have citizenship and safety in Rakhine. We want to go back home."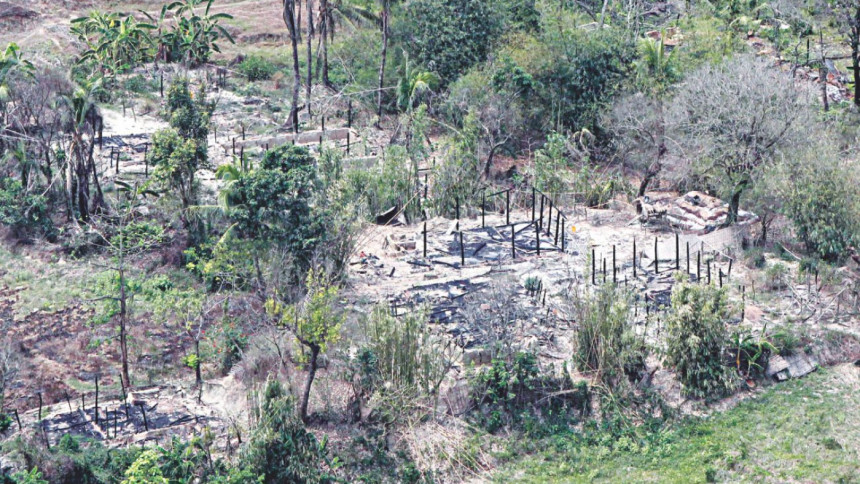 Meanwhile, UAE Assistant Foreign Minister for International Organisations' Affairs Yacoub Al Hosani yesterday visited Kutupalong refugee camp and launched cooperation between the UAE and UNHCR in a nutrition programme. It will cover the needs of 132,700 refugees, including 78,000 women and children, reports UNB.
OIC COUNCIL BEGINS TODAY
The OIC Council of Foreign Ministers (CFM) will begin its 45th session in the capital with the theme "Islamic Values for Sustainable Peace, Solidarity and Development."
Apart from more than 40 foreign ministers and state ministers from 57 OIC countries, Canadian Foreign Affairs Minister Chrystia Freeland is attending the event and will address the opening session.
Prime Minister Sheikh Hasina will inaugurate the two-day meet at Bangabandhu International Conference Centre this morning.
Diplomatic sources said the visiting ministers would focus on the issues facing the Rohingya Muslims and raise the collective voice of Muslim world for early repatriation of over 1.1 million Rohingya refugees from Bangladesh.
Bangladesh constitutes the ideal country through which the OIC's message to find an end and a sustainable solution to the crisis can be conveyed to the international community, they added.
The OIC meet is also expected to make a call for "proper investigation" into the military crackdown in Rakhine State.
It will make a declaration and call for early implementation of the Kofi Annan Commission's recommendations, which includes restoration of citizenship of the Rohingyas, officials said.
The inaugural session will also be addressed by OIC Secretary General Dr Youssef A Al-Othaimeen, Bangladesh Foreign Minister AH Mahmood Ali, Ivory Coast Foreign Minister Marcel Amon-Tanoh and Turkey Deputy Minister of Foreign Affairs Ahmet Yıldız.
The OIC secretary general will present a Gilaf of the holy Kaaba to the Bangladesh prime minister at the inaugural session.
President Abdul Hamid will host a dinner in honour of the visiting dignitaries at the Bangabhaban this evening.
After inauguration of the OIC meet, heads of delegations will make their statements in the first working session.
In parallel sessions, OIC special committee will hold discussions about Palestine, challenges facing the Muslim Ummah such as conflicts, divisions, tension and instability, problems of terrorism and violent extremism, sectarian tendencies, hatred, prejudice and Islamphobia and massive humanitarian crises with forced displacements from and to the Muslim countries.
There will be a special session on humanitarian challenges facing OIC countries tomorrow.
An election will take place in which Bangladesh has nominated Kamrul Ahsan, secretary (bilateral and consular) of the Ministry of Foreign Affairs, as a candidate for the post of assistant secretary general for science and technology for the Asia group of the OIC.
Bangladesh first hosted the OIC CFM in 1983.