150 Rohingyas to return today
Safety concerns remain
The first batch of Rohingyas is all set to be sent back to Myanmar today amid reports that many of the refugees listed for return are hiding in fear of forcible repatriation.
It comes more than 14 months after  the Rohingya influx began following a brutal military crackdown in Rakhine State.
"One hundred and fifty Rohingyas of 30 families will be repatriated through the Ghundhum point of Bandarban tomorrow morning. They are fully prepared. We have made all arrangements," Bangladesh's Refugee, Rehabilitation and Relief Commissioner Mohammad Abul Kalam said yesterday.
The rest of the 2,260 returnees, verified by the Myanmar authorities, would be sent back in the next 15 days, he told reporters following a meeting with officials from the UN, law enforcement agencies and local administration at his office in Cox's Bazar.
The authorities have built two repatriation centres -- one at Kerantoli of Teknaf and the other at Ghundhum, a bordering area in Naikhyangchhari -- each having 33 semi pucca rooms. The refugees will be kept in the rooms before their return to their home in Rakhine.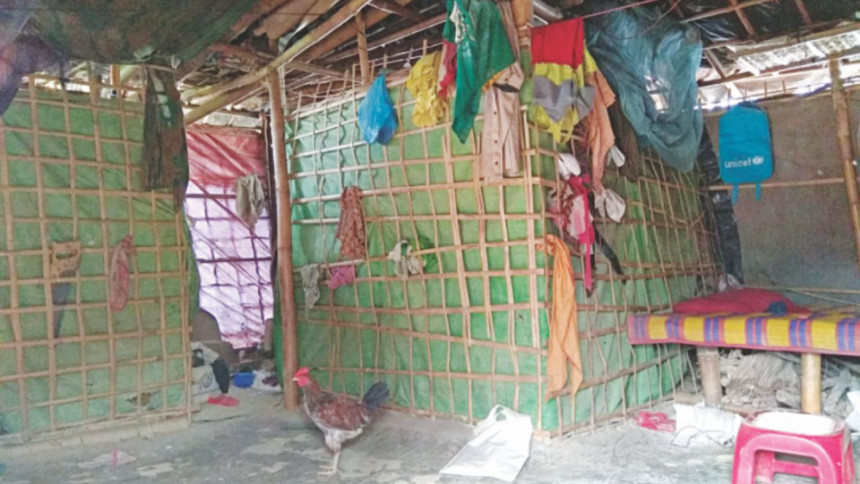 The UN Refugee Agency (UNHCR) began interviewing the Rohingya families on Tuesday to determine whether they were ready to go back.
Asked, UNHCR spokesperson in Cox's Bazar, Firas Al-Khateeb, said they informed the agency's country office in Dhaka about their findings.
"The UNHCR country office will make a decision in this regard," he told reporters without specifying if the Rohingyas interviewed agreed to voluntary return.
During a visit yesterday, The Daily Star correspondents found that some of the listed Rohingya families were hiding in other tents. They don't want to go back as they believe the condition for that was still not favourable.
Noor Bahar, 30, was one of them.
The mother of six was staying at a neighbour's house a few yards off her own in Ukhia's Jamtali area.  
"We don't want to return until our safety in Myanmar is ensured. They will kill us," she said, adding that her husband Noor Alam went out of their camp for Jamaat (religious gathering) as he wanted to escape the repatriation.
A few other similar families from G-block in camp-15 in Ukhia also fled their shanties on Tuesday, closing the doors with rope and leaving all their belongings, said Mohammad Yunus, a Rohingya leader at a sub-block of the camp.
He told The Daily Star yesterday a total of 44 Rohingyas of six families were on the list for repatriation. Among them, four families went into hiding on Tuesday evening.
"My father went to Jamaat … my mother went to a relative's house," said Rukaia, an 11-year-old girl from the same block. 
"We won't go to Myanmar. They [Myanmar law enforcers] will kill us like the way they killed my grandfather," Rukaia said when asked whether she wanted to return along with her family.
Asked, in-charge of camp-15, Md Shafique Uddin, said the refugees were afraid of going back.
"We took interviews of four families today [Wednesday]. They told us that they want to go back with dignity and proper citizenship," he added.
He claimed that one or two families could flee their camps but the number "won't be too many".
"They might not be found in the camps during day time as they go outside for various purposes. If families are found missing, we will lock the camps," he added.
Around 540 members of 121 Rohingya families from camp-15 are on the list of those chosen for repatriation.
A brutal military operation that began in late August last year drove as many as 750,000 Rohingyas into Bangladesh. They joined some 300,000 others who fled violence in previous phases and took shelter in camps in Cox's Bazar.
A UN report has detailed mass killings and gang rapes with genocidal intent in the crackdown and urged prosecution of Myanmar's commander-in-chief and five generals under international law.
The UN said the conditions in Rakhine were not conducive for return of the refugees and urged halting the repatriation for now.
UNHCR in an internal paper said it would not provide humanitarian assistance to Rohingyas if they were interned in camps on their return to Myanmar.
Myanmar has been building transit centres for the refugees that it says will be temporary, but many Rohingyas fear the sites could become permanent because of harsh restrictions on movement imposed on the largely stateless minority, reports Reuters.