Solution lies with Myanmar
Solution to the Rohingya crisis lies in the refugees returning voluntarily to Myanmar from Bangladesh in a safe and dignified manner, said United Nations High Commissioner for Refugees Filippo Grandi.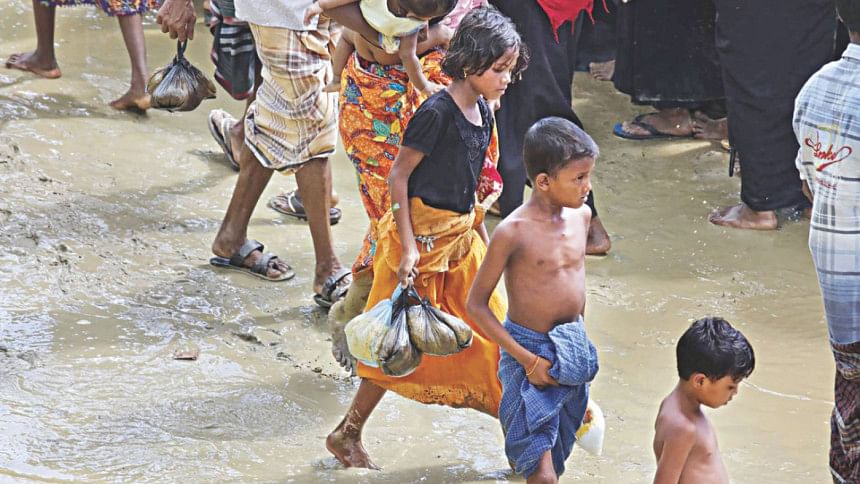 Solution to the Rohingya crisis lies in the refugees returning voluntarily to Myanmar from Bangladesh in a safe and dignified manner, said United Nations High Commissioner for Refugees Filippo Grandi.
"In order for this to happen, conditions have to be changed in Rakhine State. Violence has to be stopped," he said.
The crisis originated in Myanmar and its solution lies there, he told a press conference at a hotel in the capital yesterday.
UNHCR held the press conference following Grandi's two-day visit to refugee camps in Cox's Bazar.
Grandi stressed the need for addressing the root causes of Rohingya influx, such as their Myanmar citizenship issue, violence, discrimination and poverty.
Restoring humanitarian organisation like UNHCR's access to the Rakhine State is important. The Red Cross has been able to work there, but that is not enough, he said.
The UN high official said safety in Rakhine is a prerequisite for Rohingyas to go back there. Registering all the Rohingyas, who fled Myanmar and came to Bangladesh is also important.
Replying to a query, he said relocating Rohingyas in a place inside Bangladesh is important because they may not be able to go back to Myanmar very soon.
As the number of Rohingyas in Bangladesh doubled, looking at an interim solution for supporting them and the local communities in the right manner should be considered, he said.
However, technical discussions on the issue are needed before making any decision, which has to be acceptable to Rohingyas. They may not want to go back otherwise, he said.
Many families are not receiving enough food while shelters, water sources and sanitation conditions need improvement, he said, adding that the children need to be able to go to schools.
"Often we forget about education in emergencies. But it is as important as food and shelter for children," he said.
Grandi also called for more relief efforts.
DHAKA SEEKS $250M FROM WB
The health ministry has sought $250 million from the World Bank for providing healthcare to Rohingyas.
State minister for health Zahid Malik at a press briefing at his office said the ministry is providing health care services to around 5 lakh Rohingyas.
This is not a short-term issue, it may linger for long. The amount is required for building hospitals and purchasing medication, he said.
The state minister also informed that they sent a letter to the Economic Relations Division (ERD) for assistance. The ERD would now negotiate with the WB in this regard.
WHO Representative to Bangladesh N Paranietharan, WB Adviser on Health, Population and Nutrition Mukesh Chawla and WB Senior Health Specialist Bushra Binte Alam were present at the event.
Mukesh Chawla said, WB will consider Bangladesh's request and commended the country for successfully providing shelter, food and healthcare to Rohingyas.
Dr Bushra Binte Alam said, WB has a Refugee Crisis Window fund and Bangladesh may get assistance from there. The important thing is 85 percent of the fund will be grant.
According to the WB document, it has allocated $2 billion for those seeking refuge in different corners of the world, of which any nation can get a maximum share of $400 million.
The WB already communicated the fund's availability to Bangladesh. The government will now decide whether to ask for it upon considering the conditions attached.
"The purpose of the fund is to help refugee host communities to mitigate shocks, facilitate sustainable solutions, and strengthen preparedness," reads a WB document.
Zahid Malik also said Bangladesh will seek assistance from the WB's pandemic fund, which has been available since July.
The state minister said, to receive the fund Bangladesh would have to meet a number of preconditions.
Meanwhile, Bangladesh Air Force (BAF) members started unloading and despatching relief goods arriving from different countries for Rohingyas at Shah Amanat International Airport in Chittagong.
BAF opened a Relief Management Centre (RMC), headed by Wing Commander Jahangir Hossain. The air force personnel also prepared necessary warehouses to keep the goods, said an ISPR press release.
Since September 9, a total of 467.66 tonnes of relief goods arrived in the country for Rohingyas from Malaysia, Saudi Arabia, Indonesia, Iran and several other countries.