Torturing BB Official for Money
Rogue SI closed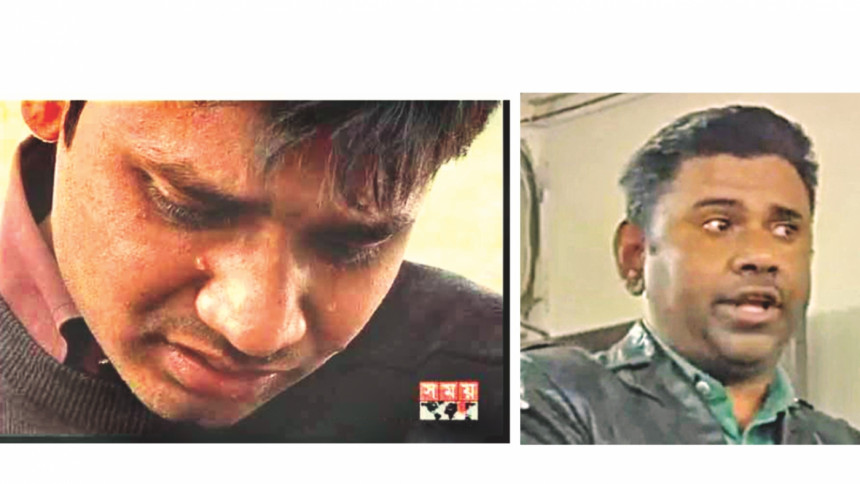 The sub-inspector who allegedly tortured a Bangladesh Bank official for Tk 5 lakh was closed yesterday.
Creating a stir, SI Masud Shikder of Mohammadpur Police Station and his team beat up Golam Rabbi, an assistant director of the central bank, on Taj Mahal Road on Saturday night.
The officer also threatened to kill Rabbi in a "crossfire" and falsely implicate him in narcotics crimes.
Biplab Kumar Sarkar, deputy commissioner (Tejgaon division) of Dhaka Metropolitan Police, said considering the "seriousness of the allegations", SI Masud was removed from his current workplace.
Now attached to the Tejgaon DC office of DMP, the SI will face action based on findings of their investigation, Biplab told a private television.  
Hafiz Al Faruq, assistant commissioner (Mohammadpur zone) of DMP, has been assigned to probe the allegations.
The investigation has already begun, Hafiz told this newspaper. 
Rabbi, 28, said he was returning to his Kalyanpur home on foot from a relative's house on Taj Mahal Road that night. Some constables stopped him and asked him to meet their senior officer who was on a police van parked nearby.
It was sometime between 11:00pm and 11:15pm. The cops forced him into the van while he kept resisting, saying, "What have I done?" 
While talking to The Daily Star, two witnesses supported Rabbi's version.  
"The SI first asked how much is my job worth and he along with his subordinates said it could be Tk 25 to 30 lakh," the youth said.
"You are well-off. So pay us Tk 5 to 6 lakh and go away. Otherwise, a case will be filed against you for carrying Yaba pills," Rabbi, also a former news anchor at a television channel, quoted the SI as saying.
When Rabbi said he is a banker and a former student of Dhaka University, the SI got furious and verbally abused him, saying, "Let's see who can save you."  
The policemen slapped and kicked him while the pickup drove through different streets in the area. They released him around 2:30am on a road in Mohammadpur.
Rabbi received treatment at Dhaka medical College Hospital and filed a complaint with Mohammadpur police the next day.
Talking with this correspondent yesterday, he said he was preparing to file a case against SI Masud.
Officer-in-Charge Jamaluddin Mir of Mohammadpur Police Station said they received an allegation over the incident.
Contacted, SI Masud admitted that he did drag Rabbi into the pick-up van, suspecting that the youth was carrying illegal drugs. He, however, refuted the allegation that he demanded money from Rabbi and threatened him with "crossfire".
Hailing from Phulbaria of Mymensingh, Masud joined Bangladesh Police in 1997 as a constable. He got promoted to sub-inspector five years ago.
Sources in Mohammadpur police said he had been at the police station for the last one and a half years. Before that he was at the Kalabagan Police Station.
Meanwhile, the torture of Rabbi created an outcry in the social media. People from different tiers, including locals at Mohammadpur area, demanded exemplary punishment of the SI.
Demanding justice, friends and colleagues of Rabbi also created a group on Facebook. They shared web links of different news articles on the incident and demanded a proper investigation.
One user wrote that he knows Rabbi to be a gentle and polite person. "I am shocked to hear the news."
Several locals at Mohammadpur said cops in the area had harassed common people in the past. There were instances that instead of arresting drug peddlers, cops nabbed those who went to purchase those, they alleged.
Wishing not to be named, a shop owner near Mohammadpur Government High School said around two weeks ago some cops forcefully dragged a youth into their pick-up van.
The youth was freed around 15 minutes later. Asked by the shop owner how he could manage to get free, he said that he had to pay a bribe of Tk 1,500.
Meanwhile, the Association of Bank Officers Bangladesh in a press release yesterday condemned the harassment of Rabbi and demanded exemplary punishment to the personnel responsible.