Roanu leaves thousands homeless
Trail of devastation in coastal districts; govt yet to make full assessment of damage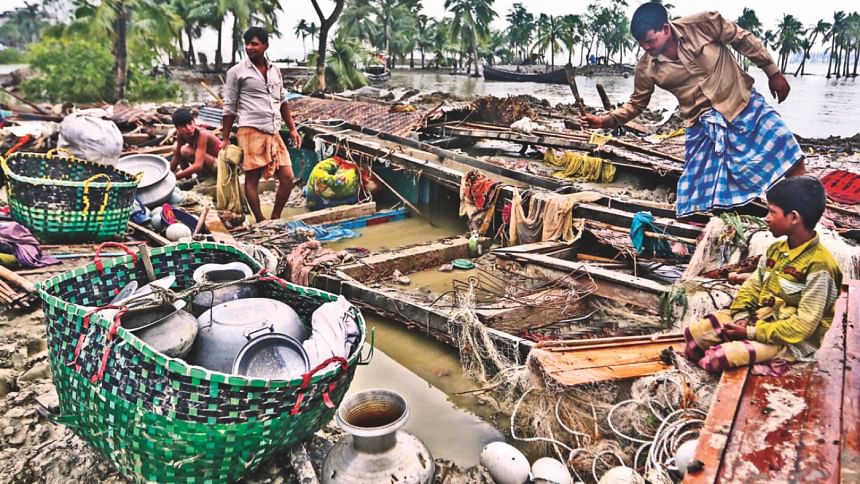 Thousands of people have been rendered homeless in several coastal upazilas of Chittagong, Cox's Bazar and Bhola as Cyclone Roanu has left a trail of devastation in its wake.
Around one lakh houses were damaged and about 150,000 families were affected by the cyclone in the three districts, say government officials.
However, a full assessment of the damage is yet to be done, they added. 
Upon their return home from cyclone shelters, many found their houses razed to the ground, belongings gone, crops ruined and fish farms washed away.
Banshkhali upazila in Chittagong is among the worst affected areas as several unions remained inundated with seawater rushing into the storm-battered villages till yesterday.
A 30-kilometre stretch of the 130km long embankment in the upazila was damaged, and the villagers are now in constant fear that the damaged part would collapse any moment, allowing seawater to swamp their houses and fields.
In Bhola, around 10,000 people of Tazumuddin Upazila were running short of food after the cyclone destroyed their homes. Even 48 hours after the cyclone, many people in the storm-hit villages complained of getting no aid from the government.
A number of them have been living under the open sky since Saturday when the cyclone lashed the country's coast with winds up to 88km per hour and rain, killing at least 23 people in Chittagong, Cox's Bazar, Bhola, Noakhali, Patuakhali and Laxmipur.
While visiting the cyclone-hit areas in Banshkhali, Disaster Management and Relief Minister Mofazzal Hossain Chowdhury Maya gave Tk 20,000 each to the families of 12 victims in Khankhanbad union of the upazila.
Housing and Public Works Minister Engr Mosharraf Hossain accompanied him. The ministers ordered the local administration to arrange adequate relief, food and water for the affected people.
In Chittagong Division, seedbeds of aush paddy on around 400 hectares of land are now under water. Besides, 360 betel leaf orchards and vegetables on 3,100 hectares of land were damaged by the storm, according to the Department of Agricultural Extension (DAE).
Around 4.83 lakh people in 104 unions of different upazilas in Chittagong were affected by the cyclone, said Deputy Commissioner Mesbah Uddin in the district.
"Some 103,000 families were affected by it. Of them, around 19,437 were affected severely and 83,660 partially," he said at a press conference at his office yesterday.
The cyclone ruined crops on 154 acres of land completely and that on 2,541 acres of land partially. Besides, a total of 46,654 houses were damaged, he said.
In Cox's Bazar, at least 29,000 houses were damaged and 22,128 families were affected in the 71 unions of eight upazilas. In a primary estimate, the district administration put the financial losses at Tk 17.66 crore.
The storm dealt a heavy blow to shrimp farming as a tidal surge ravaged 2,117 shrimp enclosures in seven upazilas, causing a loss of around Tk 13 crore, according to an estimate by the district administration.
The local administration has so far distributed Tk 3.30 lakh, 87 tonnes of rice, 80 sacks of puffed rice and molasses among the cyclone-hit people in the district.
Local traders in Kutubdia of the district claimed that they would incur a loss of around Tk 200 crore due to the cyclone.
At a press conference in Chittagong city yesterday, Mujibul Huq Bachchu, general secretary of Kutubdia Samity, said an 18-km stretch of the embankment in Kutubdia was washed away and crops on 500 acres of land were damaged in the cyclone.
"The damages would amount to around Tk 200 crore," he said, urging the government to send emergency relief to the affected areas.
In Patuakhali, the farmers of all eight upazilas have to count losses as their standing crops were flooded by tidal surge and heavy rainfall.
Besides, crops on 3,451 hectares of land were badly damaged in the eight upazilas, according to Patuakhali Agriculture Extension Department.
Forkan Mollah, a farmer of Char Wadel, a remote shoal under Baufal upazila, said he had cultivated chilli on 72 decimals of land and hoped to get a yield of eight to 10 maunds this season.
"I could have harvested the crops in a week or two. But the cyclone dashed all my hopes."
He said the crops could have fetched him more than Tk 80,000 in profit.
[Our Correspondents from Chittagong, Cox's Bazar, Jhalakathi and Patuakhali contributed to the report.]