RMG shine to stay
Over next 5 yrs, Bangladesh to remain top destination for int'l retailers, says a global survey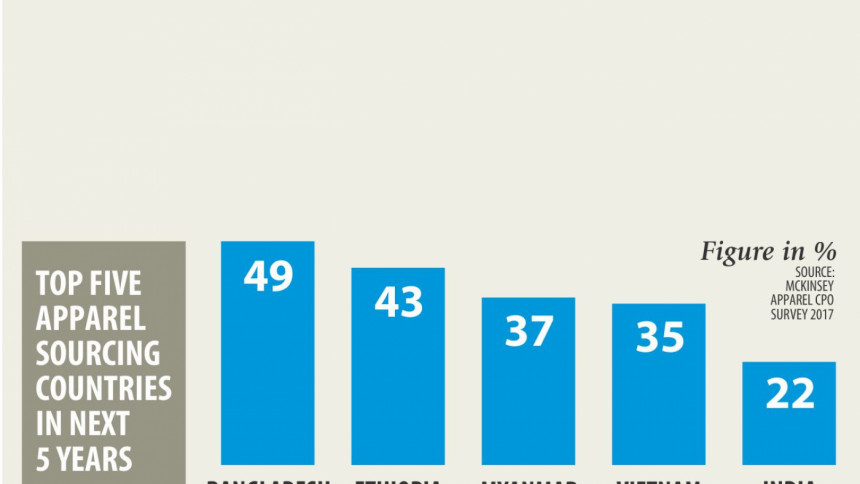 Bangladesh will remain the apparel sourcing hotspot for international retailers and brands over the next five years because of competitive prices and China's declining market share in garment business, says a global survey.
McKinsey & Company, the world's most prestigious management consultancy firm, prepared the biennial survey based on interviews of chief purchasing officers (CPOs) of top 63 global garment retailers and brands that buy apparel items worth $137 billion a year.
"Bangladesh retains the top spot, selected by nearly half of all respondents -- similar to its rating in 2015," it said, mentioning that the CPOs were asked which countries they expected to be the top three sourcing hotspots over the next five years.
In the survey titled "The apparel sourcing caravan's next stop: Digitisation", 49 percent CPOs said Bangladesh is still their first choice as sourcing destination while 43 percent opted for Ethiopia, 37 percent for Myanmar, 35 percent for Vietnam and 22 percent for India.
Being the second largest apparel exporter worldwide after China, Bangladesh exported garment items worth $28.14 billion in the last fiscal year, registering 0.20 percent year-on-year growth.
However, with higher demand from retailers and brands, garment export rebounded again and grew at 14.05 percent year-on-year to $5.52 billion in the first two months (July-August) of the current fiscal year.
"Of course, I believe Bangladesh will be the top choice of global retailers and brands as the garment sector improved workplace safety and other compliances after fixing the structural, electrical and fire loopholes," said Atiqul Islam, former president of Bangladesh Garment Manufacturers and Exporters Association (BGMEA).
For a higher export growth, the government should improve the infrastructure and make sure that the Chittagong port and the Dhaka airport are run smoothly, he added.
Echoing his view, Distinguished Fellow of the Centre for Policy Dialogue Mustafizur Rahman said Bangladesh has more potential but it should ensure shorter lead time, high standard of compliance, higher productivity and capacity at factory level and competitive prices for remaining the top choice of retailers and brands.
Bangladesh must keep any eye on its emerging competitors like Ethiopia and Myanmar since they are also coming up with big growth potentials, Mustafizur said.
In this year's ranking of apparel sourcing choices, Ethiopia climbed to the second position from seventh in 2015 while Myanmar rose to the third from the fourth spot.
Ethiopia, which exports garment items worth less than $1 billion a year, is not a major competitor now. But it could pose a big challenge for Bangladesh in the future as it is receiving a lot of foreign direct investment for producing low-cost basic garment items, Mustafizur said.
The other emerging countries such as Myanmar, Vietnam and India would remain major competitors for Bangladesh, he added.
The survey mentions that cost of raw materials and chemicals, currency exchange rates, labour costs, change in trade agreements, compliance costs, shift in purchasing power, and transport and financing costs would be the highest impacting factors for garment business.
Both big and small players see Ethiopia as a hotspot, while firms that buy garment items worth over $1 billion rank Ethiopia as the most attractive country for future sourcing opportunities.
On the other hand, sourcing executives have shared their plans to reduce sourcing from China, noted the survey.
China appears to have passed its zenith as a low-cost sourcing country, due both to increased local demand and a reduction in size of the available workforce. However, it would remain indispensable because of its bigger volume of export value, the survey mentions.
According to the World Trade Organisation, China remains by far the biggest garment exporter with its export valued at $177 billion in 2016 -- compared to $28 billion for Bangladesh and $25 billion for Vietnam, the second and third largest exporters.
But China's apparel export has declined from $207 billion in 2014, and it is now lower than that in 2012, the survey pointed out.
By contrast, Bangladesh and Vietnam experienced rapid growth during this period: Vietnam's apparel exports nearly doubled in value between 2012 and 2016.
"Bangladesh, despite its issues, also remains highly rated. It was named as the number one sourcing hotspot by small and medium-sized players, even though it lost ground in the eyes of large players," it said.
Among Europe-based sourcing executives, 39 percent said they planned to increase their sourcing from Eastern Europe, and nearly a third wanted to raise sourcing from Turkey.
An equal number planned to keep their Turkish sourcing stable while 23 percent planned to reduce it.
The overall interest in other European countries and North Africa is lower, with only one-fifth of respondents planning to increase their sourcing from those markets, according to the survey.
Among US-based sourcing executives, almost half the respondents planned to increase their share of sourcing from Central America where countries are gearing up to satisfy this demand.