Fresh onslaught on Meghna
River custodians turning a blind eye to filling up of Meghna foreshore by influential grabbers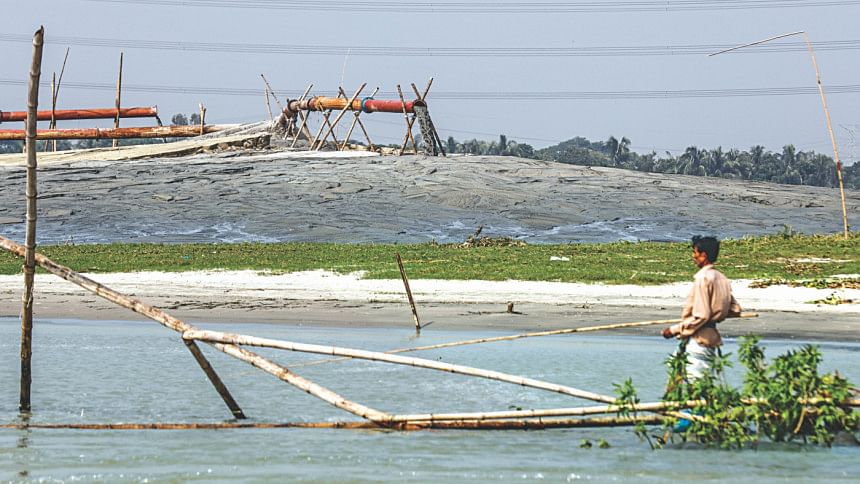 A river under onslaught. An open defiance of a High Court order. And inept river custodians.
These are the key ingredients of the recipe for the relentless and massive sand-filling, which is ongoing yet again in the Meghna.  
During a recent visit to the Meghna -- which today is a hapless prey to ruthless grabbing -- in Munshiganj, about half a dozen unloading dredgers were seen dumping sand into the river in broad daylight to reclaim land from river foreshores and floodplains.
The yet-to-be identified land claimants have embarked on the encroachment at a point where the Meghna meets its tributary Menikhali channel in Islampur (Ganganagar) in Char Betagi mouja of Gazaria upazila.
The grabbing is taking place with facilitation of the Munshiganj district administration and Bangladesh Inland Water Transport Authority (BIWTA) -- the two foremost custodians of the river. 
Asked who was reclaiming the land, a couple of workers at the spot replied that they were not aware of it. They said a contractor had employed them to fill the river with sand, but they refused to name names.   
"The half a dozen river custodians like BIWTA and local administration seem blissfully unaware of the plundering of the river or else it could not have happened," said an outraged Md Abu Sadeque, a local villager and fisherman.
Sheikh Masud Kamal,a BIWTA joint director and port officer of Narayanganj river port, during a telephone conversation, at first said he was not even aware of the sand-filling in the Meghna and its foreshores.
Pointed out that this correspondent had visited the river recently and saw the encroachment firsthand, Kamal said, "I will be sending a team to inspect the location… But I cannot say exactly when I can let you know what is happening." 
Told that the river-filling had been going on for at least a couple of months, he backtracked on his earlier comments and said, "We have allowed them to fill the site with sand, using unloading dredgers on a limited scale for a short while to set up a petroleum company."
Asked whether BIWTA had issued a licence, he said, "The site is not within the jurisdiction of my port limit."    
He then expressed his "surprise" when it was pointed out that the incident was taking place within his port limit, which stretches up to Ananda Bazar of Sonargaon, and is controlled from Narayanganj port. He said, "You better see me in person. We will cooperate with you."
Asked exactly what he meant by "cooperation", he said it would be over whether there had been any incident of river-grabbing.
The Port Act and Port Rules requires a BIWTA river port officer to be responsible for keeping a navigable channel and river foreshore free of obstructions and workable for port activities.
This was apparently not being followed in this case.    
The continuous encroachment on the major rivers shows that BIWTA, the upazila administration, police, district administration, water development board and environment department all appear to be oblivious to what the highest court's judgements are. 
A High Court bench of Justice Moyeenul Islam Chowdhury and Justice Md Ashraful Kamal in a full text of the latest verdict over river-grabbing in early July observed that killing a river was virtually a collective suicide of all and would kill both the present and the future generations.
The courts also declared rivers as "legal person" and river-grabbing was made a criminal offence, adding that the state must act as the people's trustee of all rivers, hills, sea beaches, forests, canals, beels and wetlands.
Another HC bench in a 2009 landmark judgment detailed the directions for deputy commissioners and other government agencies on how to save the country's rivers. 
When contacted about the ongoing sand-filling in Meghna, Md Moniruzzaman Talukdar, deputy commissioner of Munshiganj district, said he was not aware of any such river grabbing.
"I, however, will enquire about it and take action," he said.
Some documents obtained by this correspondent show that the immediate past deputy commissioner of Munshiganj leased out over 12 acres of the Meghna river foreshore and floodplains to a private petroleum purification plant at the said site.
Documents show that the entire proposed 12-acre site is a Khas land, of which 6.6 acres was previously leased out to nearly 50 local farmers and the rest 5.5 acres remained unleased.
The district administration acquired the leased-out portion and then leased the entire government-owned river foreshore and floodplains for development of the private petroleum plant. 
BIWTA DIRECTOR TAKES DUBIOUS STANCE
Following repeated exposure of the ruthless river grabbing in February and May in this paper, the National River Conservation Commission carried out an inspection.
In late October, it made a list of 13 companies including power plants, cement factories, ship builders, paper mill and an economic zone as prominent grabbers in the Meghna river.
The commission asked BIWTA to evict all those river encroachers, which in turn formed a five-member committee led by an executive magistrate. The committee was to ascertain how much of the Meghna river was grabbed by those companies.
The committee submitted its report to the BIWTA director Shafiqul Haque.
In early November, this correspondent requested Shafiqul Haque for a copy of the report to know which company had grabbed how much of the river.
Haque, however, refused to share the information.
Pointed out that it was a public document, he said, "I cannot share it because there are many things written about the river grabbers in the report. How can I give a copy to a journalist?"     
PLENTY OF LAWS, BUT CUSTODIANS INACTIVE
Muzibur Rahman Howlader, chairman of the National River Conservation Commission, said, "Leasing out river foreshores and floodplains and changing the character [of the river] are all illegal according to river laws, water act and wetland conservation law. We will reverse any such initiative. With a cabinet division direction, an investigation is ongoing on grabbing of Meghna Khas lands and foreshore -- which are integral to a river." 
He believes that river encroachment is the result of inaction of the river custodians and their complicity with the very powerful grabbers.
Relevant river custodians do not enforce the laws in effect for conservation, he said, even though police are empowered by sections 133, 135, 137 and 139 of the Criminal Procedure Code of 1898 to arrest river grabbers and produce them before a district magistrate for penalty, he said.  
The sections 277 and 278 of the penal code provide for punishment in this regard, he added.
Multiple laws are there in place for river conservation, so one does not have to wait for a High Court judgment to save the country's rivers, he said.