Commentary
Resist "Thought Prisons"
How many more murders will galvanise us into action?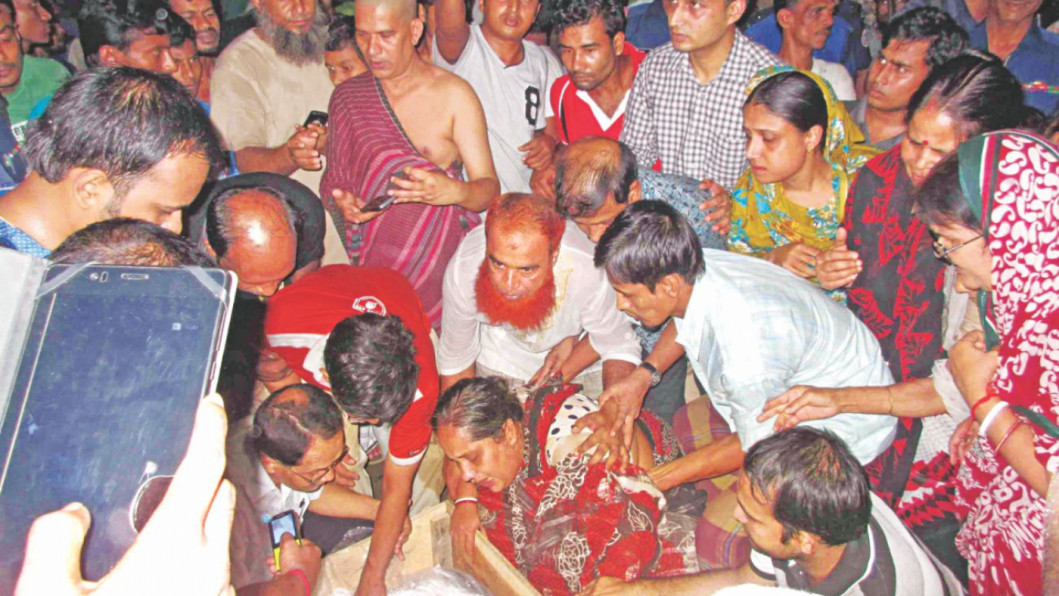 The killers are doing their work. Are we doing ours? Need we answer?
With each blogger's murder, Bangladesh's founding ideals of being a country of freedom, rights, and creativity for a multi-religious, multi-ethnic and multi-cultural people are being eroded, weakened, and brought closer to being destroyed. This is no longer a question of government, party or ideological leanings. It is a question of survival of the Bangladesh our martyrs had laid down their lives for and those of us who work for it today dream for.
Collectively, we all--the government, the intellectuals, the civil society, the media, etc-- are failing our country and our people. If the war criminals, now being prosecuted and punished, tried to destroy us at birth, the blogger-killers are trying to destroy us now. However the unity, determination and strength with which we fought our enemies then are totally absent now. The present assault on our existence is far more insidious and difficult to fight against as we are divided and the 'enemy' is far more difficult to identify. There is only one way to defeat this 'second' attack on our Mukti Juddho and that is to really forget all our differences and take the plunge to destroy this threat as soon as possible.
The government's lack of commitment exemplified by its law enforcement agencies is shameful to say the least. The performance of police has been abysmal to put it mildly. Except in the case of Ahmed Rajiv Haider, the first blogger to be killed in February, 2013, in no other instances-- Avijit Roy, Oyasiqur Rahman, Ananta Bijoy Das and now of Niladri Chattopadhyay, --can the police claim any credible progress.
On the contrary, the killers can be seen to have grown bolder. Earlier the killings took place on the streets. But in Niladri's case the killers entered, in broad daylight, a fifth storey flat, barged into the bedroom and killed their target. They did not bother about the cover of darkness, the open streets for quicker escape or the house to be empty. They killed as they wished. Such is there power and confidence.
In contrast, here's what police did to help the victim. Niladri along with his friend Rudro, went to two police stations- Khilgaon and Shajahanpur- on 14th and 15th May respectively, and in both cases his complaint was not recorded. One officer told Niladri privately that recording a complaint of 'personal threat' imposes a special responsibility on the officer 'accepting' it and if something really happens to that person then the said police officer gets into trouble for his failure to protect him. So it is better 'not to record' such a complaint. Another private advice to Niladri was to leave the country as fast as he could. (We think if the complainant was from the ruling party or any of its affiliated bodies it would have been recorded in both the stations. Such is the state of everyone's "access to justice" and "equality before law").
Police is now claiming that Niladri never sought its help. The dead cannot speak but his Facebook posting dated 15th May-two and half months before his murder- gives detailed account of his visits to the two police stations. Then there is Rudro, the victim's friend, who states that they went together to the police stations. He also showed us a draft of the General Diary (GD) that Niladri had prepared to submit to the police.
Regrettably, the home minister has added his voice to the police denial. Shouldn't he have examined the evidence or at least talked with Rudro before siding with the police?
The intellectuals, civil society and the media together failed the nation by not really doing enough to raise public awareness about the dangers lurking behind these blogger  murders and motivating the public in confronting the rising spectre of religious extremism. There should have been public demonstration and mass mobilisation against blogger killings.  We should have worked together to make massive demonstrations against it. Except for statements and occasional articles in the pages of newspapers, there has not been the type of mass demonstration that we needed to register our collective condemnation of such acts.
There appears to be an obvious lack of political will on the part of the government to confront the situation. There is no sign of any comprehensive thinking and planning in this regard. There has not been any discussion in the parliament nor in any AL party forum. The government and the party appear to be quite happy to leave the handling of the killings totally to police, RAB and other law enforcement agencies. So weak is the government's stance in this matter that it is not even willing to hold these agencies accountable for their performance or the lack of it. The home minister's parroting the police denial convinces us of that.
It appears that we are in denial and it has thoroughly affected our thoughts and actions. We are brushing aside these killings as some isolated actions of some criminal groups operating under the guise of religion. We are 'refusing' to see the bigger picture of the all encompassing social threat that has total 'thought control' as its ultimate goal.
Follow this transition in extremist polemics and everything will be clear. The earlier claims of responsibilities for such brutal killings talked of 'insulting our Prophet and the Holy Koran'. Then it was to be an 'atheist.' Now it has moved to condemning 'extremism' and 'freethinking', all in the span of a year and few months.
The ultimate target of this group of killers and those who are sponsoring, motivating, aiding and funding them is to stop 'free thinking', the precondition for all creativity, which lies at the core of everything that human civilization has achieved. It is the most precious of our Creator's gifts to us. To lose this would be to lose the very essence of our existence.
The blogger killings in Bangladesh are part of a global attempt to revive the "medieval thought-prisons", which enslaved humanity for millennia. Mankind has fought countless battles, sacrificed millions of lives over several centuries to free itself from it. We in Bangladesh must reject this attempt for "thought control" in the most vigorous, persistent and pervasive manner possible. For this, let our intellectuals, academics, civil society, poets, writers and all educated people of the country come together.
"Thought prisons" must not be tolerated even for a moment.