Reasons for hike not clear
BPC, Titas making huge profit; power generation cost dips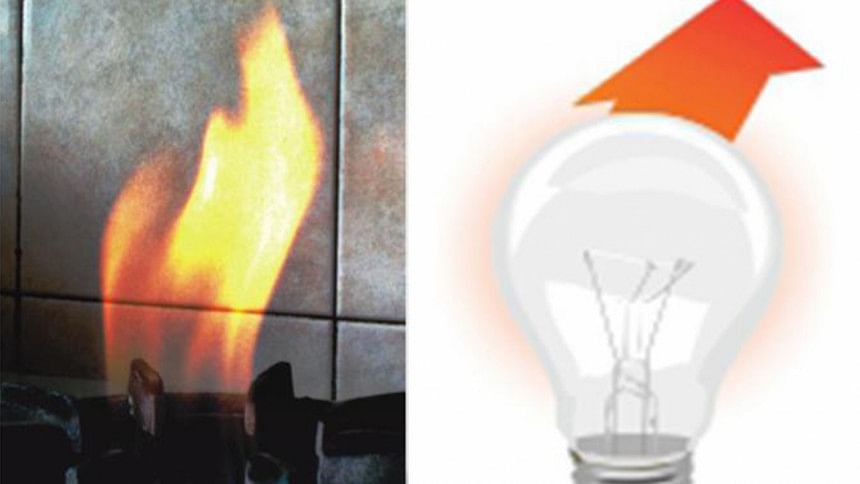 The Bangladesh Energy Regulatory Commission (Berc) has increased power and gas price at a time when the public gas companies are making large profits and per unit power generation cost has gone down to a certain degree.
In the meantime, due to falling price of petroleum in the international market—the Bangladesh Petroleum Corporation (BPC) is set to make a staggering profit exceeding around Tk 16 thousand crore (US $2 billion) this year.
The government is not reducing the price of petroleum product to help the BPC recover its accumulated loss of Tk 5000 crore over the last few years.
Experts say that while the only justification of price hike was adjusting inflation rates, the Berc did not take into consideration the whole profit and loss situation in the energy sector.
The power sector losses are rising because it is buying petroleum from BPC at almost double the rate of the private power generating companies.
But a look at overall energy sector shows that the government is staying profitable in this area.
Titas Gas Transmission and Distribution Company Ltd (TGTDCL) has made close to Tk 1000 crore profit in the last fiscal year said a top official of the company.
Titas provides a major portion of the gas to domestic, commercial, and industrial users and bulk users like power and fertiliser companies in the country.
A competent source in the Power Development Board (PDB) said that the power generation cost, including financial charge now stands at Tk 6.32 per unit—which is 20 paisa less than that of last year's cost.
The Berc's increase of average power tariff by almost 3 percent will annually bring in an extra income of Tk 1200 to Tk 1300 crore to PDB. But it will not be enough to cover its overall loss.
The PDB would still need around Tk 4000 crore in annual subsidy to make up for the loss it makes because of the higher price it pays BPC for fuel.
The private power companies buy fuel at a much lower rate from the international market.
"Out of around 2200 mw electricity produced by petroleum, several private power producers are allowed to import their oil directly. These producers generate around 750 mw and currently they are charging the PDB Tk 32 per litre of furnace oil used for power generation. For the remaining majority liquid fuel plants, the PDB has to buy the same oil from the BPC for Tk 62 per litre," said the PDB source.
The country now has an average supply of 7500 megawatts power daily—one third of it comes from petroleum based power plants; the rest of it is supplied mostly from gas fired plants and around 500 mw is imported from India.
He noted that this year had been favourable for the PDB in terms of power generation and its cost. "Firstly we had good supply of power from the Indian grid at a reasonable price. Our gas fired power plants could generate more power this year because of better availability of gas. Electricity demand was low in June because of more than usual rain. So we did not have to run all our liquid fuel based power plants. These factors have contributed to a drop in power generation cost," he pointed out.
The PDB official however argued that the latest power tariff hike would not hurt domestic users much as it was nominal. He pointed out that the hike would be felt more at the level of commercial and industrial users—where the percentage was higher.
Meanwhile the gas utilities were presently providing 2700 million cubic feet per day (mmcfd) gas—up by a few hundred mmcfd this year from last year mainly because Chevron has added 300 mmcfd new gas from the gigantic Bibiyana gas field from January. The government buys this gas under a production sharing contract (PSC) where a good part of the gas is totally free for the government, while for the rest the government pays Chevron around $3 per mmcfd.
But even with gas procured from an international oil company and rampant gas theft along the gas pipeline grid—Titas has been making profit every year.
"At this point, the gas price hike looks like the behaviour of a private monopoly company," said an expert.
According to a survey by Titas, on average a domestic double burner customer consumes about 87 cubic meter gas and its cost around Tk 450 per month.
But the latest price hike put that price up to Tk 650 per month. For a single burner, the cost was pushed up to Tk 600 from Tk 400.
"We do not know what the basis of this new price was. It follows no formula," said an official, "we were directed to increase the price this way and thus this was done."
A top Titas official notes, "The domestic gas price was last adjusted in 2008. Therefore the Titas company had been seeking a price adjustment."
"This hike may look unreasonable but only about one crore people in the country are getting the benefit of cheap piped natural gas. The rest of the people are buying costly LPG.
The government wants to lower the price of LPG at the same time hike the price of domestic gas," he said.
However he said illegal gas connections around the country controlled by powerful thugs deprive the company of any revenue and the government can hardly take any action to stop it.
"It is irrational for legal consumers to pay more for gas while the illegal users get a pass," he said.
Meanwhile the BPC, which had been in the red from 1999 due to soaring oil prices, has started seeing profits from September-October last year. Oil prices that hovered around $110 per barrel have dipped down to $40.
In recent years, the country has been spending between Tk 34,000 crore and Tk 38,000 crore per year to import crude, refined and lube base oil. Since the oil prices fell down, the BPC has been saving around 45 to 50 percent of its previous year's import cost. That translates into an annual saving of around Tk 17,000 crore to Tk 19,000 crore.