Queues for relief getting longer
In Dinajpur, each flood-affected family received 4kgs of rice, Tk 14 from govt
Mostafizur Rahman, administrator of Razarampur union parishad in Dinajpur, seemed unhappy with the size of allocation of relief materials for the flood-hit people in his union.
He got only two tonnes of rice and Tk 8,000 till Wednesday for 5,000 affected families in the union.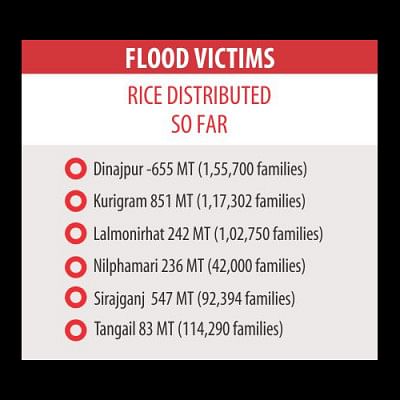 "What do I do with this? It's nothing against the huge demand," he said, adding that each family would get just 400 grams of rice and Tk 1.60.
In Dinajpur, 485 tonnes of rice and Tk 16 lakh have been distributed among 114,491 flood-hit families in nine upazilas, according to an estimate by the district administration. This means each family got only 4.23 kgs of rice and Tk 13.97.
Mokhlesur Rahman, relief and rehabilitation officer in the district, said his office distributed 447 tonnes of rice in four days till August 17.
However, visiting different affected villages in Biral and Kaharol upazilas, our correspondent found that most of the flood-hit people didn't get government relief till Thursday.
"We need relief immediately to feed our children", said Motaleb, a flood victim in Chokchokha village.
Around 200 families in the village got only two kgs of rice each yesterday.
The picture was almost similar in other flood-hit districts including Tangail, Lalmonirhat, Kurigram, Nilphamari and Sirajganj.
Scores of people were seen waiting in long queues for relief in many of the affected areas yesterday.
Contacted, Iftekharul Islam, director (relief) at the Department of Disaster Management, said, "We have been distributing relief materials in flood-hit districts since August 13. Most of the relief materials and money have been distributed."
In reply to a query, he said they were making the allocations primarily as per the demand from district administration.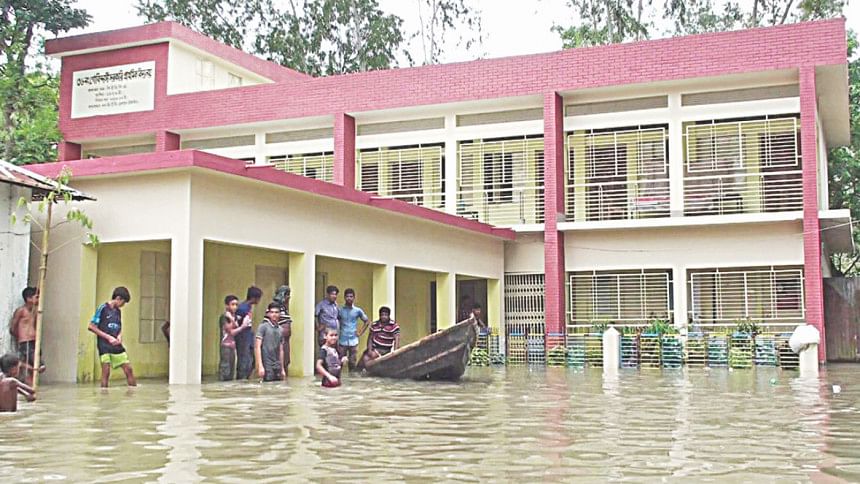 The Tangail district administration said it got an allocation of only 15 tonnes of rice and Tk 2.5 lakh for 114,290 affected families.
Moniruzzaman Monir, chairman of Gabsara union parishad in badly-affected Bhuapur upazila, said "My entire union is hit hard by flood and at least 42,000 people are affected. But I have got an allocation of only two tonnes of rice."
Ayub Molla, chairman of Arjuna union in the upazila, said he received only two tonnes of rice for the flood-hit people in his union.
"I started distributing it on Friday… the affected people immediately need dry food as they have no space to cook. They are also in urgent need of water purification tablets," he added.
In Lalmonirhat, 102,750 families have been affected in five upazilas. But only 242 tonnes of rice and Tk 8.75 lakh were allocated for the district.
Of the families, 24,200 got relief while the rest are yet to receive any government aid, according to sources in the district administration.
"We need two kgs of rice for our five-member family every day. But now we have to survive with one kg or less," said 42-year-old Nurjahan Begum at a temporary shelter near Lalmonirhat-Phulbari road.
"We don't have any money to buy food… We got only two packets of khichri from an NGO but nothing from the government," said her husband Kafil Uddin.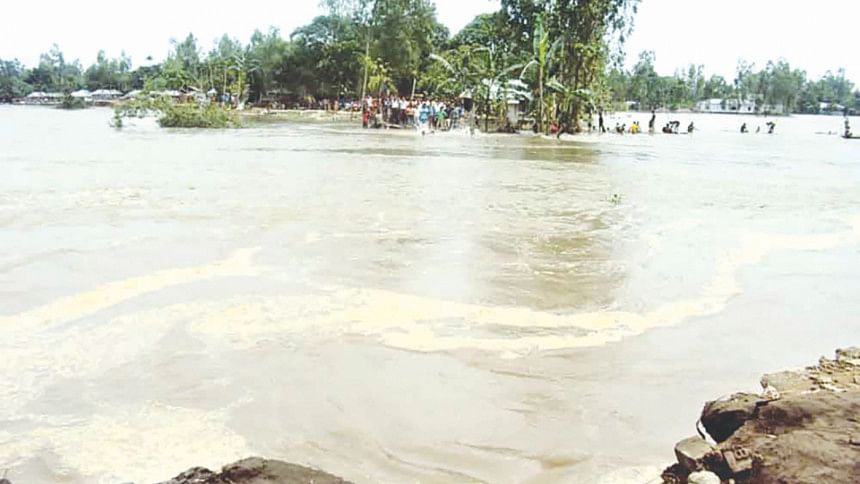 In Kurigram, the district administration distributed 851 tonnes of rice and Tk 230,500 among 117,302 families till Thursday. This means each family got 7.25 kgs of rice and Tk 19.56.
The picture was similar in Sirajganj. The authorities distributed 547 tonnes of rice and Tk 14.40 lakh among 92,394 families in 391 villages with each family getting 5.9 kgs of rice and Tk 15.58.
In Nilphamari, 236 tonnes of rice and Tk 10 lakh were distributed among 42,000 families, meaning each family got 5.36 kgs of rice and Tk 23.80.
FLOOD SITUATION IMPROVES
The Flood Forecasting and Warning Centre said the overall flood situation in country is improving.
The water level in the Brahmaputra and the Jamuna was falling, it said yesterday. 
However, more areas in Madaripur were inundated as the Padma was flowing above the danger mark.
[Our correspondents from Dinajpur, Lalmonirhat, Kurigram, Pabna, Tangail, Gaibandha, Thakurgaon and Jamalpur contributed to this report]