Protest Timeline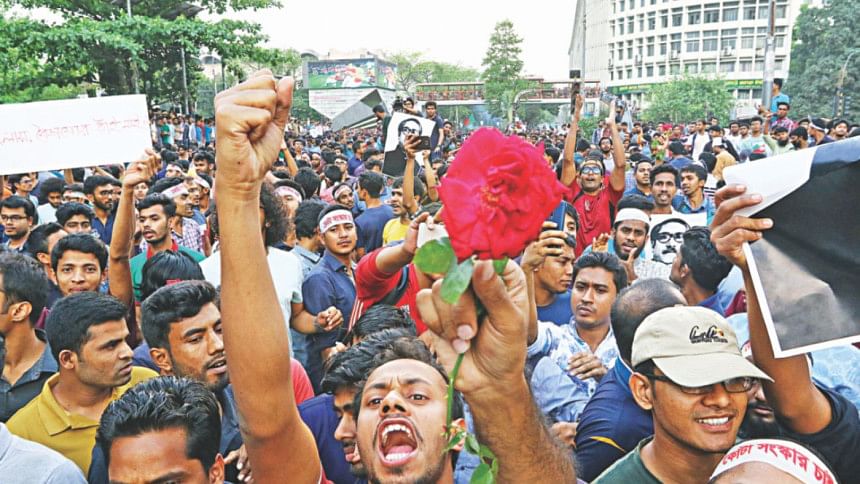 SUNDAY

2:00pm: 

Protesters bring out a procession from DU central library to press home their five-point demand. They march on TSC-Nilkhet-Kantaban road and then rally at Shahbagh intersection.
2:30pm: 

Protesters block Shahbagh intersection. Dhaka-Aricha, Chittagong-Rangamati, Dhaka-Mymensingh, and Dhaka-Rajshahi highways are also blocked.
7:30pm: 

Demonstrators refuse to clear Shahbagh intersection.
8:00pm: 

Police charge truncheons, fire teargas shells, and rubber bullets. The clash between police and protestors go on for five and a half hours.
MONDAY

1:20am: 

Half the protestors go towards TSC while some stay near the fine arts faculty. Around 700 female students of Kuwait-Moitree Hall break the main gate of the dorm to join the demonstrations.
1:30am: 

Police lob teargas at protestors in Shahbagh area while the VC's house is vandalised by hundreds of people.
1:45am: 

AL lawmaker Jahangir Kabir Nanak at Shahbagh says AL General Secretary Obaidul Quader is to sit with the protesters around 11:00am Monday.
2:30am: 

The VC comes out of the residence while Chhatra League activists gather there. Nanak visits the VC's house. The prime minister telephones the VC.
2:50am: 

Protestor take position at the TSC. Chhatra League men take position in front of the VC's residence.
3:00am: 

Protestors and Chhatra League men chase each other. Chhatra League men fire several shots at protestors.
3:30am: 

Female students get stranded inside the TSC while male protestors take position inside Curzon Hall.
4:00am: 

Police fire teargas at protestors near Curzon Hall.
4:40am: 

Additional law enforcers arrive.
5:00am: 

Chhatra League men from different dorms go towards Doyel Chattar while police continue to fire teargas.
6:00am: 

Stranded female students return to their dorms.
6:10am: 

Protestors chase away Chhatra League men.
7:30am: 

Police fire teargas and rubber bullets inside Shahidullah Hall and disperse the protestors.
10:00am: 

Protestors in a press conference demand immediate release of the detained. Dhaka University Teachers' Association condemns attack on VC's home. 
11:00am: 

The agitators bring out a procession from the central library and march campus streets.
2:00pm: 

The demonstrators try to bring out another procession but police fire teargas at them.
2:30pm: 

Protesters gather at the Raju Memorial Sculpture and barricade access to the TSC area. They chase away Chhatra League men who try to get to TSC area from Shahbagh. 
3:00pm: 

The agitators announce that a 20-member delegation is to sit with government representatives.
4:00pm: 

Led by platform's convener Hasan Al Mamun and Faruk Hasan, the delegation go to the Secretariat. 
7:00pm: 

Obaidul Quader after the meeting says the agitators agreed to suspend their movement until May 7.
8:00pm: 

Convener of the platform postpones the demonstrations.
9:30pm: 

Bipasha Chowdhury, coordinator of a newly formed committee of the agitating students, announces that the strikes are to continue in all universities and colleges.
10:00: 

The spinoff faction of demonstrators leave TSC.
TUESDAY 

10:30am: 

Bangladesh Shadharan Chhatra Adhikar Sangrakkhan Parishad ask all to refrain from agitation.
11:30am: 

The other faction continues demonstration at the Raju Memorial Sculpture.
5:30pm: 

The factions reunite and declare nationwide road blockade and boycott of classes in colleges and universities. They demand apology from Agriculture Minister Matia Chowdhury. 
6:00pm: 

Protestors start demonstrating in TSC area and burn Matia's effigy. 
WEDNESDAY

12:30am: 

Students allege that three protestors are being tortured in Sufia Kamal Hall by Chhatra League hall unit president Iffat Jahan Isha. 
1:00am: 

The news of torture spread on social media including a rumour that Iffat had cut the tendons of student Morsheda. Students of the dorm storm Iffat's room and beat up the Chhatra League leader.
1:45am: 

DU Proctor AKM Golam Rabbani enters Sufia Kamal Hall amid slogans from protestors that his steps are an eyewash.
2:05am: 

Chhatra League padlock the collapsible gates of different halls so that protestors cannot go outside.
2:25am: 

Chhatra League expels Iffat.
2:35am: 

Morsheda, who was tortured by Iffat, is released from Sarkari Karmachari Hospital and taken to DU Medical centre.
2:46am: 

Morsheda leaves the medical centre but declines to comment.
2:55am: 

Around 1,200 protesters from Bijoy Ekattur Hall break the padlock at the dormitory's main gate and march towards Sufia Kamal Hall. 
3:30am: 

DU suspends Iffat.
4:22am: 

About 5,000 protesters start marching away from Sufia Kamal Hall chanting slogans demanding arrest of Iffat.
10:00am: 

Agitators start their protest for the fourth consecutive day.
10:30am: 

Duta expresses solidarity with the protestors.
12:30pm: 

Chhatra League leaders quoting the prime minister say that there would be no quota in government jobs.
5:00pm: 

The prime minister in parliament speaks of scrapping the quota system and asks students to return to classes.
6:00pm: 

Protestors take time to ponder.
6:30pm: 

Chhatra League brings out a victory procession and congratulates the prime minister.
THURSDAY 

11:00am: 

Protestors call off their demonstrations.
11:30am: 

Protestors bring out a victory procession.